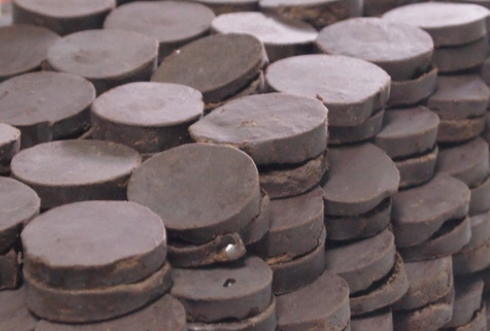 <>The Yuletide season is the time of the year when chocolates become more popular. Filipinos have their own traditional chocolate treat---
tsokolate
or hot chocolate drink, which is served perfectly along with
bibingka
,
suman
,
ensaimada
,
pandesal
, or just about any bread or
kakanin
during
Simbang Gabi
, Christmas Eve, and New Year's Eve.
If most chefs and restaurants these days prefer to use powdered cocoa when making their hot chocolate drinks, it is not surprising that more local consumers prefer their hot chocolates done the traditional way. If you want to offer traditional hot chocolate in your food business menu, you should find and buy '
tablea
' in the market.
Tablea
is a Spanish word that means 'tablet.' Locally, the word refers to pure cocoa chocolate that is formed like small tablets or balls. Not surprisingly,
tablea
is one of the significant and interesting influences of colonial Spain, which ruled our country for over 300 years.
There is a flourishing cacao industry in the country. Those who own and maintain cacao farms should know how to make
tablea
, which can be sold in the market for quite a fortune. One can also use those pure chocolate slabs for making several chocolate treats like traditional hot chocolate drinks and home-made chocolate candies.
Cacao fruits should be harvested when ripe. The beans (or seeds) should be thoroughly cleaned before sun-dried for about two to three days. When the beans are completely dried, they can be stored for several more days or months or can be used to make
tablea
. You may also find and buy those dried cacao beans in farmers' markets, especially in provinces in the Southern Tagalog region (those abound in Cavite and Batangas).
You might be surprised to find out that making it is actually simple, but a little tedious. But without a doubt, making and selling it can be a very profitable business idea. Learn to make your own
tablea
here.
1.    Roast dried cocoa beans in a pan until those turn very dark or until you smell its chocolate aroma. Set the cooked beans aside to let them cool.
2.    Take each bean from its outer shell.
3.    Put the beans into a grinder (you may use manual or electric grinder). This process will not just grind cacao beans; it would also release natural cocoa butter, which will result to a thick and tar-like substance.
4.    When grinding is done, scoop a tablespoon of ground cacao and form it into a tablet or small ball. Set aside until it hardens, which happens when it cools down.
You may now store your
tablea
or sell it in the market.
ADVERTISEMENT - CONTINUE READING BELOW