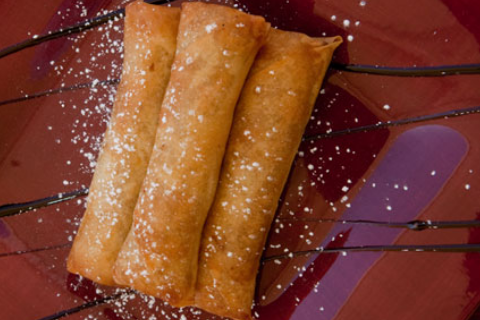 <>
Turon
is a prominent Filipino
merienda
made from
saba
or plantain bananas wrapped in spring roll wrappers and deep-fried in oil. Cooking and selling it can be an easy home-based business because the recipe is easy and it requires minimal startup capital.
There are several ways to make
turon
. You can easily customize size, shape, or thickness according to your preference. But it's a must to learn the basics of cooking it before you do some experiments on how to make variations.
Jackfruit strips in
turon
can be optional but it is highly recommended add a distinct, sweet taste. The ingredients below can make 10 pieces of the product. The utensils needed to cook it can be found at your kitchen. All you need is a wok for frying, a pair of tongs, and a serving plate.
Ingredients:
•    10 spring roll (or
lumpia
) wrappers

•    5 plantain bananas
•    Jackfruit strips
•    Cooking oil
•    Brown sugar
Procedures:
1. Pull apart the spring roll wrapper. Be very careful when separating the wrappers so they won't tear. 
2. Cut the plantain bananas lengthwise into half. Sprinkle it with brown sugar. Put the jackfruit strip on top of sliced banana, or place it underneath.

3. Wrap the sliced bananas. You can start by folding the top and bottom of the wrapper. Then, carefully roll the remaining wrapper just like you do when making an egg roll. You can use water or egg whites to seal it.
4. Place the wok on the stove and heat the cooking oil to medium-low. If the oil is hot enough, carefully lay the wrapped plantain bananas in the wok to start frying. Put them in batches so they won't stick. This will also help cook them evenly. Add brown sugar in the wok while cooking or roll the wrapped bananas it beforehand.
5. Making
turon
requires full attention since it has a tendency to easily overcook. Turn it on the other side occasionally using the tongs to even the frying.
6. Remove cooked
turon
from the wok when it turns golden brown. Put it on a paper towel-lined plate to drain cooking oil from it. You can also serve it with a bamboo skewer.
ADVERTISEMENT - CONTINUE READING BELOW