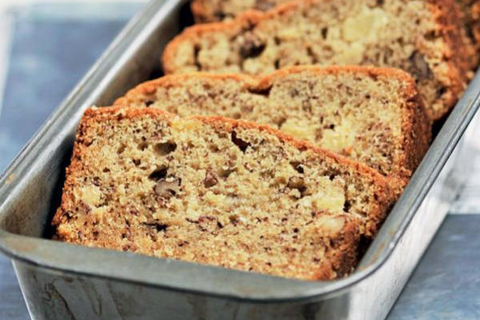 Banana loaf is a tender and sweet loaf that can be eaten at room temperature or sliced straight from the refrigerator. It also freezes well so you can make this ahead and store it---for your next week fix.

You may consider baking and selling banana loaf. Interestingly, the recipe is not as hard as you think.

Makes 2 to 3 (8x4-inch) loaves  
Prep Time 30 minutes  
Baking Time 35 to 40 minutes

Ingredients:

•    2 1/4 cups sifted all-purpose flour
•    1 1/2 teaspoons baking soda
•    1/4  teaspoon salt
•    1 cup dark brown sugar
•    1/2 cup white sugar
•    1 1/2  cups unsalted butter,
      cubed, at room temperature
•    3 eggs
•    1 teaspoon vanilla extract
•    2 cups mashed sweet ripe bananas
•    1/2 cup canned crushed pineapple
•    1/2 to 3/4 cup chopped walnuts

Procedures:

1  Preheat oven to 375ºF. Prepare 2 or 3 (8x4-inch) loaf pans.

2  Combine flour, baking soda, and salt in a bowl and whisk until thoroughly combined. Transfer to a large sheet of parchment paper.

3  Using an electric mixer with a paddle attachment, combine the two sugars and mix at low speed.

4  Add butter and slowly increase speed to medium; continue beating until light and airy.

5  Add vanilla extract, then add the eggs one at a time.

6  At the lowest speed, add flour mixture slowly.

7  Increase speed to medium and beat for about 3 to 5 minutes.

8  Fold in bananas, pineapples, and walnuts. Pour into prepared pans until three-fourths full.

9  Bake for 35 to 45 minutes or until top center springs back when lightly touched.


Selling tips:
Bake them as cupcakes
For a finishing touch, pipe with cream cheese icing on top.

Make marbled banana loaf
Take 1/3 of the batter and add 2 tablespoons cocoa powder. Dollop the mixture into the rest of the panned batter and swirl with a butter knife to make a marbled effect.

Make it healthy
Replace the 1/4 cup flour with rolled whole oats for added fiber.
ADVERTISEMENT - CONTINUE READING BELOW
This recipe was originally published in Yummy.ph (with minor tweaks by Entrepreneur.com.ph editor).