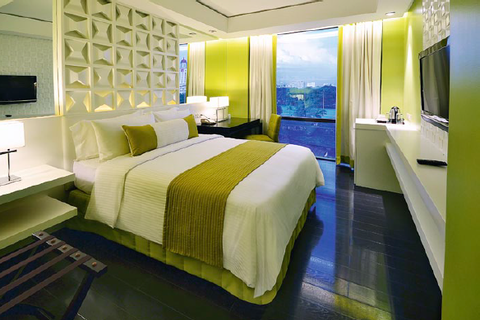 Boutique hotels are slowly gaining ground as contenders to more established lodging brands. Travelers have become savvier and look beyond the usual hotel trappings, taking into consideration factors that surpass facilities, location, and services.

Nowadays, buzzwords for hospitality include "unique," "trendy," and "thematic."

Value proposition

The Bayleaf in Intramuros and Hotel Celeste in Makati are two such hotels, the former having 57 rooms and the latter, 30. Each has its own charm that attracts both tourists and corporate guests.

The Bayleaf's location is a major attraction as it is situated within the historical "walled city" of Intramuros, resulting in a location choc-a-bloc with museums, churches, and courtyards.

As for Hotel Celeste, it is a modern, European-inspired hotel with each of its rooms painted and decorated differently from one another, earning it the distinction of rooms "being" a view of its own. The hotel's ceilings are intricately hand-painted, with plush and oversized chairs scattered all over.

Inspired by the Scarlet Hotel in Singapore, which is known for its chic and eclectic style, Hotel Celeste is also located right at the heart of the Makati central business district and has proven itself profitable despite being surrounded by well-known hotels that cater to every traveler imaginable.

Unique offerings

With fewer rooms and guests to handle, boutique hotels are able to give higher-quality services and facilities.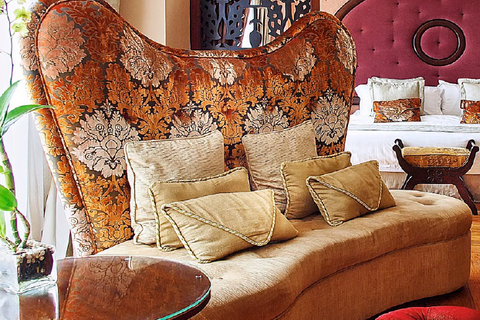 Hotel Celeste, for instance, is able to give more attention to its guests. "We offer a welcome drink and a 15-minute foot massage, which guests can avail of at the time that is convenient for them," says Tricia Sarabia, the hotel's general manager. "We can greet them by name. It makes the hotel more welcoming and guests feel more at home."

The Bayleaf also prides itself on dining outlets that quickly gained popularity since it opened in September 2011. "Our food and beverage operations are quite sizable," says The Bayleaf general manager Ed Vitug.

Vitug notes that they have three unique dining options at The Bayleaf: the Churros Cafe at the ground floor; 9 Spoons, a penthouse all-day dining panoramic restaurant; and the Sky Deck View Bar, a roof deck lounge bar with an amazing 360-degree view of the Manila city skyline.

The hotel is owned by the Lyceum University of the Philippines, and serves as a training facility for its students. "The hotel gives our students work experience in a real hotel," says Vitug, "A good 30 to 40 percent of our manpower comes from our trainees."

On the other hand, Hotel Celeste runs on a staff of 43. "Our employee-to-guest ratio is two to one, so every time our guest needs something, we always deliver it as best as we could," says Sarabia.

Hotel Celeste's sophisticated interiors also attract wedding parties requesting for pre-nuptial photo shoots. The hotel makes it a point to join wedding fairs, along with standard hotel promotions such as travel expos and sales blitzes.

It relies on social media to sustain its publicity efforts. The hotel does enjoy spillover business from its larger neighbors, and its brand of service encourages visitors, both corporate and leisure, to return.

Meanwhile, The Bayleaf relies on traditional direct selling, online travel agencies, and traditional and social media marketing to sustain its publicity efforts. It also regularly maintains its website with electronic newsletters to promote its new offerings.

Being located in Intramuros, one of the country's noted heritage sites, presents certain challenges to The Bayleaf. "There are quite a few limitations being inside this special location, but nothing extra-ordinarily difficult," says Vitug. "It just requires close coordination with the Intramuros Administration."


Personalized alternative

Many view boutique hotels as a cheaper alternative, but with personalized services and more attention to detail in amenities, this is hardly the case for Hotel Celeste. Published rates for rooms range from over P6,000 to over P12,000.

"We focus more on offering value for money as opposed to competing with other lodging brands," Sarabia explains, "More than the décor and hardware, it's the service that we emphasize."

The Bayleaf's rates range from over P3,000 to over P6,000, which they say is in line with its target market. "There is a big market out there looking for hotel rooms, restaurants, or events places where they can enjoy five-star service with four-star amenities and three-star pricing," Vitug says. "In other words, the hotel is an excellent option as real value for money."


Both hotels enjoy near full occupancies and are also scouting for additional locations. It's not surprising that despite being smaller compared to well-known foreign brands, both The Bayleaf and Hotel Celeste have received the coveted Certificate of Excellence from the popular go-to website for travelers, TripAdvisor.


ADVERTISEMENT - CONTINUE READING BELOW
Photos by Walter Villa and courtesy of The Bayleaf

This article was originally published in the September 2013 issue of Entrepreneur magazine.
Subscribe to the print or digital version of the magazine here.