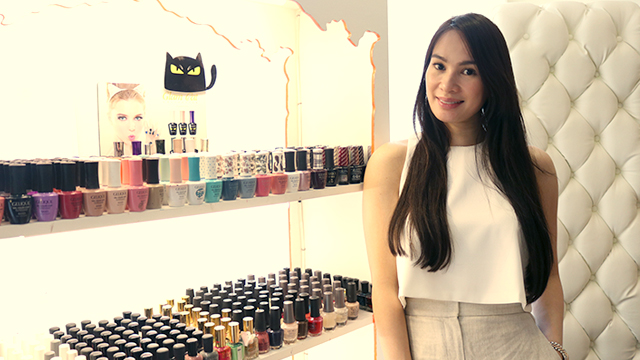 Veronica Resurreccion already owned a traditional nail salon prior to opening Extraordinail's Luxury On Wheels mobile nail salon
The horrendous traffic situation in Metro Manila led Veronica Resurreccion to open a new nail salon concept. Opened in June 2017, Extraordinail's Luxury On Wheels is the first and only mobile nail salon in the Philippines.
Designed to cater to people who have no time to drop by a salon for their manicure-pedicure, Luxury On Wheels is also for clients who wish to get professional nail services done in a safe and secure location.
To further ensure the quality of the beauty and nail specialist's work, along with the security of the guest's belongings, the luxury bus is installed with CCTV cameras.
Resurreccion was also inspired to open the business after her own experience of getting a mani-pedi service in her own home and finding out later that her wedding ring had been stolen. When she asked for her ring back, she was instead given a pawnshop receipt.
"We are after your security as well that's why we came up with this concept," she told Entrepreneur Philippines. "At least we just park outside your house, you come out, we do your nails and you can go back to your place."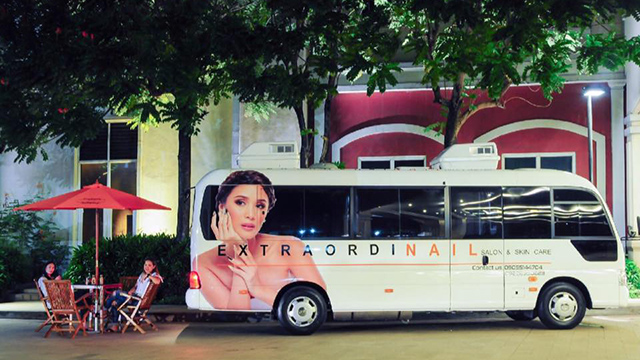 Luxury on Wheels is the first of its kind in the country
The full-time entrepreneur started in the beauty services business in 2014 when she opened her first nail salon called Extraordinail in a 54-square-meter space in Greenhills, San Juan. The success of the enterprise allowed her to open another branch at the Tomas Morato Ave. food hub in Quezon City the following year. She hopes to add at least two or more branches in 2018.
Resurreccion said she has regular clients who come all the way from places outside Metro Manila like Baguio and Batangas. "I've even had customers flying in from Cebu to avail of our services," she added. "The demand from these clients gave me the idea for a mobile nail salon, so they would not need to travel far. We will now be able to go to them," Veronica explains.
ADVERTISEMENT - CONTINUE READING BELOW
Luxury on Wheels offers complete mani-pedi services in a customized modern interior. Clients are serviced by experienced and professional staff in an air-conditioned environment with plush reclining chairs, Wi-Fi access, high-definition TV and a high-quality sound system.
In addition to their mani-pedi services, clients can also request for a neck massage. Luxury on Wheels also offers other beauty and skin services like a gluta-drip and a luxe facial treatment.
To ensure that her beauty and nail specialists are always in their element as they work on clients, her nail technicians are given specific tasks. "I have someone who does all the cleaning, someone to put in the extensions and then someone else who specializes in the nail art," Resurreccion explained. "This way, the staff who creates the art is not tired from working on the nail basics and can therefore be more creative."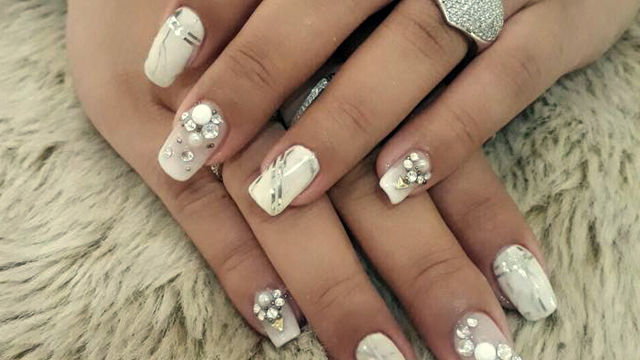 The mobile nail salon offers everything from basic nail cleaning and pampering services to fancy nail art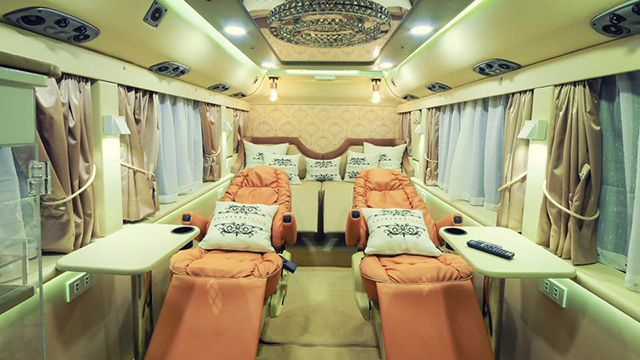 Luxury On Wheels is equipped with plush reclining chairs, Wi-Fi access, high-definition TV and a high-quality sound system
The mobile nail salon offers everything from basic nail cleaning and pampering services to fancy nail art. Some designs can even incorporate Swarovski crystals for some extra sparkle and dazzle.
"I don't want you to go to a party with the same nails as other celebrities or guests," she said. "I want you to look different. That's why we don't have any swatches. Once you come in, you give us the colors and my nail specialists would help them to build on that design to come up with something that is their own. We consult and confer until the client is happy with the choice of design."
The bus is also available for special occasions such as a spa party for birthday celebrations or bridal showers. Booking fees start at Php1,500 to Php2,000 for home service with free light snacks (such as chips) and unlimited wine on board.
ADVERTISEMENT - CONTINUE READING BELOW
Resurreccion said she invested about Php3 million for her luxury bus. When asked about the advantages of her mobile nail salon compared to traditional salon, she explained that it's cheaper to operate the former. Whereas in a traditional salon, you would need to pay anywhere from Php80,000 to as much as Php120,000 a month in rent, her mobile nail salon only needs gas which costs around Php300-Php600 a day.
According to Resurreccion, Luxury On Wheels is now open for franchising for her loyal clients particularly those living in fast-growing provinces such as Laguna, Pampanga and Cebu. The cost of the franchise package starts at Php5.2 million.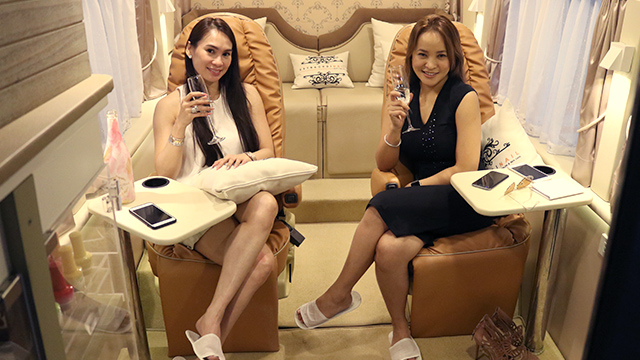 Clients can book Luxury on Wheels bus for private events such as spa parties for birthday celebrations or bridal showers
Since launching in the middle of the year, Luxury On Wheels already has had a full schedule stretching to the end of the year and early 2018. Resurreccion said she is keen on growing the business by adding more buses in order to cater to more clients in more areas around the city.
*****
Janaeka Sam Navalta is a multi-media journalist