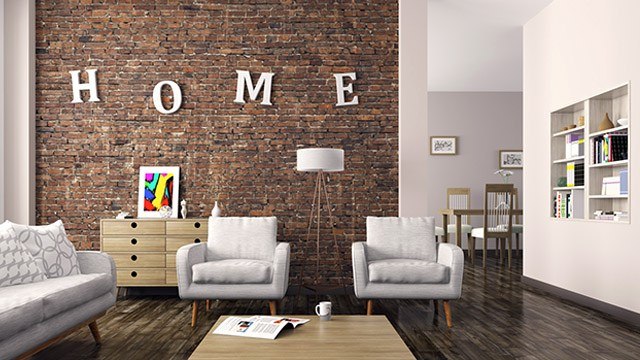 Manila Furniture is a buy and sell Group on Facebook specializing in furniture and other home furnishings
Garage sales are passé. These days, if you want to sell a used item, snap a photo and share it with friends on social media and online. In fact, Internet platforms have sprouted just for this very purpose. There's homegrown Sulit.com, eventually acquired by OLX, and a young startup called Carousell from Singapore.
ADVERTISEMENT - CONTINUE READING BELOW
But Facebook has also added features that have turned it into a marketplace, perhaps in a bid to keep users from leaving the platform. In late 2015, for example, Facebook introduced the Buy, Sell, Trade group type, allowing members to easily find an item's price and pick-up location.
Thanks to these features, full-time moms Marta Luque, Christina Boonsirithum and Maria Rodriguez discovered Facebook groups as a convenient marketplace when they were looking for ways to sell furniture they no longer wanted after decluttering their homes. The trio set up the Manila Furniture Buy and Sell Group on Facebook to sell some items they no longer needed.
"The group was started around June 2015. I wanted to dispose of more expensive pieces of furniture and found that the buy and sell groups that were active [on Facebook] were mostly for smaller trinkets," Luque told Entrepreneur Philippines. "I've always been an online shopper and a big 'Facebooker' so this was a great way for me to shop and sell."
ADVERTISEMENT - CONTINUE READING BELOW
The three women were the first administrators of the group that now has 20,000 members. The group is a community of homeowners who wish to sell used furniture and related items such as bed frames, chandeliers and even paintings and vintage collector pieces.
While items posted are usually used, they don't necessarily come cheap. A designer dining set could still fetch almost a hundred thousand pesos, especially when it's in good condition. Some items, such as a four-seater dining set, however, can be sold for as low as Php2,000.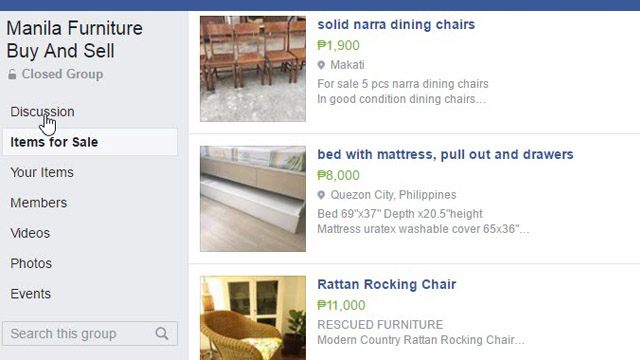 ADVERTISEMENT - CONTINUE READING BELOW
Manila Furniture has become a hub for people looking to get rid or acquire slightly used furniture
"I love Facebook groups because it's easy to browse. One man's junk is another man's treasure," Luque said.
Liz Lam, a member who joined the group in late 2015 and performed administrator functions until recently, finds the platform similar to the Yahoo groups of yesteryears. As a wife to an expat in Manila, Lam found a niche Yahoo group composed of an estimated 300 young moms who would post about some items they wish to sell before leaving for another country.
"Often it [Yahoo group] was also used as a platform for expat moms to sell items their babies had outgrown like cribs, prams, carriers, and new moms could benefit from them. I got a barely used baby car seat for Php500 then," she shared. "I would say it was such an awesome way of getting things I needed as a new mom without having to invest heavily on things my baby would outgrow in less than a year."
ADVERTISEMENT - CONTINUE READING BELOW
Not to be confused with the Facebook pages of establishments and online shops, which are open to the public (even for non-Facebook users), groups are accessible only to members approved by the administrators.
Usually made up of volunteers, these administrators are the glue that holds the Facebook groups together. What starts as a part-time hobby could grow into a virtually full-time job, albeit unpaid, policing the posts of members and processing the applications of those who wish to become a member of the group.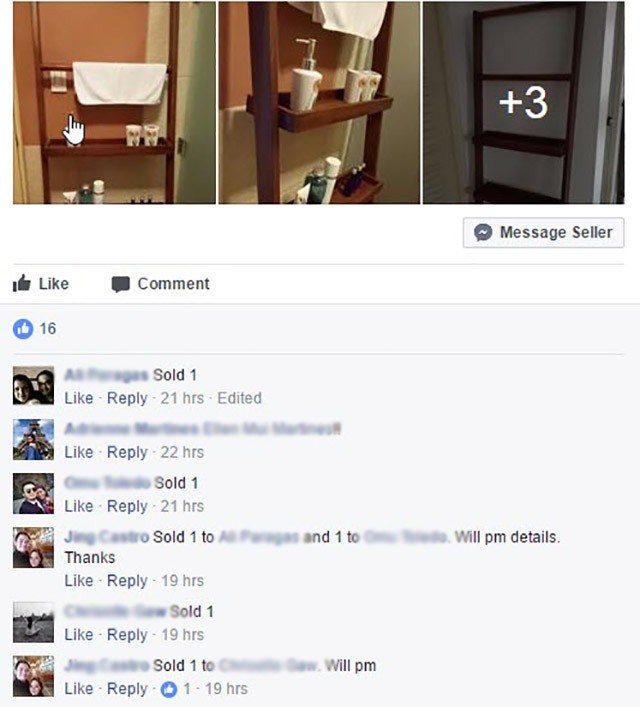 ADVERTISEMENT - CONTINUE READING BELOW
People can buy the items by commenting Sold on the Facebook post. Whoever comments first gets it
With their group membership still growing, the female administrators, now six, have to enforce and update the group's rules and regulations, which now run to six pages, to keep the group "happy and positive."
"We knew from the start that we'd need rules to maintain a group as we already saw the issues that arise from a lack of rules in previous groups," Boonsirithum said.
Sellers, for example, would have to limit the photos used per post to five, to keep the page organized. The item must also be with the seller already, thus, "pre-selling" or taking orders on the page is prohibited.
However, early this year, the administrators decided to allow "professional" sellers or retailers to sell to members provided they paid a posting fee of Php1,000 a year. "This keeps them honest about their products and conscious about their reputation to sell good items," Rodriguez said in a post in the group.
ADVERTISEMENT - CONTINUE READING BELOW
For popular items with several interested buyers, the group adopted a simple rule to determine who gets to purchase the merchandise. The member who comments "sold" first after the item is posted for sale gets to buy it.
Boonsirithum credits the administrators' friendship as a key factor why the group has thrived. "As long as the admin are actual friends you can work through most group issues. We vote on changes in the group," she said.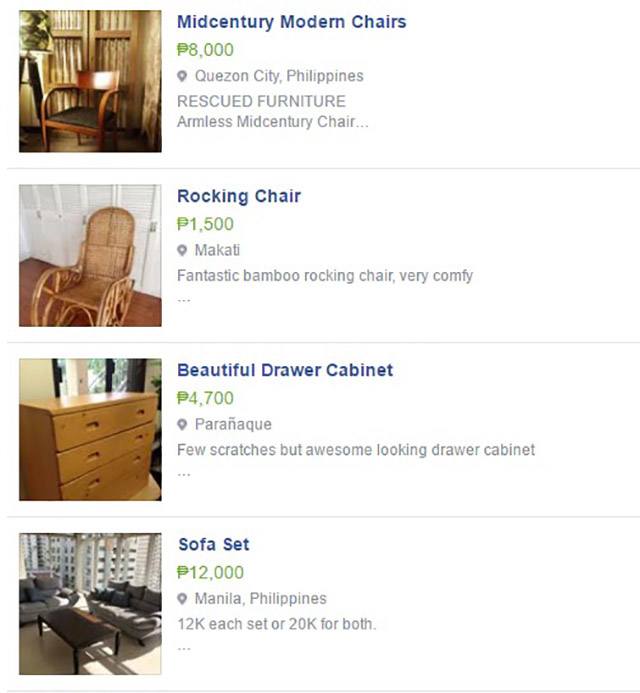 ADVERTISEMENT - CONTINUE READING BELOW
Manila Furniture is a Closed Group, meaning people need to be approved by the administrators in order to post items or see the merchandise
Because of growing complexity of the rules, enforcing them and managing the group can be taxing on the administrators who are all unpaid volunteers. The demands on their time can be staggering especially with the big number of notifications they have to keep up with on their Facebook accounts.
Yet, the administrators don't make money from the job of administering the group. The posting fee they collect from professional sellers is donated to charities.
What keeps the three women going as volunteer administrators is the knowledge they are making a big difference in the lives of their members. It helps that alongside the disputes and complaints, they get messages of gratitude from members.
"I know what a big help selling sites can be in disposing and acquiring articles you need but don't want to invest too much cash in. It's a satisfying feeling knowing you have provided people that platform," Lam said.


ADVERTISEMENT - CONTINUE READING BELOW
*****
Elyssa Christine Lopez is a staff writer of Entrepeneur PH. Follow her on Twitter @elyssalopz