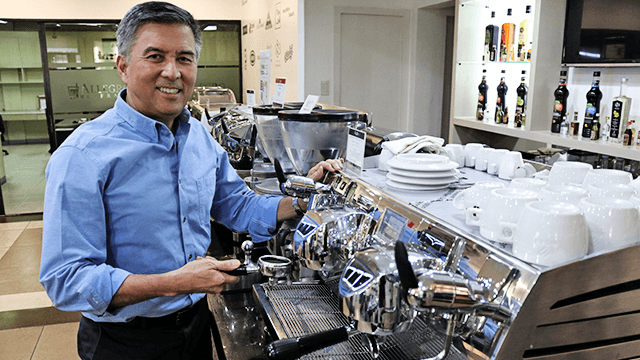 These days, even a small community mall in second or third-tier Philippine cities would not be complete without a coffee shop or two. In giant shopping centers, it's not surprising to find three branches of one coffee chain alone.
Powerful shifts in consumer tastes underlie the rise of coffee shops. A Kantar Worldpanel study in 2015 found that for every Php100 that Filipinos spent on beverages, Php30 is allotted for coffee. It also discovered that heavy coffee drinkers are growing faster than moderate ones.
ADVERTISEMENT - CONTINUE READING BELOW
One of the first entrepreneurs to spot and take advantage of the consumer trend is Leo De Leon, CEO and founder of Allegro Beverage Corp., which imports and sells coffee equipment and supplies such as beans.
"The nice thing about the coffee industry is there are so many factors that come into play. The industry is changing because of globalization, social media, because people now have more wealth. There's a rising middle class here," De Leon said.
Allegro, which means happy in Italian, sells coffee beans and espresso machines to institutional customers such as cafes, restaurants, hotels and even ordinary companies that provide free coffee to their employees. In addition, it provides equipment maintenance services and even training.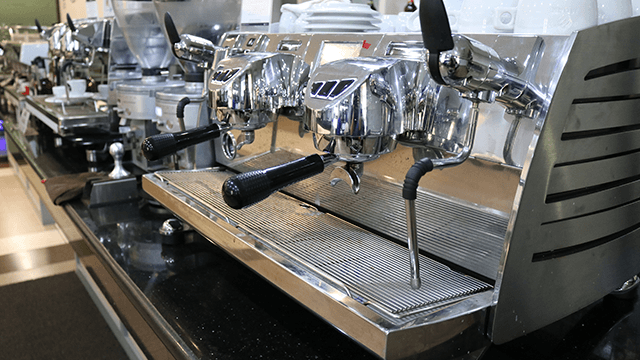 ADVERTISEMENT - CONTINUE READING BELOW
The company started with just two Italian brands for their espresso machines in 1999. It has since expanded its portfolio of brands to 18. As of early 2017, the company has sold coffee machines and beans to more than 1,000 coffee shops, 70 percent of which remain as active customers.
Still, business hasn't always been that sweet. Firstly, De Leon's coffee-making machines don't come cheap. A middle-range espresso machine for example can set you back by much as Php250,000. Secondly, there was initially no or a very limited market for quality coffee when Allegro started.
"For the first four to five years, it was harder to convince people [to buy our products] because they were used to cheap coffee," De Leon explained. "But no one else was doing what we were doing, so we charged along."
The 67-year-old coffee connoisseur said that back in the late 1990s and early 2000s, most of their competitors were restaurant appliance suppliers. Most businesses in the food industry hardly focused on coffee. Hotels that offered specialty coffee on their menus could be counted with one's hand. Consumers were used to instant coffee mixes.
ADVERTISEMENT - CONTINUE READING BELOW
"When we were starting, we really expected to be at a loss since we're still educating the public. It definitely took some time," De Leon said. "But what's nice about us [here in the Philippines] is once we get into a trend, it spreads out quickly."
Now, he counts some of the largest coffee chains in country as his clients, including Krispy Kreme, J.Co Doughnuts, Coffee Bean and Tea Leaf and Bo's Coffee. He has also signed up large hotels such as Shangri-La Hotels and Solaire Resorts.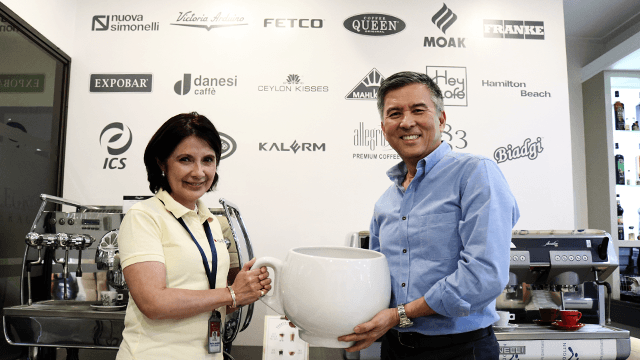 ADVERTISEMENT - CONTINUE READING BELOW
In the last five to seven years, De Leon estimates that Allegro has been experiencing a 30-percent revenue growth annually. In fact, the company's financial statement on file with the Securities and Exchange Commission shows that net sales were doubling almost every two years between 2007 and 2015. From only Php9.9 million in 2007, revenue soared to Php17.7 million in 2009, Php37 million in 2011, Php73 .4 million in 2013 and Php113.1 million in 2015.
In addition to persistence and good timing, another factor going for Allegro is De Leon's convincing sales pitch that aims to convince his customers they'll make millions if they buy his product. 
"Hey, can I show you how to make an additional one to three million in profits?" he begins his pitch. He then proceeds to show, using detailed calculations, how his machines allow buyers to make a cup of high quality coffee that costs only around Php15-Php20 in terms of the raw materials but which can be sold for at least a hundred pesos.
ADVERTISEMENT - CONTINUE READING BELOW
With the large margin, De Leon works out with the customer how many cups of coffee should be sold to pay for the equipment, break even or earn a decent profit. For example, a café owner just needs to sell two cups a day to amortize the coffee equipment over four years, de Leon explains. After seeing how easy it looks, many customers then sign up as Allegro customers.
If the Allegro CEO seems like a pro at selling, that's because he's had a lot of practice in the US where he bought and grew a doughnut shop into a chain with nine branches. He was born and educated in the Philippines and moved to the US after his family migrated there in the late 1960s. After a few years working as an employee in large American companies, he tried his hand at entrepreneurship.
Based in Houston, Texas, which has a lot of hospitals and medical centers, De Leon knocked on every building's cafeteria to convince them to buy their doughnuts from him.
ADVERTISEMENT - CONTINUE READING BELOW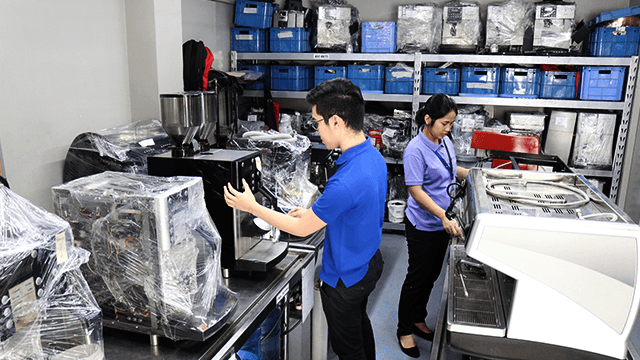 "For my first deal, I asked the manager: Would you like to save your company $18,000 a year? I told him that he should replace the baker they're employing in the cafeteria and get my doughnuts instead," De Leon explained. "I told him to just try my doughnuts for a week and if he didn't like it, he wouldn't even have to pay. And it worked. From then on, I used the make-or-buy analysis for every sale and deal."
ADVERTISEMENT - CONTINUE READING BELOW
When he came back to set up a business in the Philippines in the late 1990s, he basically employed the same selling technique that worked so well for him in America.
By all indications, De Leon's selling technique—underpinned by his 'make-or-buy analysis'—is working for him in the Philippines as well. Apart from Allegro's galloping revenues, the company is expanding within the country and beyond. It has opened satellite offices in Pampanga, Cebu and Iloilo. A branch in Boracay is also set to open later this year. The company also has a branch in Guam, while an office in Honolulu, Hawaii is set to open next year.
Though he is setting his sights outside the country, De Leon also believes that coffee shops still have a lot of room for growth in the Philippines. "People now have a variety of ways to treat themselves. It's a matter of convenience and differentiation," he said. "I think we still have five to seven years of growth."
ADVERTISEMENT - CONTINUE READING BELOW
*****
Elyssa Lopez is a staff writer of Entrepreneur PH. Follow her on Twitter @elyssalopz