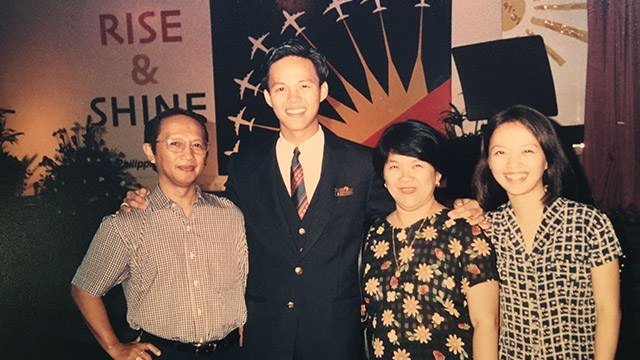 Jan Michael Uy became a flight attendant of Philippine Airlines in 1997 but was laid off just a little over a year later
Like many people, Jan Michael Sy Uy had dreamt in his youth of working in a plane—traveling the world and seeing new places. He was enrolled in a physical therapy course but left after his third year to apply to become a flight attendant with Philippine Airlines (PAL). He was readily accepted in 1997.
ADVERTISEMENT - CONTINUE READING BELOW
He felt all his dreams had come true. What he didn't expect is that it would just be a short-lived one. A little over a year after he got his ideal job, Uy was laid off along with hundreds of other PAL employees as the airline struggled to survive financial losses due to the Asian financial crisis of 1997-1998. A few years later, PAL itself was bankrupt and couldn't pay its creditors, forcing to go through a decade-long financial rehabilitation program.
Rather than despair over the loss of his dream job, Uy went back to his hometown in Cagayan de Oro City. With his long-time girlfriend and now wife Maggie, John helped his father run the family's trading business, which he grew into a major food distribution company in Northern Mindanao.
Under his leadership, the business expanded from distributing packaged food to retail outlets to supplying food ingredients to hotels, restaurants and caterers in the city. He became one of the city's most prominent businessmen, and was elected as a director of the Cagayan de Oro Chamber of Commerce and Industry.
ADVERTISEMENT - CONTINUE READING BELOW
Uy's smooth transition from employee to entrepreneur isn't hard to understand considering that both his parents engaged in various businesses to make a living. His father had a small factory to make and sell siopao and even ventured into noodle making. His mother ran the factory canteen, handling everything from buying ingredients to cooking to selling.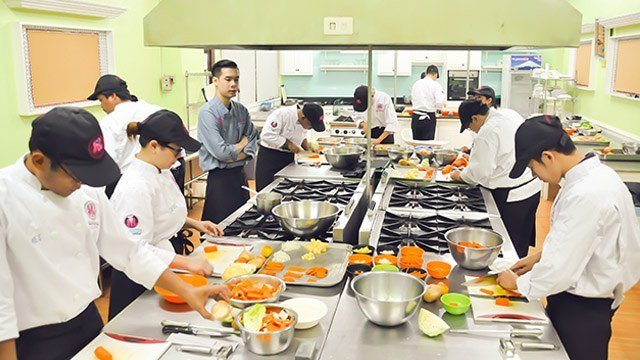 ADVERTISEMENT - CONTINUE READING BELOW
Uy set up Monster Kitchen Academy, a baking school, in Cagayan De Oro City in 2013
"I didn't exactly understand what my parents were doing those days but somehow their ideas and hardships remained inside me, which I use now in being an entrepreneur myself," says Uy.
Entrepreneurial Education
Another big factor that eased his transition to entrepreneurship was enrolling in a master's degree in entrepreneurship course at the Asian Institute of Management (AIM) in 2007. He initially just attended a week-long marketing course at the business school two years before, in 2005.
Uy remembers being very excited on his first day of the short course. It was a very intimidating experience as well, being the only one from the province. It brought back memories of his job interview at PAL, which was considering other applicants mostly from Metro Manila.
After that short class, he decided to continue with the master's degree in entrepreneurship, an innovative program designed for working business owners. Unlike the MBA and other graduate programs at the AIM, the master's in entrepreneurship was part-time and accepted even those with no college degrees so long as they owned and managed a business enterprise. But it has to be completed within two years.
ADVERTISEMENT - CONTINUE READING BELOW
Being with others who shared the same dreams and doubts made him realize that entrepreneurship was his new calling. "Sharing the same language and solving problems with my colleagues made me realized that I'm on the right path to being entrepreneur," he says.
Startup Frenzy
Energized and emboldened by the knowledge gained from the two-year program, Uy embarked on a frenzy of launching startup after startup immediately after graduating in 2009. That same year, he opened Monster Kitchen, a baking supply store with a studio for baking classes. Then he set up Thai Me Up Restaurant. He converted Monster Kitchen into Monster Kitchen Academy, a baking school, in 2013.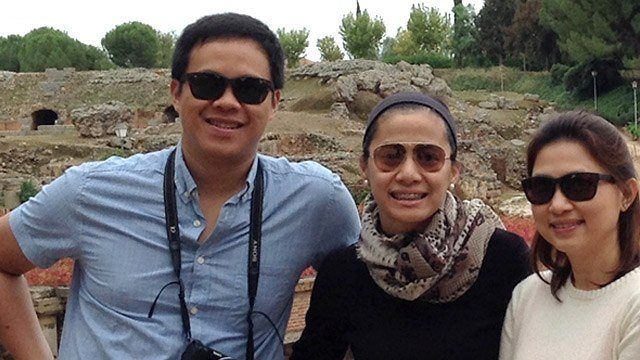 ADVERTISEMENT - CONTINUE READING BELOW
Jan Michael Uy and his wife Maggie (left and right) with business partner Cathy Dano (center)
Reflecting on his decision to build a baking school, he says: "I know there was a big opportunity. In Monster Kitchen's baking classes, I saw that students and housewives found something to do with a deeper meaning. There are some cases when professionals stopped with their regular work because they now earn more through the baking business. At the same time, they get to spend more time with their families."
Uy's efforts at promoting the baking industry paid off. Today, one can find a bakery or bake shop on almost every street corner in Cagayan de Oro city. He also established a Monster Kitchen Academy and Store in Davao City, Mindanao's biggest urban center.
"Back then, I didn't know anything about business. I never knew that what I was doing was entrepreneurship, I just enjoyed every new thing I've learned along the way," he says.
ADVERTISEMENT - CONTINUE READING BELOW
In 2015, he established a company, Bite Me Up Food Corp., which ran a commissary for 7-Eleven convenience stores and S&R supermarkets in Northern Mindanao. It later developed one of Cagayan de Oro's most popular pasalubong products, Brownie Bites.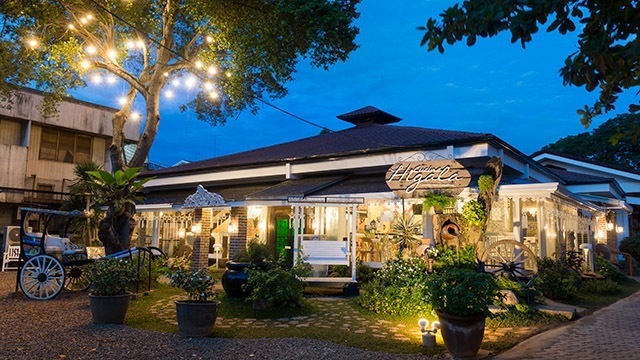 Opened in November last year, Cucina Higala serves classic Filipino and Northern Mindanao Heritage dishes with a twist
ADVERTISEMENT - CONTINUE READING BELOW
Cucina Higala
Uy's latest venture is a restaurant called Cucina Higala, which he launched together with his wife in November 2016. The casual dining place aims to showcase Cagayan de Oro, which is known as the "City of Golden Friendship." Higala means "friend" in the Visayan language.
ADVERTISEMENT - CONTINUE READING BELOW
(clockwise from top left) Beef salpicao, grilled panga ng tuna, surol and lumpiang sariwa are just some of the specialties of Cucina HIgala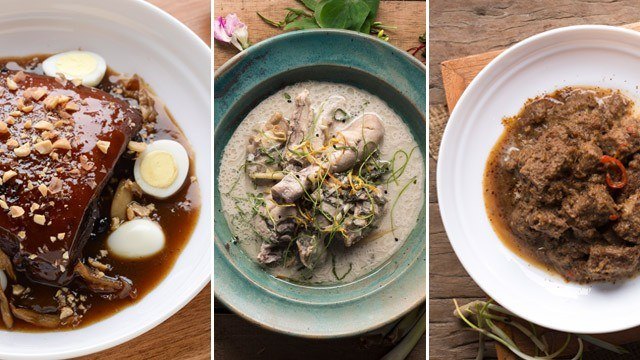 (from left to right) Humba, surol and beef rendang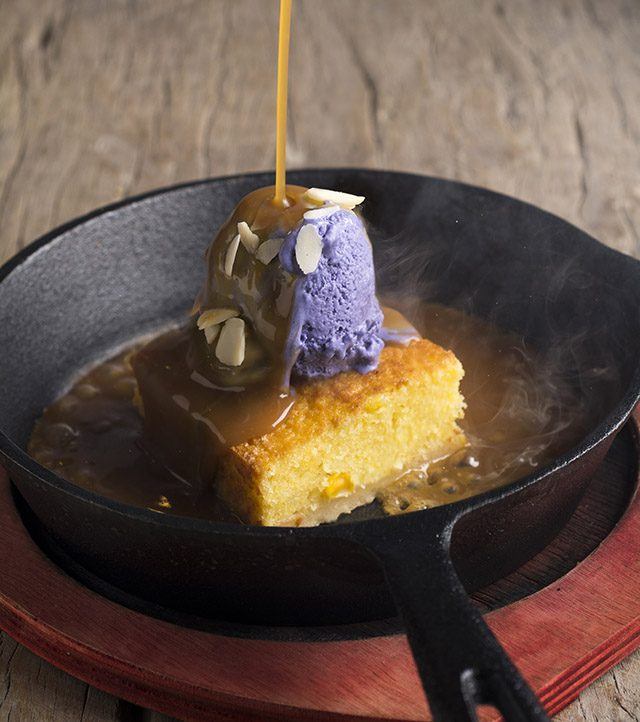 ADVERTISEMENT - CONTINUE READING BELOW
Binaki is steamed cake made with corn grits and powdered milk
It serves, with a modern twist, classical Filipino dishes and northern Mindanao heritage food such as humba (slow-cooked pork belly), sinuglaw (grilled pork belly and fish ceviche) and binaki (steamed cake made of corn grits and powdered milk) of Cagayan de Oro, surol (chicken stew in coconut milk) from Camiguin, and rendang (spicy beef dish) from Marawi.
Uy says he opened Cucina Higala as part of his personal mission to provide Kagay-anons with a homegrown restaurant that can be a source of local pride and the ultimate food destination for visitors. It also aims to promote Cagayan de Oro as a tourist destination, which is apparent from the giant mural that depicts the city's attractions such as San Agustin Church, the iconic motorela (a locally developed motorized ride) and white water rafting.
The restaurant is also an opportunity for Uy to help local farmers and fishermen who supply many of the ingredients that go into the dishes. He has a small farm of his own where he plants herbs that give his dishes a unique taste.
ADVERTISEMENT - CONTINUE READING BELOW
By most accounts, Cucina Higala is delivering on its promising if hard-to-execute concept. In a restaurant review in January, two months after opening, a Cagayan de Oro native who knows local food quite well wrote: "Cucina Higala executes each dish in a manner that would honor traditional local recipes and at the same time deliciously introduce each to a wider audience, especially those who have never set foot in this part of the Philippines. For example, their kinilaw comes with candied dilis for sweet contrast and crunch."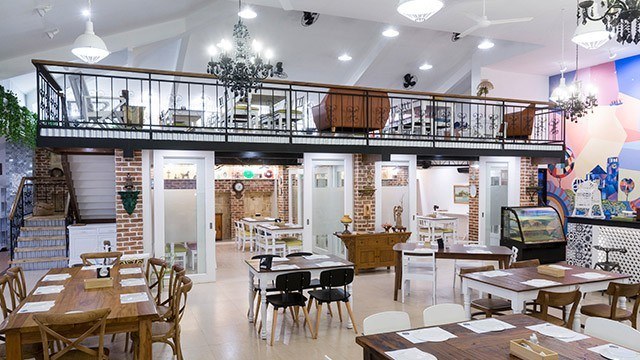 ADVERTISEMENT - CONTINUE READING BELOW
Cucina Higala has won praise for its clean, "instagrammable" interiors
The reviewer even posted a picture of the restaurant's washroom with this note: "From the get-go, it's indeed hard to nitpick anything at Cucina Higala. Even their washrooms are clean and very instagrammable." The only downside the reviewer cited was the restaurant's location in the middle of the city's most congested district. "It could be a nightmare to drive through and around our Divisoria's one-way mazes such that by the time you reach the restaurant, you may not have a parking slot anymore," he wrote. "But even that becomes a non-issue especially when you have old, good friends gathering over honest, good food."
When asked about bringing Cucina Higala outside of Cagayan de Oro to Manila or other places, Uy admits he's rather hesitant about it at the moment because he wants it to be a destination place that would help draw visitors to one of the country's most beautiful and peaceful cities. With Cagayan de Oro's prospects looking up not just for tourism but also for call centers—it was recently named by the business process industry association as a "next wave city"—he is probably right to focus on the city first.
ADVERTISEMENT - CONTINUE READING BELOW
*****
Glen Concio is Entrepreneur PH's art director