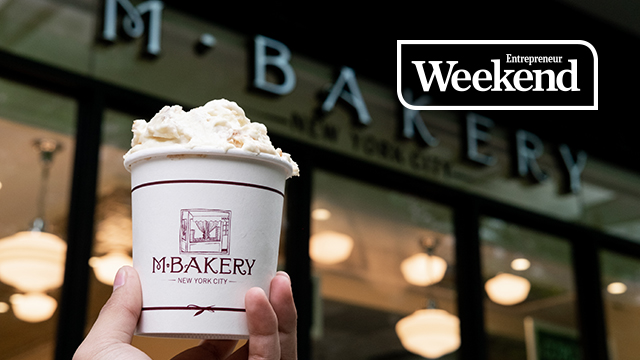 Magnolia Bakery's bestselling item is its Banana Pudding
Stewart Ong is such a fan of New York City's Magnolia Bakery he'd go there "literally every day" when he was visiting the Big Apple. He'd get one of their famous banana pudding and pick up a few cupcakes to take back to his family and friends. This was how the idea for bringing the bakery to the Philippines started.
ADVERTISEMENT - CONTINUE READING BELOW
"We noticed that a lot of Filipinos are very familiar with the brand as well," he told Entrepreneur Philippines at the opening of the bakery's first branch in Southeast Asia in Manila on Wednesday, August 8. "They would line up (at the branch) in Rockefeller Center. And on the plane (going back home), I'd see a lot of people carrying Magnolia boxes. So I thought it would be a good idea to bring it here."
Ong, whose other company is involved in distributing global brands locally, including Johnson & Johnson and Kopiko, said he was at the newly opened Magnolia Bakery branch in Tokyo when he managed to convince the staff there to give him the contact for the principals in New York. After a series of back and forth emails, including a conversation with CEO Steven Abrams, Ong's Phil Jacobe Ventures Inc. won the master franchise for Magnolia Bakery in the Philippines.
ADVERTISEMENT - CONTINUE READING BELOW
"We're always looking for opportunities to expand, but part of it is making sure we find the right partner," said Erick Larios, Magnolia Bakery's director of franchise operations. "Stewart was a loyal customer of ours in New York. Knowing and understanding the brand, he brought something to the table. He experienced it and he knew that it would be something that would work here."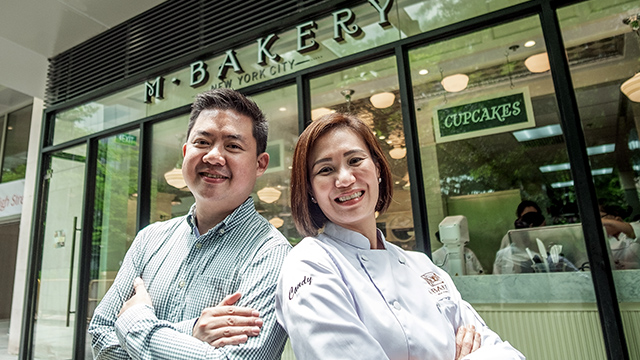 ADVERTISEMENT - CONTINUE READING BELOW
M Bakery's managing partners Stewart Ong and Candy Lu
Still, it took almost a year and half since Ong sealed the deal before the bakery's doors finally opened at the new One Bonifacio Mall in Bonifacio Global City. The owner said he had to make presentations to the principals in the US. He also trained for four weeks at the New York store along with his business partner Chef Candy Lu.
"We made sure to find a very good location, which also took some time," Ong said. "And the other part is the development and sourcing of the ingredients. It took a while to get our ingredients approved. Some of it had to be imported."
Magnolia Bakery started as a small neighborhood bakery serving cupcakes, cakes, cookies and other pastries in New York's West Village in 1996. The original owners sold the business in 2007 to Abrams, who then began to slowly expand the brand to other cities in the US and overseas. It now has 18 locations across the globe, including Los Angeles, Chicago, Mexico City, Abu Dhabi, Riyadh and Doha, with a few more opening up very soon. (The one in Tokyo, sadly, has already closed.)
ADVERTISEMENT - CONTINUE READING BELOW
"Right now we have 17, and Manila is the 18th," Larios said. "Our store in Brazil will be opening soon, and we're hunting locations in Turkey. Washington DC is opening within a few weeks. We have additional stores opening in the UAE and Riyadh. All of those are scheduled by the end of the year and early next year."
ADVERTISEMENT - CONTINUE READING BELOW
One of M Bakery's most popular products are its cupcakes 
Ong promised that the store in Manila—which the team renamed to M Bakery to avoid confusion with other companies that carry the same brand name—will offer products not found in other branches. The key lime pie, for example, will instead use calamansi as an ingredient.
"We're also trying to explore and develop new products with some local flavors," Ong said. "Something familiar with the local palate but with a touch of Magnolia."
*****
 Paul John Caña is the managing editor of Entrepreneur PH