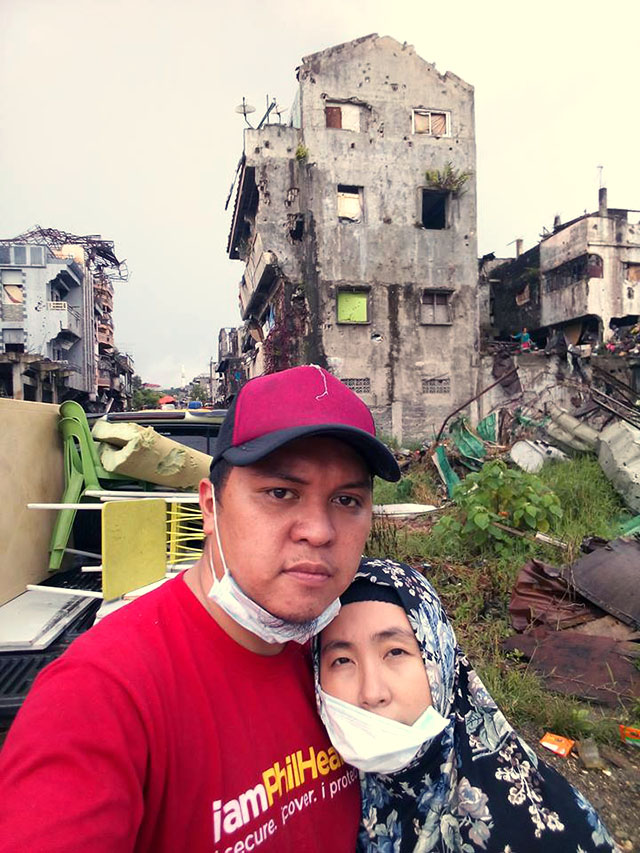 Juffali Magarang was forced to leave his business and evacuate Marawi with his family when government troops battled rebel forces in the city in 2017
With the demise of militant leaders Omar Maute and Isnilon Hapilon, who were affiliated with the Islamic State of Iraq and the Levant (ISIL), the government announced the end of the siege in Marawi City on October 23, 2017. Since then, the city has seen a flow of support from the government and various organizations. But for entrepreneurs who, prior to the siege, owned and operated businesses with potential for growth, the remnants of the crisis live on.
ADVERTISEMENT - CONTINUE READING BELOW
As Juffali Magarang, owner of Juff Creative Studios, can attest, rebuilding a business post-siege is an ongoing and bittersweet process. While citizens have had more than a year to pick up the pieces from the offensive on Marawi, Magarang says businesspeople need more time to bring businesses back to their pre-siege state of health.
For Juff Creative Studios, its pre-siege state of health meant having a monthly average of 13 bookings for photography and videography services during weddings and special events. But the destruction and loss of most of the property needed to run the business meant the studio needed to start from scratch.
Photography as a profession
Originally a graphic artist, Magarang says taking photos was a mere hobby, but in 2014 he saw an opportunity. "I realized there was no Maranao creative photographer who did professional covers for special events in our home town. I did know of a few talented Maranao photographers, but I didn't know of anyone thinking of turning their passion into a business." He adds that many people in his community did not consider photography as a decent profession with long-term prospects—even until today.
ADVERTISEMENT - CONTINUE READING BELOW
"But I had the support of my wife, family and friends," he says. "I was inspired to one day make a name for myself as the first well-known Maranao professional photographer and hopefully change the negative view that some of my fellow Maranaos may had on Maranao photographers."
With a steady and lucrative business, Magarang was perhaps on his way to making his vision for himself come true. His studio offered three packages: the Simple Package, priced at Php15,000 for one photographer and one videographer; the Grand Package, priced at Php25,000 for two photographers and two videographers; and the Royal Package, priced at Php38,000 for three photographers, three videographers and one same-day edit videographer.
Then on May 23, 2017, the siege began.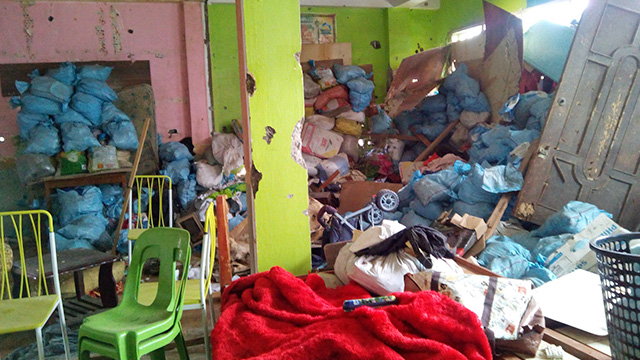 ADVERTISEMENT - CONTINUE READING BELOW
Magarang's house was used as a base in the dying days of the siege 
Pivot from photography to food
"On the day of the siege, my family and I were on our way to Iligan City to buy some groceries in preparation for the coming Holy Month of Ramadhan. When I heard the news that the ISIL-related group was attacking my hometown, I left my family in Iligan and went back home. I was hoping to secure the house, believing I could go back to my family on the same day. But the situation had worsened so quickly and I was trapped in my house with my uncle and some of my cousins. It was the scariest, most horrible night of my life. I couldn't sleep."
Related story: 7 Months Pregnant, Cafe Owner Flees Marawi and Rebuilds Business in Iligan
Early in the morning, Magarang and his family members were able to safely leave the house and head for Iligan.
ADVERTISEMENT - CONTINUE READING BELOW
"I only brought a few pieces of equipment—my Canon 6d DSLR, laptop and hard drive—thinking the attack would be over in a week and we could go back to our normal lives. But now it has been a year yet I'm still very far from getting my business back to its previous 100-percent status." With limited equipment and support, it was challenging to keep the business going.
"I did not have a single booking for the next three months since the siege started. It was depressing," he shares.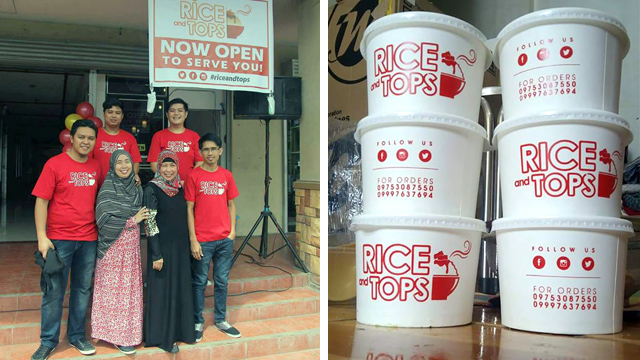 ADVERTISEMENT - CONTINUE READING BELOW
Magarang opened a restaurant in Iligan while the siege was ongoing in Marawi
Instead of giving up, however, Magarang tapped into his other interests and skills for the time being. Besides photography, he also enjoyed cooking. He spent Php500 to buy ingredients and, together with a Ramadhan food pack from DSWD, cooked his chili chicken specialty. He posted about his product on Facebook and sold it in a plaza in Iligan. Later on, he added items to his menu and started delivering to nearby offices. Five months into the siege, his aunt lent him Php150,000 so he could open a small restaurant called JCS Rice and Tops. But the rental fee for the commercial space was high and he was unable to profit as much as he needed from the restaurant.
"But Allah, Subhanahu Wa Ta'ala [Glory to Him], was good to us. When 2018 came, I started to receive inquiries for Juff Creative Studios. So I decided to close the restaurant and focus on my number one passion—photography."
ADVERTISEMENT - CONTINUE READING BELOW
Rebuilding the business
But Magarang says he still needs to save enough to be able to offer the same packages as before. When the end of the siege was announced and he and his family returned to Marawi, he found that most of their property had been destroyed or looted.
"Our house was still standing, but there was nothing left inside worth salvaging. We were told that soldiers camped in our house during the final days of the battle. Everything was destroyed, most of our belongings gone, the furniture stacked against the windows to protect soldiers from fire exchanges with the Maute group," he recalls.
His equipment amounting to at least Php400,000, which included two DSLR cameras, two action cameras, two laptops, one personal computer with dual monitor and one drone, were also either gone or destroyed. Members of his former team also went on to pursue other plans, requiring Magarang to hire and train new people. "So I took any savings from the restaurant I had just closed to open a new office for Juff Creative Studios. For now, I'm only offering photography packages."
ADVERTISEMENT - CONTINUE READING BELOW
Related story: Potato Corner Reopens Branch in Marawi
Even after a traumatic ordeal, Magarang remains grateful and hopeful. "I am getting four to six bookings per month now. I'm saving for new videography equipment. I can get more bookings if I offer photo-and-video packages."
He also leaves one piece of advice for other entrepreneurs: "Never give up. When you hit rock bottom, the only option you are left with is to climb."
Related story: You Can Help Rebuild Marawi Through Franchising 
*****
Chiara U. Mesiona is a Davao-based freelance business writer. Get in touch with her at chiara.mesiona.B2Bcopywriter@gmail.com