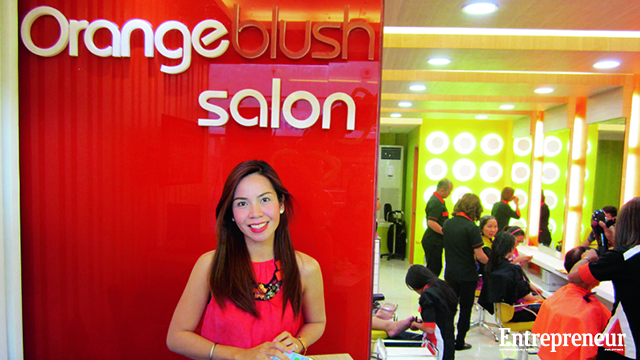 Orange has always been my favorite color. Anything that's colored orange fascinates me. For me, the color symbolizes hope, courage, happiness and love. It gives the impression of enthusiasm and excitement. It is synonymous with optimism. So it's only natural that it would inspire my own business.
I put up Orange Blush Salon in Cabanatuan City, Nueva Ecija, where I was born and raised, 12 years ago. I have always loved the beauty business ever since I was a kid, but at 23, I could not afford the capital investment required by the beauty salons that offer franchising, so I decided to start my own salon. Back then, I was a medical technologist at a local hospital, with only Php 30,000 in savings. On my own, I studied everything about starting a business—from site selection, to choosing the right business, to accounting and marketing.
ADVERTISEMENT - CONTINUE READING BELOW
I bought an existing salon that was about to close down. The deal included the salon equipment and the hairstylists, who agreed to work for me. I changed the name to Orange Blush Salon, and formally opened in October 2004.
Right then, I decided that the brand would become the top-of-mind hair salon in the country. I was passionate, driven and fearless—I still am. But on our sixth month, all three of my hairstylists left for another salon just a block away from ours. I could have easily given up then. I did not know anything about hair salon services, and was not prepared for what had just happened. But instead of being discouraged, I prayed and decided to find a solution, and start over.
I enrolled in cosmetology courses and took up short courses on managing a hair salon business. I hired on-call hairstylists temporarily while I was training. That was lesson number one for me: you have to know your business better than anyone else, since you own it. This means that, even if all your staff leave you, you yourself know how to handle the operations and can turn things around. I wanted to know more about the hair salon business; I wanted to be hands-on this time around and know the ins and outs of this business, so I would also know if my stylists are doing the procedures correctly.
ADVERTISEMENT - CONTINUE READING BELOW
To beef up staff, I hired younger hairstylists who also took up cosmetology courses. It took us a month to find new staff, but they were more teachable and willing to be trained.
From then on, we opened one branch every year. Today, we have 21 salons, many of them in major malls. Our focus now is to expand in Central Luzon, where our roots are, and then move on to Manila. We plan on expanding through company-owned outlets and through franchising. We are also now blessed with the most wonderful partners, and with them, we shall certainly reach our goal of becoming the country's top hair salon.
Orange Blush Salon has come a long way, and like most businesses, we still do encounter problems. I suppose they are reminders that we should always push ourselves to the limit, that we should always be creative so we can find the best solutions to challenges, and that we should firmly and undoubtedly believe that all things are possible with God.
ADVERTISEMENT - CONTINUE READING BELOW
Looking back, one of the most important things that I have learned about venturing into the unknown is to have a specific plan and a definite goal. Know what you want, decide on where you want to go, and pursue that goal with unquestionable passion and commitment.
And for your team to grow, there must be a great leader—that leader has to be the owner of the business. There must be rules, goals and objectives for your team to succeed. In hiring new employees, we now look for team players, and those who are willing to be trained. It is also imperative that they are naturally good and hard-working people.
The road less traveled is never easy, but it is the most fulfilling. Embrace problems, challenges and changes. There are golden lessons to be learned after you have surmounted them; these are physical, mental and spiritual exercises that are meant to make you stronger and tougher. Stay optimistic, no matter how heavy the burden may seem. Always pray and believe, truly believe, that all things are possible with God.
ADVERTISEMENT - CONTINUE READING BELOW
*****
Joby Linsangan-Moreno is the founder of Orange Blush Salon.
This article originally appeared in the May 2015 issue of Entrepreneur Philippines magazine. Minor edits have been done by Entrepreneur.com.ph.