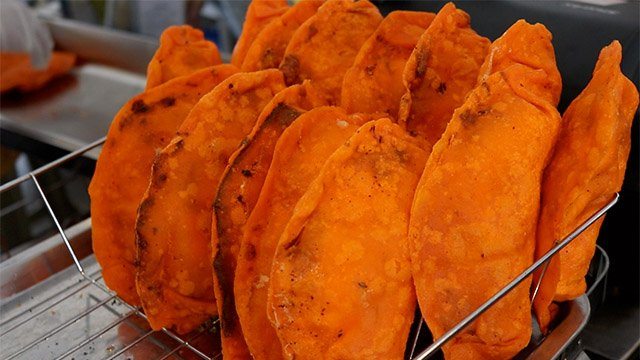 Melany Simbulan's take on the Ilocos favorite adds an extra filling of cheese
The best way to experience a new place is through local food. Almost every region, city or town in the country is associated with at least one signature dish. Bicol is known for its spicy pork stew, Bicol Express. Bacolod has its savory inasal or barbecued chicken. As for Ilocos, one cannot leave the province without trying the deep fried, orange-colored empanada.
ADVERTISEMENT - CONTINUE READING BELOW
One of the best makers of the uniquely Northern Luzon snack is Melany Simbulan, who is owner, manager and chief cook of Lanie's Empanada, a food stall with a couple of branches in Batac, Ilocos Norte. The town is the birthplace of the late strongman Ferdinand Marcos who was the country's longest-running president from 1965 to 1986 when he was overthrown by a people power revolt.
Simbulan was chosen as one of the only six Philippine participants in this year's World Street Food Congress (WSFC), which is being held from May 31 to June 4, 2017 at the Mall of Asia concert grounds in Pasay City. The congress brings together hawkers from all over the world in celebration of street food culture. This year's edition showcases 28 street food stalls from 13 countries, including Singapore, Malaysia, Japan and Germany, to name a few.
According to Simbulan, at least 10 stalls from Batac were shortlisted for the affair, which were all personally visited by representatives of the Department of Tourism and other organizers of the WSFC. "This is really overwhelming," she said. "To be chosen among all of the aspirants is already a blessing."
ADVERTISEMENT - CONTINUE READING BELOW
Simbulan's grandmother started selling empanadas after World War II. But she was the only one in the family who had the inclination to continue the business, which she took over in the early 1990s.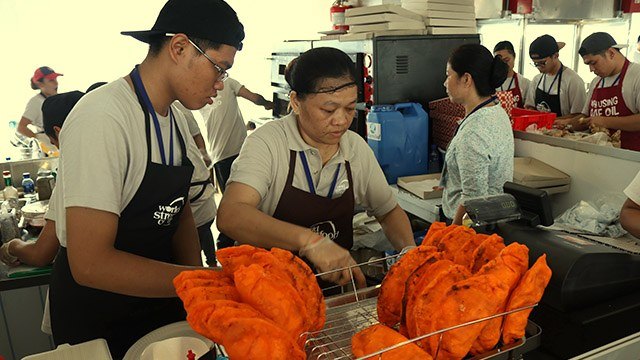 Lanie's Empanada is one of the six participating food stalls at this year's World Street Food Congress in Pasay City
ADVERTISEMENT - CONTINUE READING BELOW
"My grandmother started the business in the 1940s, but I've taken over it for the last 24 years," said Simbulan, a 42-year-old mother of three who relies on the business as her family's main source of income.
One reason the food stall business has lasted all these years, despite remaining relatively modest in the scale of its operations amid rising competition from fast-food chains and other dining places, is Simbulan's ability to preserve the taste of her grandmother's original empanadas while adding her own creative twist. Lanie's take on the classic empanada is made with an extra filling of cheese. She also serves deconstructed empanadas in the forms of tacos and burgers.
"I think it's also the competitive spirit in me. I want to preserve the business so there's always that yearning to innovate and to create an empanada with a twist," she shared.
ADVERTISEMENT - CONTINUE READING BELOW
Lanie's Empanada's two branches in Ilocos can accommodate more than 50 people.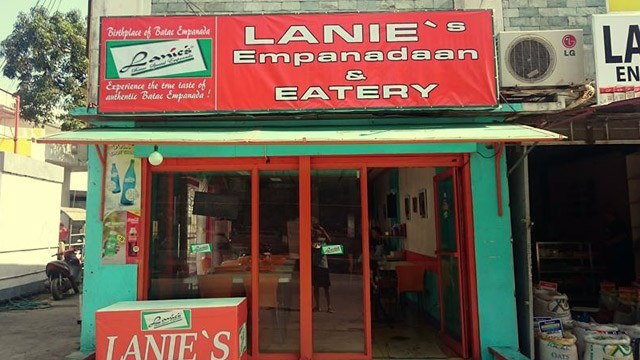 Simbulan took over her grandmother's business in the early 1990s, and Lanie's Empanada has since been the family's main source of income
"I think you may consider the business as one of the pioneers in the province. We're also one of the largest in Batac," Simbulan said.
ADVERTISEMENT - CONTINUE READING BELOW
Aside from the culinary innovation she brings to the kitchen, Simbulan credits her business' resiliency to her work ethic and dedication to quality.
"All of the ingredients we use for our empanadas come from Ilocos, from the flour used for the coating to the meat used for the filling," Simbulan said. "The WSFC organizers even quipped that we probably brought the whole Ilocos with us."
Her hands-on approach to the business ultimately also brought her closer to her employees. While her team is fairly small at 12, she makes sure that all members are treated like family. "Pakikisama (fellowship) is really important when running a business because these people also take care of you in return. I think that's one of the reasons why we live on."
Being chosen as one of only five Philippine participants in WSCF has prompted Simbulan to see beyond Batac or even the Ilocos region. Joining the five-day street food event has given her a chance to see how customers, mostly from Metro Manila, are taking to her cooking. That is valuable market research that could prove useful as she ponders the prospects of bringing her specialty to Metro Manila one day soon.
ADVERTISEMENT - CONTINUE READING BELOW
Watch the video here: 
*****
Elyssa Christine Lopez is a staff writer at Entrepreneur PH. Follow her on Twitter @elyssalopz