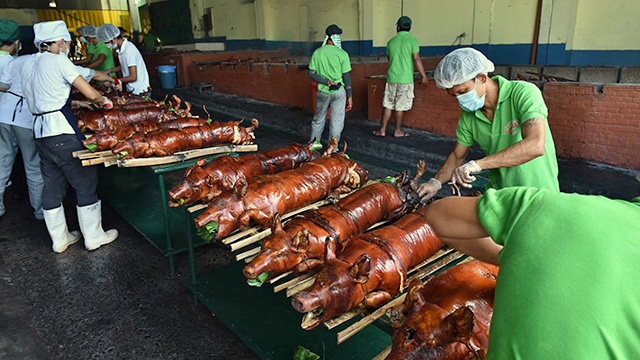 From a humble stall in Baclaran, Lydia's Lechon now has 24 branches around the country
Redemptorist Street in Parañaque is always busy, being the home of the National Shrine of Our Mother of Perpetual Help, or more popularly known as the Baclaran Church. Wednesdays in the Philippines are also referred to as Baclaran Day as more devotees flock to the church to hear mass and say their novenas.
ADVERTISEMENT - CONTINUE READING BELOW
But Baclaran is more than just a place of worship. Shoppers looking for cheap finds would travel to the area to haggle with the vendors, especially on Wednesdays when there are more sellers than any other day of the week.
For decades, Lydia De Roca, founder of Lydia's Lechon, was one of those who would sell to the crowds in Redemptorist Street. However, De Roca is no longer offering her goods on the street today. Instead, she is busy operating her 24 branches of Lydia's Lechon with the help of her husband and children.
Running a lechon business is no easy task, Lydia says. At 70, she still supervises the kitchen of one of her branches and trains her staff how to butcher live pigs and chop the roasted ones. She says she still works hard just like she did when she first started selling on the streets.
Starting young
De Roca started earning from the shoppers in Baclaran in the 1950s. At the age of seven, she would refuse to go to school on Wednesdays and insist on peddling goods such as onions, tomatoes and turon (deep fried plantain wrapped like a spring roll and dusted with sugar) to the crowd.
ADVERTISEMENT - CONTINUE READING BELOW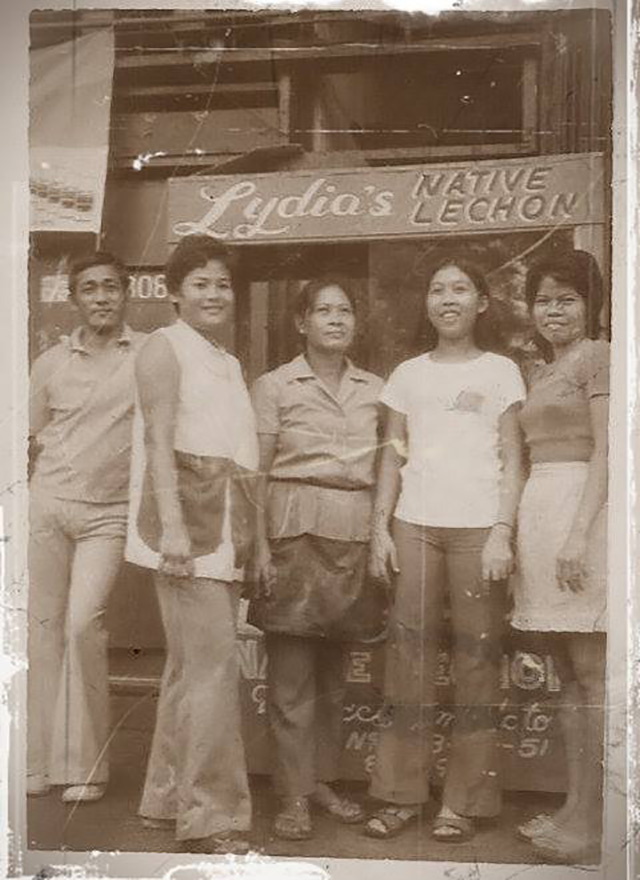 Lydia De Roca began her business selling in the streets of Baclaran in Parañaque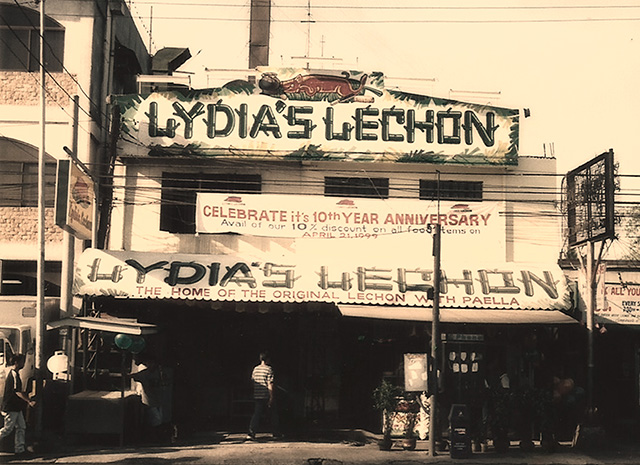 ADVERTISEMENT - CONTINUE READING BELOW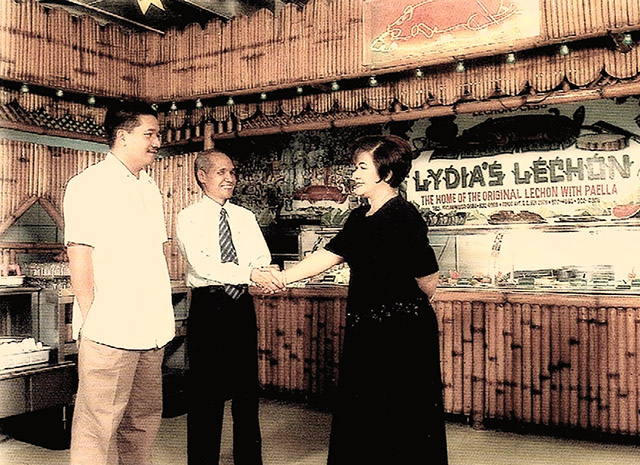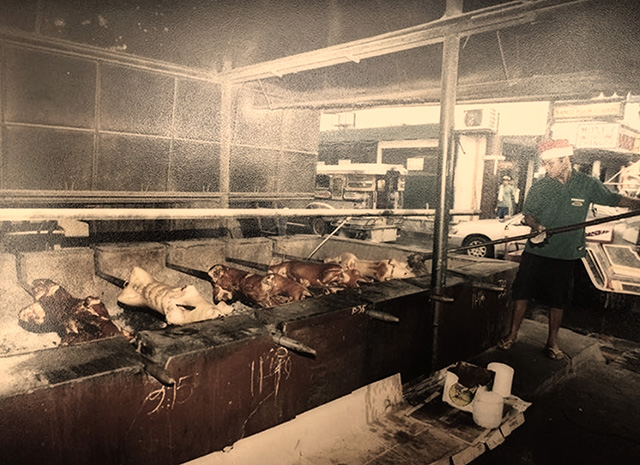 ADVERTISEMENT - CONTINUE READING BELOW
Coming from a poor family, De Roca wanted to earn on her own since she felt embarrassed to ask her parents for money. "Nagbebenta para makaipon. Ayaw ko hingi-hingi ng pera. (I sell so I can save. I don't want to always ask for money)."
She even persuaded her father to start selling roasted suckling pigs per kilo in Baclaran at the age of 12. "Sabi ko sa tatay ko, 'Nagkakatay ka rin naman ng baboy bakit hindi tayo mag ihaw?' Ihaw pa nga tawag din hindi lechon. Mag-ihaw ng lechon. (I told my dad to roast pigs since he was already into butchering pigs. We used to call it ihaw instead of lechon)." De Roca remembers selling five kilos of her father's produce during Wednesdays.
In 1965, already married and with two kids, De Roca decided that selling goods produced by others was not enough to help provide for her growing family.
ADVERTISEMENT - CONTINUE READING BELOW
She ventured into the lechon business again by roasting and selling the pigs on her own. To add more to her income, she cooked the entrails into local dishes like dinuguan or pork blood stew alongside the lechon in a small table along Redemptorist Street. "May asawa na ako eh, so kailangan malaki-laki na ang kita (I was already married so I needed bigger income)," De Roca recalls.
Her first big order came from a hotel along Roxas Boulevard, which asked for a delivery of 10 whole lechon. Armed with a capital of Php500 from pakimkim, or cash gifts from the baptism of her second child, she purchased 10 live pigs at Php35 each and sold them for Php80 after roasting.
De Roca also decided to up her game by improving the recipe of her product. "Sabi ko, 'Hotel ito, kailangan masarap ito. Ano ba magpapasarap? Ano ba ang mabango?' Alam ko ang tanglad at pandan mabango. Yun ang hinalo ko sa tiyan ng baboy at asin. (I was thinking the lechon needed to be more delicious since it was for a hotel. I asked myself what would make it more flavorful and fragrant? I knew that lemongrass and pandan are aromatic. That's what I mixed in the pork belly together with salt)."
ADVERTISEMENT - CONTINUE READING BELOW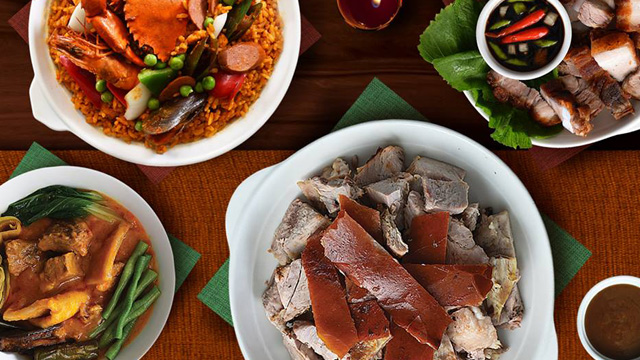 Lydia's Lechon also offers other dishes besides roast pig
Shortly after, another hotel started placing daily orders of five to 10 lechon per day. She knew she needed capital to buy more stocks to fulfill the daily orders as well as rent an enclosed space since she can only roast a maximum of three pigs along the street. "Kaya kailangan may capital. Kailangan may pang-stock ako. Kaya nagtitinda ako halos hanggang gabi (I needed more capital so I can have stocks. So, I sold until nighttime. I needed to earn more to raise the capital)."
ADVERTISEMENT - CONTINUE READING BELOW
Her hard work paid off. In less than two years, she had enough capital, allowing her husband to build up an inventory and rent a small space to cook 20 pigs at the same time.
From the street to the mall
These days, half of the demand for Lydia's lechon still comes from orders from large hotels. Aside from whole lechon delivery, De Roca is kept busy managing her restaurant along Roxas Boulevard and making the rounds of her stalls in various malls.
It took more than 20 years of selling on a small table along Redemptorist Street before De Roca could afford to relocate to an enclosed space. In 1986, she finally signed a lease for a 750-square-meter structure along Roxas Boulevard, Baclaran, just a few blocks away from her small street stall.
Three years after, Lydia's Lechon opened another branch in Quezon City with the help of one of her children, who still remains in charge of running the branches in that city.
ADVERTISEMENT - CONTINUE READING BELOW
Presently, Lydia's Lechon has 27 branches, which includes 10 restaurants and 17 stalls. She credits her venture into the malls to Henry Sy, founder of SM, who used to come to eat at her restaurant every Sunday.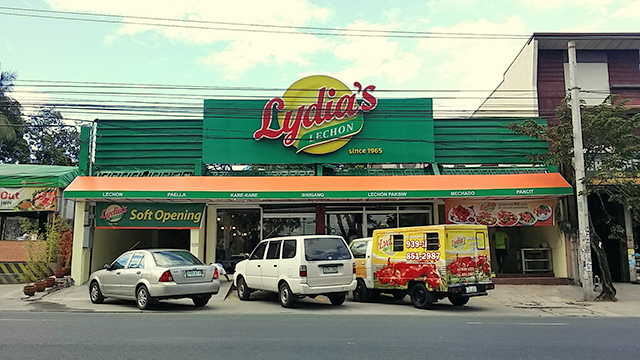 Lydia's Lechon now has 10 restaurants and 17 stalls, mostly in SM malls
ADVERTISEMENT - CONTINUE READING BELOW
De Roca remembers how it took her weeks before she would ask the driver of the SM founder on the identity of his boss. "Nilapitan ko na, pagkatapos sabihin ng driver niya na siya si Mr. Henry Sy. Nung kinausap ko siya, nagpakilala ako, 'Ako si Lydia, may ari ng restaurant.' Sabi niya sa 'kin, 'Lechon good.' Hangang sa napunta kami sa kwentuhan kung gusto ko magbukas sa SM. Sabi ko 'oho,' (I approached him after his driver told me that he was Mr. Henry Sy. I introduced myself as the owner of the restaurant. He told me my lechon was good. Eventually, he asked me if I wanted to open in SM. I said yes)."
Mr. Sy gave the number of his secretary and Lydia's Lechon opened its first branch in a mall at SM Sta. Mesa in 1990. "Nag open kami una sa SM Sta. Mesa, tapos SM Makati, hangang dumami na (We first opened in SM Sta. Mesa, and then SM Makati until our number of branches grew)."
ADVERTISEMENT - CONTINUE READING BELOW
With the help of her husband and three of her four children, De Roca continued expanding her business by introducing her own line of condiments in 2014.
Her children, who now own their own branches, are now making plans to produce frozen Filipino dishes for retail. Her husband runs a farm in Batangas, which supplies livestock for the lechon.
Lessons
At 70, De Roca remains a hands-on business owner. Her daily grind involves making rounds of the branches at two in the afternoon until dinnertime and waking up at midnight to supervise kitchen preparations for the Roxas Boulevard branch.
She, however, admits that she is already thinking of retiring in a couple of years and letting her children, whom she trained to work hard at an early age, take over the business.
"Bitbit ko naman sila sa bangketa noong araw. Before eskwela tulong sila tapos pasok school. Pag uwi balik sila, tulong ulit (I used to bring them to the streets every day. They would help me before and after school), " she stresses.
ADVERTISEMENT - CONTINUE READING BELOW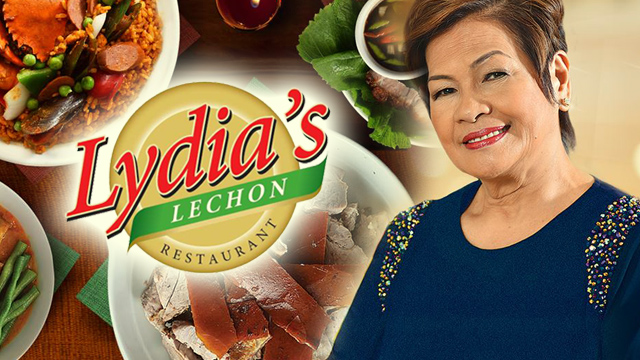 At 70 years old, De Roca is still hand-on when it comes to her business, but says she might retire in a couple of years
De Roca says she is confident that her children will always remember the valuable lesson she has learned and shared with them in her 50 years of growing the business: "Hands-on ka lang talaga sa negosyo kung gusto mo umasenso buhay mo (You need to be hands-on in running the business if you want a prosperous life)."
ADVERTISEMENT - CONTINUE READING BELOW
*****
Cherrie Regalado is a contributor to Entrepreneur PH. Follow her on Twitter: @cherrieregalado