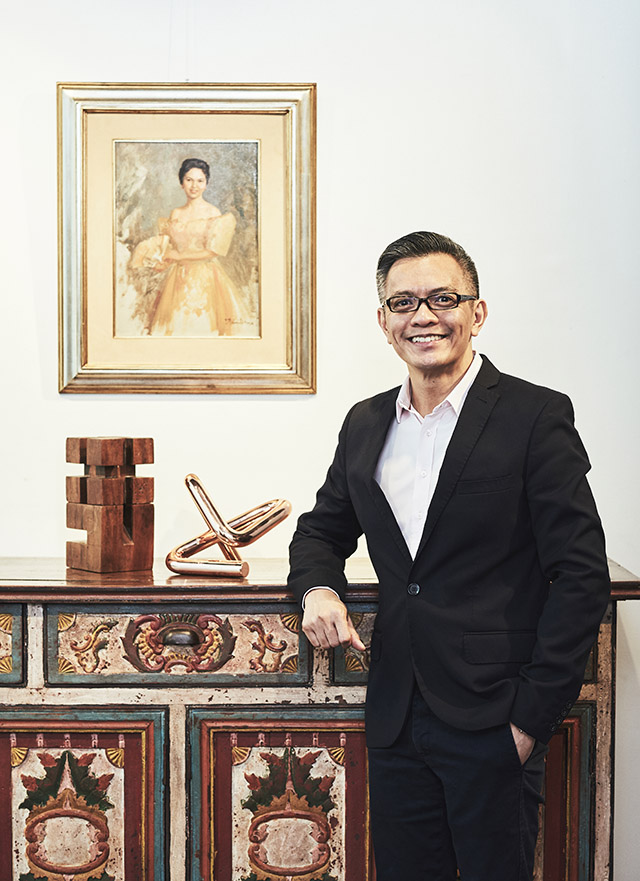 Richie Lerma wondered why there was no auction scene in the Philippines. Together with his wife, Karen, they put up Salcedo Auctions in 2010
Richie Lerma walks fast, his eyes sharply darting around the room. It would be easy to take this as a sign of either a sense of perfectionism or furious curiosity, but as former director of the Ateneo Art Gallery, founder of the prestigious Ateneo Art Awards and current director of Salcedo Auctions, his intense involvement with his surroundings speaks to a career spent in keen observation of both remarkable and beautiful things.
ADVERTISEMENT - CONTINUE READING BELOW
Lerma's introduction to art began at a young age. "In the course of [the] family business, my parents began to acquire art, and so I was surrounded by it from childhood," he says. From these imaginably gorgeous surroundings, an interest in the arts was nurtured throughout high school and into university, where he pursued a Humanities degree. After graduation, his explicitly art-focused career had yet to begin. Instead, he started working in advertising as a copywriter.
Lerma says he met certain individuals who told him about an Art History program in Florence, Italy. Pursuing these further studies made him realize he had found a passion that translated seamlessly into terrific performance. "My professors were recommending for me to take further post-graduate studies pursuing them all the way to a doctorate," he says.
But rather than doing that however—citing that he would rather not spend more of his parents money on his education—Lerma came back to the Philippines and weaved through a series of formative roles. He began fielding questions about Italy in a stint at the Italian Embassy's cultural office, volunteered at the Metropolitan Museum, wrote for the Philippine Daily Inquirer, and, after an article of his focused on an exhibit in the Ateneo Art Gallery was published in a magazine, he was recommended for the position of Assistant Curator at the museum.
ADVERTISEMENT - CONTINUE READING BELOW
The role at the Ateneo Art Gallery led him once again overseas, this time to pursue a Masters Degree in Art Administration at the University of New South Wales in Australia. Simultaneously, he was formulating the Art Management program of the Ateneo de Manila University. After completing his masters degree, he was flown back as director of the museum. It was there where he birthed the idea for the Ateneo Art Awards, which today is considered one of the most prestigious art prizes for a contemporary artist in the Philippines.
"I went back to Australia in 2007 to fulfill some family obligations but remained director of the museum," he says. In 2009, Lerma, who by then had married the former Karen Kua, returned to Manila to begin work on putting up Salcedo Auctions. 
During the Lermas' stay in Sydney, Karen took a gemology and diamond-rating course where she began to see value in stones.
ADVERTISEMENT - CONTINUE READING BELOW
"With this knowledge, we would attend auctions and spot things nobody would really see," he says. "We would acquire pieces because nobody would realize that these were pieces by Bvlgari, or by Van Cleef & Arpels. But we did. She did. So we would acquire these things. So it really started as a thrill because of that knowledge. We would go to auctions and even go online because sometimes, we would be scouring all these different auctions and bidding. Sometimes we'd be on the phone with New York or Geneva."
The couple started to wonder why there was nothing like that back in Manila. There was an attempt to bring in auctions to the Philippines in the 1980s through a company called The Auction House, though it dealt mostly with jewelry. It closed down not long afterward. Sensing an opportunity, the Lermas set up the business during the first few months of 2010, finding a space in the middle of Salcedo Village in Makati.
ADVERTISEMENT - CONTINUE READING BELOW
"It was a crazy idea at the time to open an auction house," Lerma says. "Everybody was saying Filipinos are so shy, people aren't going to be so public in terms of their bidding. And we took a bet against that. I thought, 'How can we be any different from people in Sydney or in New York or in London? People are people. People enjoy finding good deals. People enjoy being surrounded by beautiful things. And, the psychology that goes into auctions, how can we be different in terms of competing for objects of value? Particularly pieces that we really feel we connect with."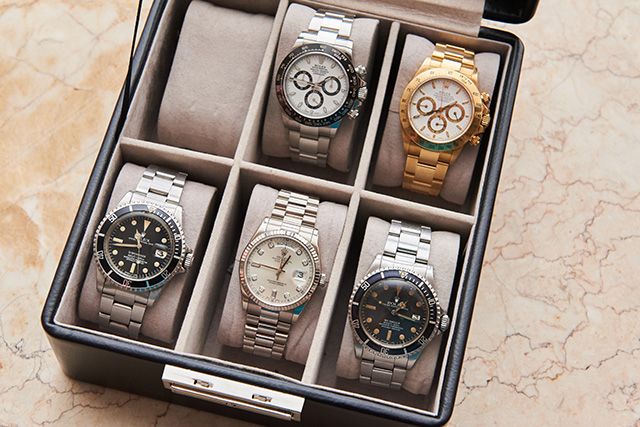 ADVERTISEMENT - CONTINUE READING BELOW
Besides artworks, Salcedo Auctions also regularly puts up valuable jewelry and timepieces like these for auction
The first two years were all about educating the market. Lerma says he still remembers their very first auction, when the room was full only because people were curious. "In terms of the clearance rate, or the percentage of what we were able to move, I think it was below 30 percent. People were just starting. Everything that you think would spell doom for our venture happened right there. People were just sitting, staring."
But the couple persisted. Eventually, the clearance rate just kept growing. Lerma says he felt it was because people became more and more attuned to how auctions are conducted. Before long, they started doing their Filipino Art sales, which are sales devoted exclusively to Filipino art.
Eight years on, Salcedo Auctions is a thriving business, as evidenced by priceless works of art going through its doors. Lerma reports that last year was their biggest year yet because of the volume of pieces that have been presented to the company.
ADVERTISEMENT - CONTINUE READING BELOW
"We're able to fill whether it's a Rockwell Tent or the Peninsula's Rigodon Ballroom, standing room, for an auction. That's just those that have made that decision to actually trek to the Pen and sit through it for hours. There are also people that are on the phone or have left absentee bids. And there are also those who have only just started. I think we're the only arts entity that does all of these: Facebook and Instagram live feeds whenever we have our auctions. Some people actually say, once they've attended the auction, they get a bit of adrenaline fix coming to the auctions because there's some theatre and excitement with it. It's become like an entertainment for some people."
Lerma adds that they have gotten so many people bringing many different kinds of pieces for them that they have chosen to open a subsidiary brand called Gavel and Block in order to present all of these pieces artfully, tastefully and thematically.
ADVERTISEMENT - CONTINUE READING BELOW
Gavel and Block started out with an all-print auction, which Lerma feels was a radical move because these were digital prints that were purchased in museum stores and would start at Php10,000 to Php15,000. "And people bidded up to Php330,000. We were pleasantly surprised that all but one print was sold."
The addition of the subsidiary brand allowed the company to sell different items that may not have been immediately obvious as valuable. It was also a chance for them to present pieces that they may otherwise not have taken in as Salcedo Auctions because of the latter's set criteria for objects of art. "I suppose the important Filipino art auctions and the fine jewelry and time pieces auctions really took the creme dela creme, with prices already exceeding, Php5, Php10, Php15 to Php20 and Php30 million-peso mark."
Lerma chooses to see Salcedo Auctions as a place where they dust off the musty impression of old pieces in order to help them engage with the people of today.
ADVERTISEMENT - CONTINUE READING BELOW
"The way to look at them now is to see how they can continue to be significant," he says. "These pieces still continue to make history because of the way we are now approaching and relating with (them). That I think is very interesting in terms of the continuing narrative of history. I love this confluence because looking at things this way and presenting things this way, it's more than simply selling. And, I think that at the heart of our business is passion.


"I think that the businesses that work the most are those that are driven by passion," he adds. "I think nothing can be better than being able to profit from passion and being able to share that passion with other people. Because that's what we're really doing—we're sharing that passion, we're sharing that excitement with people through our auctions."
*The headline and parts of this article were revised on July 5, 2018 to correct the impression that Salcedo Auctions was the Philippines' first auction house.  We regret the error, which was entirely our own. Mr Lerma did not claim that Salcedo Auctions was the country's first.
ADVERTISEMENT - CONTINUE READING BELOW
*****
Jaymes Shrimski is a 21-year old freelance writer from Cebu who likes to run, hang out with friends, travel, write, and read. He's on the constant lookout for new things to do and see while helping out with his college thesis-turned-business, Whitecaps Sock Co.—that is, after his dose of coffee