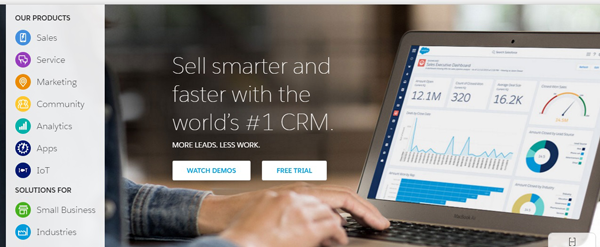 Driving up sales may be one of the hardest tasks in a company. As a sales person, you are in charge of finding leads, pitching to prospect clients and closing deals. Convincing people to buy your products or services is not as easy as it sounds. You may be an A-class charmer, but on the field, you have to back it up with data and credibility.
ADVERTISEMENT - CONTINUE READING BELOW
Good thing that technology is here to improve the lives of sales people everywhere. There now exists tools and new technology to make their work easier.
Virtual reality in selling real estate, hotels
When you hear "virtual reality" (VR) you may automatically think of the games that uses this kind of technology. Do you know that VR can also be used to sell? High-end real estate companies like Sotheby's are already using VRs to give a virtual yet hyper-realistic tour of their units to their buyers. Real estate companies in the Philippines and real estate selling websites have already been following suit. Of course, if you plan to buy a house, you want to see yourself walking around the unit and feeling the place, right? This is especially helpful for remote buyers who may not be able to visit model units.
Some virtual reality tours can be a simple 360-degree view of the place but other tours are more complex. You can choose to go from one room to another, and some sales apps equipped with this technology can even be interactive. Imagine opening and closing the doors in your future home!
ADVERTISEMENT - CONTINUE READING BELOW
Another industry taking advantage of virtual reality technology is the hospitality industry. Five-star hotels like Shangri-La and Marriott are "teleporting" their guests to their different hotel destinations to entice vacationers to choose them as their place of stay. Stunning views of their hotels and the accompanying sights indeed look better in VR as opposed to just photos.

ADVERTISEMENT - CONTINUE READING BELOW
Hyper-targeted text blasts for promos, etc.
The Philippines has been known as the text capital and social media capital of the world. It is undeniable that mobile is strong in this country. Just this year, it was reported that there are 119.21 million mobile users and an 87 percent penetration rate of mobile phones among the adult population in the country. Only 55 percent of which own a smart phone but this shouldn't stop sales people and marketers to leverage mobile as a means to sell their product or promote their sale.
One thing that brands are taking up are sponsored text blasts that are not only legit but truly rewarding to their customers. Gone are the days when sales people would have to text each of their client list one by one, or would even be struggling to build that contact list in the first place. These text blasts can also be customized or hyper-targeted so you can send offers like discounts to your contact list or a specific target. This customization or hyper-targeting of base can go as far as to blasting a message to a specific group of people based on their ARPU (average revenue per user), gender, age or location. This can be very helpful if you have a store and you're promoting a sale and you want to blast the message to your area. This means people who are passing by can see the message and why shouldn't they ignore it? They're already just a few steps away from your doorstep
ADVERTISEMENT - CONTINUE READING BELOW
Other things you can send via text are mobile coupons, invite to join promos or other notifications. Major telcos are enabling this type of service to brands but there are adtech agencies that provide tri-telco executions of this type of SMS service. 
Apps for reporting, tracking
A sales team, especially a big one, may find it difficult to keep track of everything. What's more, having remote workers or workers who operate in a different region or country is becoming a trend. Face-to-face meetings for updates is no longer an option for these workers so it's important for them to have a platform where they can communicate and keep track of progress. That's why some apps have been addressing this issue. One of them is SquadZip which enables you to ditch tedious forms, manual reports, bulky file folders, and long email trails. Squadzip's interface works like a social media apps, but it is supercharged with features that empower sales front liners. Updating your immediate superior can be as easy as posting a status on your profile.
ADVERTISEMENT - CONTINUE READING BELOW
Another app that lets sales people keep track of clients is SalesForce a customer relations management (CRM) solution. The app brings together all of the customer's information in a single, integrated platform. This, in turn, would enable you to build a customer-centered business from marketing to sales, customer service and business analysis. Having the complete and accurate data is helpful to give you a thorough understanding of your customers, therefore driving you closer to measurable success.
*****
Nicai de Guzman is the marketing head of Rising Tide, a technology solutions company. She is also the Manila bureau manager of Probe Media Foundation's Mulat Pinoy-Kabataan News Network and a regular contributor for SPOT.ph. Follow her on Twitter, @nicaideguzman, and LinkedIn, https://www.linkedin.com/in/nicaideguzman.