Chito Aclon's first encounter with a cat café in Singapore, where he was working at the Marina Bay Sands integrated resort in 2014, left him a little disappointed. "There were only a few cats, most of them sleeping, and there were many of us who visited," he recalled.
ADVERTISEMENT - CONTINUE READING BELOW
However, that inspired him to plan to put up a cat café in Manila, vowing to do much better in ensuring customer satisfaction. When he finally opened his shop in March 2015, he had up to 14 cats or rare and imported breeds to make sure customers had their fill of interacting with the felines. "When they come to my cat café, they'll be able to not only touch but to experience cats in a very good way," said Aclon.
Now, Aclon's café has up to 18 cats and nine dogs. He added the canines when he renovated the store after a strong typhoon damaged the shop's interior in December 2015. When he relaunched the business, he had a new name, a new logo and a new brand ambassador. That was also when he added a new section for dogs.
"I was a dog lover first before I was a cat lover," Aclon said of the decision to introduce dogs into his café. "So I thought of incorporating the dogs together with the cats and build another theme—a pet café."
ADVERTISEMENT - CONTINUE READING BELOW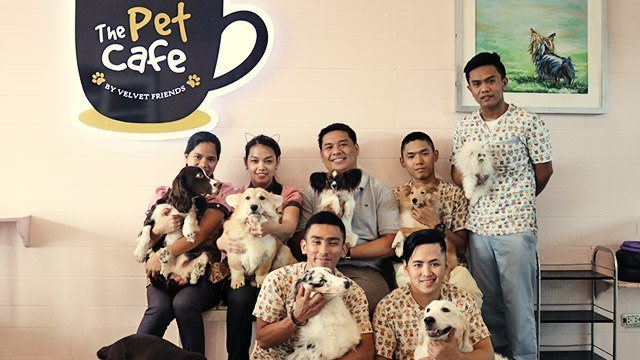 Called The Pet Café by Velvet Friends, Aclon's store hosts the animals in two adjacent but separate areas. These rooms are sectioned off from the main dining area of the café, and customers can choose to visit either the "cat haven" or the "dog garden" at a fixed hourly rate.
ADVERTISEMENT - CONTINUE READING BELOW
Aclon thought of the move as a way to appeal to more customers. "Our business is really multi-faceted in a way that we attract different walks of life—different ages, different genders and different market classes," he explained.
Many of Aclon's customers are condominium dwellers who are not allowed to keep pets in their units. However, even those who have pets also come to the café for one reason or another. Some dog owners, for example, want the experience of interacting with cats while cat owners look forward to playing with dogs. "Dog lovers and cat lovers are fascinated with different breeds of dogs and cats in one place," he explained. "That magnetizes people to come to our place."
ADVERTISEMENT - CONTINUE READING BELOW
Judging from their social media posts, Aclon's customers seem more than satisfied with the place. "Couldn't get anymore ecstatic than what I feel as soon as we get inside the cafe and until we got home," says one on Facebook. "Cats and dogs seems to be very happy, healthy and well taken care of. Staff were very friendly and helpful as well," says another.
The Philippines is one of the world's largest pet owning nations. Australian pet insurer Petsecure lists the Philippines as one of the top 10 countries with the biggest dog population. The US government said the Philippines was the 10th  biggest importer of dog food from America.
This fascination with pets is what makes the animal café business lucrative in the Philippines, according to Aclon. Though he didn't mention specifics, he said the business was "gaining a lot of revenues," and that the main revenue stream of his business was from the entrance fees to his "cat haven" and "dog garden".
ADVERTISEMENT - CONTINUE READING BELOW
In its first year of operations in 2015, Velvet Friends Cat Café Co. reported a revenue figure of Php566,000, according to the company's financial statements on file with the Securities and Exchange Commission.
Aclon estimates there are at least 10 other animal cafés in the country, each with its own identity, and he is confident that there will be more popping up in the future. "I would love for our industry to grow," said Aclon. "Filipinos are pet lovers, so there's a big chance [it will]."
ADVERTISEMENT - CONTINUE READING BELOW
Indeed, Aclon is already preparing to open another animal café south of Manila. Located near Tagaytay and Nuvali in Laguna, the new store would be a multi-level home-based café, emulating the style of animal cafés in Japan and South Korea. Scheduled to open later this year, Aclon shared that similar to his current setup, his second café will first feature cats, and then he will add corgi dogs later.
"This is my bread and butter," Aclon said of his pet café business. "So one place for me would not be enough."
*****
Lorenzo Kyle Subido is a staff writer of Entrepreneur PH