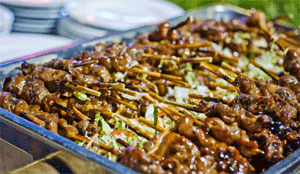 With competition among caterers getting tighter each day, Derek Dytian decided to go the extra mile with his Creative Cuisine Catering Services, one of the top caterers in Cebu. His big idea: Themed catering for both personal and corporate events.
Themed food catering service revolves around a single concept or theme, say, a Spanish town fiesta, a Hawaiian luau party, or a Moroccan-themed pre-wedding party, which Dytian catered in February at Tops, a private park in the hills of Cebu. Because the park was wide-open and it was windy, food service proved memorable. "Everything was grilled," says Dytian, "and we had to bring the food to the location and cover all of it right away."
ADVERTISEMENT - CONTINUE READING BELOW
[related|post]While caterers typically only plan and execute the menu, their scope expands in themed catering to include the decorations, the music, and all the trimmings of the event. A professional party planner usually works hand in hand with the caterer in this regard.
Dytian finds that most clients in the Philippines select their catering theme based on the type of food they want to eat. Creative Cuisine has covered just about all kinds of cuisines and themes—Filipino, American, Chinese, Japanese, French, Italian, and Thai.
The growing prosperity of Cebu has only increased the demand on Creative Cuisine for both traditional and themed catering services. With more and more weddings and corporate events, Dytian has seen his catering jobs swell from 15 events a month to the same number in a day. His staff has also grown from five to 150.
For a business that has relied mostly on word of mouth since it began in 1998, these numbers are impressive. But like in any business, there are difficulties. Ingredients are costly. In fact, Dytian says they have to import most of their ingredients (from Manila and from abroad) for themed parties and regular catering alike. Manpower has proven problematic too. "All our good waiters and food service workers always seem to want to leave the country," he says. To make up for slow months, Dytian accepts many catering jobs at his minimum price of P200 per head, while he continues to entertain several P5,000-per-head events.  
ADVERTISEMENT - CONTINUE READING BELOW