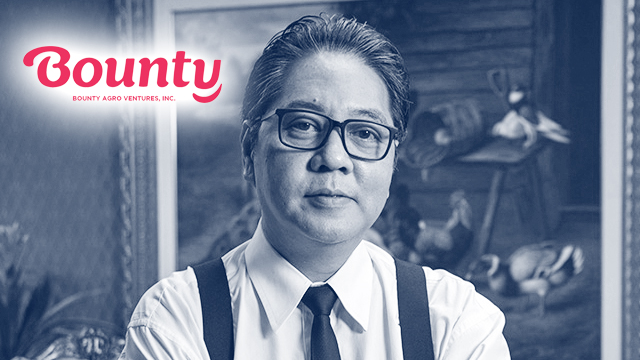 Filipinos have a love affair with chickens. Fast food chains in the country have fried chicken as one of their of their top dishes. There's also lechon manok (roasted chicken) stalls in almost every block. Small eateries or carinderias also carry different chicken dishes daily.
Filipinos love chickens so much that it is the second biggest consumed meat in the country next only to pork according to the Organization for Economic Cooperation and Development (OECD). On average, each Filipino consumes roughly 11.6 kilos of chickens yearly. That's equivalent to 129 pieces of Jollibee Chickenjoy thighs.
ADVERTISEMENT - CONTINUE READING BELOW
And the demand for poultry will continue to increase due to the country's economic growth, says Ronald Mascariñas, president and general manager of Bounty Agro Ventures Inc (BAVI), the second biggest poultry integrator in the Philippines.
"In developed countries, per capita consumption is about 35 kilos, so ayun talaga ang kaya kainin ng isang tao (that's how much a person consumes). In the Philippines, it's 12. Back in 2002, it's eight kilos. A poor country like the Philippines, ang unang kukuhanin nila is protein since short ang mga tao sa protein. Pag may extra income yan they buy more meat, so malayo pa tayo (The first thing they'll buy is protein since people are short on protein. When they have extra income, they buy more meat. So we're still far)," he explains.
To meet the higher demand, BAVI is looking for more contract grower partners as the company intends to increase their chicken production by 15 percent annually in the next five years.
ADVERTISEMENT - CONTINUE READING BELOW
Everybody can be a contract broiler partner, Mascariñas says, even those without any experience in owning and running a poultry farm. "You don't need experience to run a poultry farm. You have the money, then we have people who will train you. Bago ka mag-grow ipo-post ka namin sa isang farm para matuto ka don, (Before you start growing, we will post you first on a farm so you can learn)."
ADVERTISEMENT - CONTINUE READING BELOW
Ronald Mascariñas, president and general manager of Bounty Agri Ventures Inc (BAVI), says their main requirement for potential partners is that the owners run the farm themselves
There is no age limit for potential partners either as the poultry integrator only requires that the owners run the farm themselves. BAVI also welcomes retirees to become broiler farm growers, Mascariñas adds.
"What is very important for an investor is that you must run the farm yourself. In our experience, if you're an absentee grower, your chance of succeeding is only 20 to 30 percent. Dapat kung magi-invest ka sa poultry ikaw dapat mag manage. Ngayon kung papaubuya mo lang sa manager mo, (If you invest then you should be the one to manage, but if you will hand it off to a manager) then it won't work".
Contract growers will provide the housing facility sitting on one to five hectares of agricultural land, as well as the manpower for the farm. BAVI will then give the day-old chicks, feeds, vaccines, medicines, disinfectants and technical assistance.
ADVERTISEMENT - CONTINUE READING BELOW
Growers have the option to either build or develop either an open-type facility, a conventional farm type house or a controlled-environment system (CES), modern housing that relies heavily on electronic controllers.
A conventional poultry house with a capacity of 10,000 costs at least Php2 million for the building and its equipment. On the other hand, CES types with a 45,000 capacity typically require Php24 million.
To date, BAVI together with its sister company, Bounty Fresh Foods Inc. has more than 400 partner broiler contract growers, 62 percent of which use CES housing, while 38 percent are conventional farms.
*****
Cherrie Regalado is a contributor to Entrepreneur PH. Follow her on Twitter @cherrieregalado