<>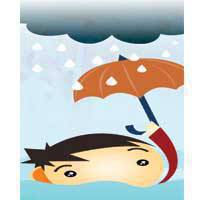 3. Remember that cash is king, especially in times of crisis. Build up your cash reserves and maintain a degree of liquidity equal to at least six months of overhead expenses. If your current cash balance is not sufficient to meet this requirement, you can work on this now by examining your sources of cash.
ADVERTISEMENT - CONTINUE READING BELOW
As much as possible, try to sell your products on cash basis. If this is not possible, shorten your cash collection period by limiting the credit terms you give to your customers and also the amount of receivables that you extend.
On the other hand, try to renegotiate your terms with your existing suppliers to possibly prolong your due date. The more cash you save, the higher your chances of surviving any financial drought.
4. Invest in training. When there is not so much activity in the business, you may want to take some courses to improve on a skill that you think is important to your business. For example, you may be good in sales and marketing but you lack skills in management accounting. You can take a short course or professional training program for this skill, or better yet, if you have the time, you can allocate part of your time to take an MBA (Master of Business Administration) program.
ADVERTISEMENT - CONTINUE READING BELOW
When you attend this kind of training, you will not only learn new things but also meet new friends and potential business partners. You will be a better entrepreneur after you have acquired the skills you need when the economy improves.
5. In every crisis, there is opportunity. As an entrepreneur, you cannot afford to whine and blame the economic environment for slowing down your sales. Be always be on the lookout for business opportunities and focus on growing your business. This is the best time for you to demonstrate your ability to innovate and become creative in surviving this crisis financially. Stay positive and you will continue to grow.
Henry Ong, CMA, RFP, is president and COO of Business Sense Inc., a . nancial advisory and consulting firm that helps small and medium businesses. Business Sense is affiliated with INPACT International Network of Certified Public Accountants. You may reach him at hong@businesssense. com.ph.
ADVERTISEMENT - CONTINUE READING BELOW
Related articles: 
Is your business ready for an emergency?
Legal Q&A: Can I withdraw staff incentives in times of crisis?
How to keep customer loyalty during an economic crisis