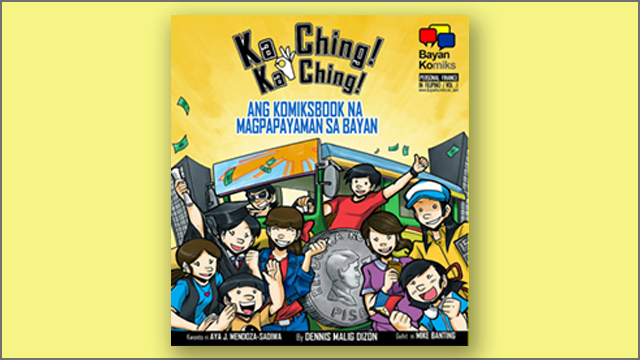 For the 80s kids, comics were a large part of their childhood. After all, it was during their time when Liwayway Publishing was in full bloom and Mars Ravelo's superheroes dominated their creative senses. The millennials have their own graphic refuge, only now they are adapted into tech-driven blockbuster movies or visually sophisticated television shows.
ADVERTISEMENT - CONTINUE READING BELOW
But comics have always been there to entertain and to provide escape, may it be for the grade schooler or the top-notch lawyer, and the medium's mass appeal gave the local publisher Bayan Komiks Inc. the idea to share stories not of heroes saving humanity from bad guys, but financial lessons that will help one save, well, cash.
"We believe that visuals and drawings are the best and fastest way to translate messages and educate," Bayan Komiks Inc. co-founder Aya Sadiwa told Entrepreneur.com.ph. "We create and publish reading materials and books that help educate and empower the working class and the youth through microfinance, entrepreneurship and education-citizenship."
That goal gave birth to Ka Ching! Ka Ching! (an onomatopoeia of the sound of cash registers), a Filipino comic book series that teaches financial literacy.
Sadiwa, with Bayan Komiks Inc. publisher Dennis Dizon, have always been advocates of financial literacy. As new parents, the two, together with friends and their respective families, play the board game "Cashflow" which lets them share their money habits with one another. The group did this weekly and for years before they reached an "aha!" moment.
ADVERTISEMENT - CONTINUE READING BELOW
"We conceptualized Ka Ching! Ka Ching! to be the first-of-its-kind comic book that teaches financial literacy. Dennis is an artist and I am from broadcast media, that is why we believe in the power of visuals," Sadiwa added.
The comic has 25 short stories, each of which is filled with a heartwarming tale of the ordinary Filipino: from the retail employee to a student learning the ropes of life. Sadiwa, who also happened to be its author, made sure each chapter taught a specific financial lesson with some related reading materials by the end of it.
A chapter titled "Van," for example, tells the story of Noel who is deep in debt and asked his sister to help him get through his financial troubles. The tale ended with him selling his service van to pay for his finances and to start saving for an emergency fund. The latter was later discussed in detail with some tips on how to better achieve the financial goal.
ADVERTISEMENT - CONTINUE READING BELOW
"One of our personal motto and belief is that 'Mas mayaman ang Pilipino kapag marunong siyang humawak ng pera'," Sadiwa said. "So most of the lessons were inspired by real people with different mentalities."
The author cited some mentalities that cripple the Filipino's saving habits. There's the cellphone mentality, where many workers choose to spend most of their salaries for a gadget; the pera padala mentality, or when breadwinners send their full paychecks back home without any savings for themselves; and fiesta mentality, a trait most families are guilty of, where they choose to loan money just so they can prepare a big celebration for guests.
"We wanted to give back to our countrymen, that's why we agreed on creating the stories that touched base on the unique culture, mentality and spending habits unique to our tradition and family dynamics as Filipinos," Sadiwa added.
While the author initially had the working class in mind, she was surprised to find some children as young as nine-years-old who thoroughly enjoyed the materials and even shared the financial lessons to their parents.
ADVERTISEMENT - CONTINUE READING BELOW
Related: Super Tykecoon: The superhero who teaches kids how to save
"We were surprised and happy at the same time that our message resonated very clearly and stuck with a 9-year-old kid that she began asking her parents if they have also started a mutual fund for her and to put the money in a mutual fund instead of a bank," Sadiwa said. "Our stories were easily comprehended by [people from] all walks of life."
As a mother of two young kids, Sadiwa believes it's never too late nor too early to start learning how to better handle one's cash. After all, as she wrote, "not everyone who's rich finished school but everyone who got rich knew how to handle their money."