Celina Macaisa is a self-professed dog person, but that didn't stop her from taking in the stray cats that frequented her backyard until she gathered eight feline housemates, for whom she enlisted her brother Reynard to build a vertical cathouse in her room.
"Like most dog owners, I only had one dog. But cat owners don't just have one or two cats!" says Macaisa, who later founded Kittytektura, a line of wall furniture for felines, together with Reynard and his wife Pearl. "I learned that cats need vertical territory to thrive health-wise, and feel safe, especially in multiple-cat households."
ADVERTISEMENT - CONTINUE READING BELOW
Pet shops have cathouses and scratching posts too, but Kittytektura focused on wall furniture because "we believe cats were born to be climbers and a vertical space is what they need," says Macaisa. Not only does wall furniture help keep kitties safely indoors without taking up a lot of living space, it adds elbow room that can ease cats' territorial aggression.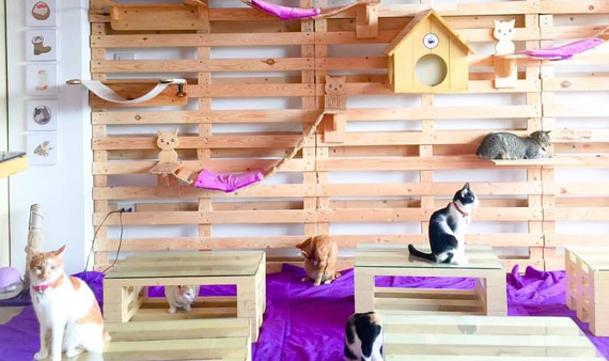 ADVERTISEMENT - CONTINUE READING BELOW
Clients can choose from a variety of designs: interconnected bridges, hammocks, scratching posts, and cathouses that can all be attached to walls. However, Kittytektura also accepts custom orders. The time it takes to put together a piece for the "catification" of your home depends on how intricate it is: Simple ones, like a cat hammock, can be done in two days; more complicated designs can take three days to a week to finish.
Plans are already in the works to develop new Kittytektura designs: Macaisa and her partners envision furniture pieces that pet lovers and their cats can share and enjoy together—think sofas or office tables that come with cat tunnels or hammocks. "We craft our furniture not just to please [the] aesthetics of our customers, but we focus on how the cat will use our furniture," Macaisa says.
Extra:
Celina Macaisa began making makeshift cathouses from scrap material—old tables, chairs, banig, and cabinet drawers—for the cats in her backyard, but had cat-specific furniture made when she brought her pets to live indoors.
ADVERTISEMENT - CONTINUE READING BELOW
*****
This article was originally published in the July 2015 issue of Entrepreneur magazine. To subscribe, click here.  
Photos from Cat Café Manila's FB page