In starting a business, the most difficult part of the task is actually taking the first step--and that is what the June 2011 issue of Entrepreneur Philippines aims to address.

The June issue gives a step-by-step guide for aspiring entrepreneurs on how they can start becoming their own boss even from the comfort of their own home. Entrepreneur Philippines will guide you through the tedious process of getting permits, converting a portion of a house into a business space, managing time between taking care of the house and being an entrepreneur. After all, working at home does not mean there will be no more distinction between working and living.

To further entice you into starting your own business, the June 2011 issue of Entrepreneur Philippines has over 40 business ideas and more than 20 franchise opportunities that you can choose from.

In June, Entrepreneur Philippines also takes you to closer to entrepreneurs from Cebu City, a prime business center in the Visayas. Learn from and be inspired by the men and women behind the likes of the Abaca Botique Resort, Laguna Café, and Suarez Brothers' Metal Arts Inc.
ADVERTISEMENT - CONTINUE READING BELOW
Here\\\'s one more thing you can look forward to when you grab our June 2011 issue: 10 tips in boosting your online presence. So, what are you waiting for? Grab the latest issue of Entrepreneur Philippines at your favorite bookstores and newsstands.

Here\\\'s a sneak peek at this month\\\'s cover. Check out the stories we have prepared for you!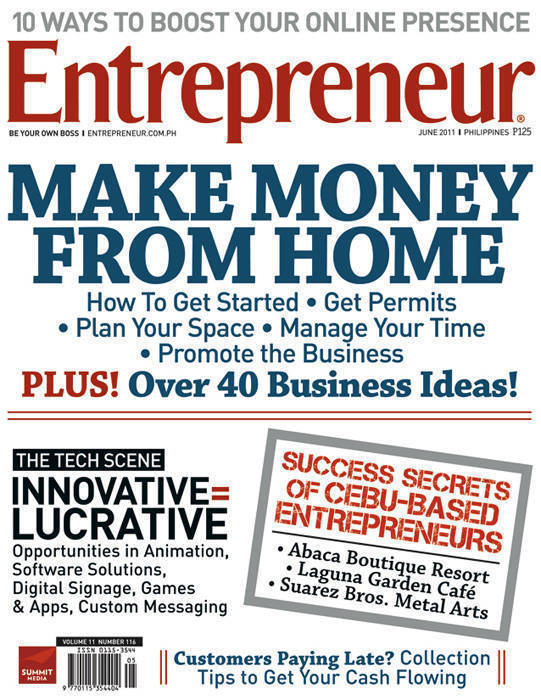 ADVERTISEMENT - CONTINUE READING BELOW
---