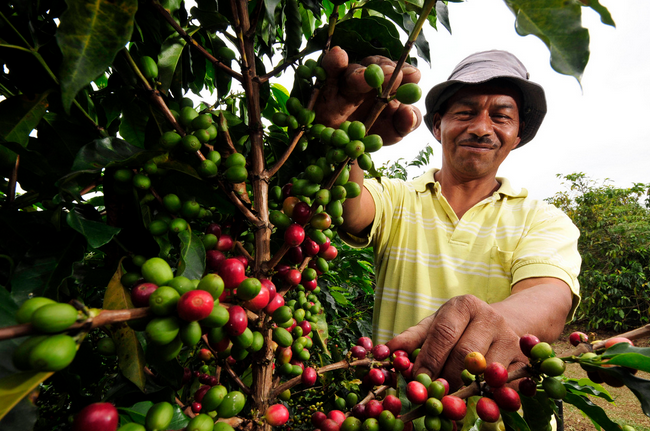 Coffee is known as 'black gold' in coffee-producing countries such as Brazil, Vietnam, and Indonesia for its profitability; no wonder it's touted as the second-most traded commodity in the world after oil or petroleum.

Sadly, that's no longer the case here in the Philippines. Once the fourth-largest coffee producing country in the world, it now has to import 48,000 metric tons of green coffee beans (GCB) annually for local consumption.

Still, local coffee growers can profit from this cash crop, and one way is through food giant Nestlé's 15 coffee-buying stations across the country, part of its direct buying policy to support local farmers.

Gina Mangalindan, 46, of Orani town in Bataan knows: she's been part of this buying program for over a decade now, and has been advocating coffee planting for the last two, being a third-generation coffee grower. Apart from maintaining her own farm in Barangay Tala, she recalls joining her grandfather Juan and father Jose in farm work—the family oversaw a 100-hectare plantation—at the young age of six.

"I've been campaigning for 20 years for people to plant coffee trees. It is good for the environment, for sustainable livelihood of farmers, for the economy, and so on," says Gina, a biochemist who in 2000 returned to coffee farming in the country and introduced new, high-yielding varieties of robusta coffee. "With coffee, you only plant it once and enjoy it for the next 50 to 100 years."

Good investment

Nestlé's direct buying system allows farmers like Gina to sell as little as one kilo of green coffee beans at its buying stations at prevailing world market prices. (In 2011, the average price of robusta coffee, the type most used by commercial coffee makers such as Nestlé, was 109.21 US cents per pound, or 240.55 cents—about P103—per kilo, according to the International Coffee Organization. A one-hectare coffee farm can produce 500 to 1,000 kilos of dry coffee beans.)

According to Gina, Filipino coffee farmers "did not get much support from the government and the business sector in the past, so the production declined and the interest in coffee farming was lost."

That has changed over the last 10 years. "Manufacturers from all sorts of industries—from nutraceutical, to cosmeceutical, and health and wellness—are now getting interested in coffee," she adds.

Planting coffee is ideal since it "is a one-week or one-month harvesting (job) in a year, so for 11 months you could have other business activities," Gina says. "It is not like planting mahogany or gmelina trees we see being planted everywhere; you need to wait 10 years before you could cut the tree and sell it as timber, and you could not plant it again because its soil would be overused."

ADVERTISEMENT - CONTINUE READING BELOW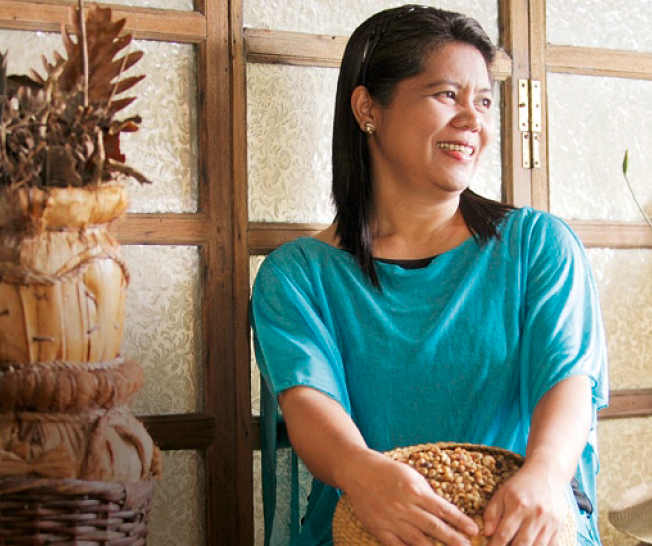 The business of coffee

Through its Experimental and Demonstration Farm in Tagum City (Davao del Norte province), Nestlé helped Gina as she began to grow her first crops, addressing the issues that limit coffee yield and productivity. Her farm eventually became a model coffee plantation, visited by no less than Nestlé Philippines chief executive John Miller.

Now, Gina is helping other coffee farmers in Bataan and elsewhere through transfer of technology and even capital. She recently joined a group that invested P2 million in a farm in Sitio Nazareno of Hermosa town in the province, forming a joint venture with the farm's owners. "We are also teaching farmers the coffee business. Coffee business is different from coffee farming," she says. "In farming, you wait for the harvest. The business is different; you will need logistics, equipment, and know-how to ensure that the coffee will be sold at a premium price."

Personally growing her coffee trees from seedlings to stem cuttings to planting, Gina also handles the harvesting and drying beans even during the La Niña season. The Nestlé buying station then buys beans but imposes a quality grading system for them.

Gina doesn't mind the quality control because "it is food that we put on our table and eat. So we need to have the highest standard for the food we eat." You can call that the gold standard.
ADVERTISEMENT - CONTINUE READING BELOW
This article was originally published in the April 2012 issue of Entrepreneur magazine and was recently updated by the online editor. Subscribe to the print or digital version here.  
Photos from Flickr (CIAT) and Dix Perez