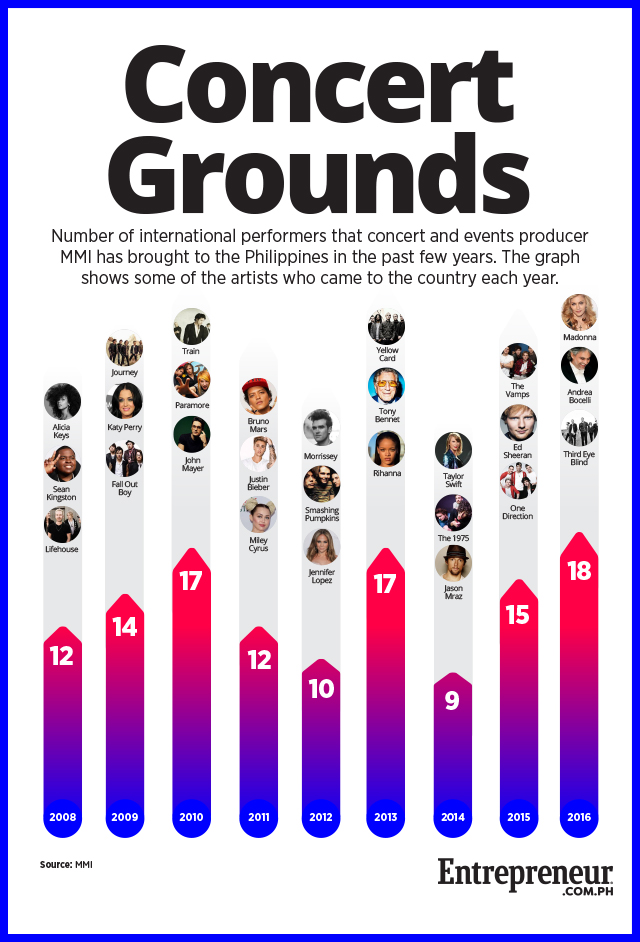 When pop music superstar Madonna performed two sold-out shows in Manila in February 2016, it marked the end of decades of waiting for many of her Filipino fans. One of the world's biggest-selling artists has toured the world many times over throughout her long, illustrious career, but she's never taken her show to Manila until last year.
ADVERTISEMENT - CONTINUE READING BELOW
The company that finally made it possible is Music Management International or MMI Live. The concert promoter has produced numerous shows through the years, but perhaps nothing can compare to the magnitude of bringing over the Material Girl herself. More than 20,000 concertgoers filled the Mall of Asia Arena over two nights to see Madonna sing and dance to her hits old and new.
"She's the biggest so far," MMI Live President and CEO Rhiza Pascua tells Entrepreneur Philippines. "We brought in One Direction during their peak. And we got almost 50,000 people for Coldplay's first show here."
There's been a noticeable spike in the number of live show performances particularly of Western artists in the country over the last few years as physical records sales continue to decline and artists are actively touring more to boost their income. This has led to a vibrant industry in the country with a handful of players in the concert promotions and production business. But judging by the sheer number of international artists it brings to the Philippines annually, not to mention the star power of the performers as well, MMI is arguably one of the country's leading concert promoters. (See infographic)
ADVERTISEMENT - CONTINUE READING BELOW
From Side A to The Corrs
MMI Live is the brainchild of Pascua, a longtime music lover and entrepreneur who has been based in Los Angeles, California, USA since the 1980s. Pascua was a law student in 1995 when an acquaintance told her that the Filipino band Side A was coming to LA but didn't yet have a promoter. She took on the job despite not knowing anything about concert production alongside three partners who are also her good friends.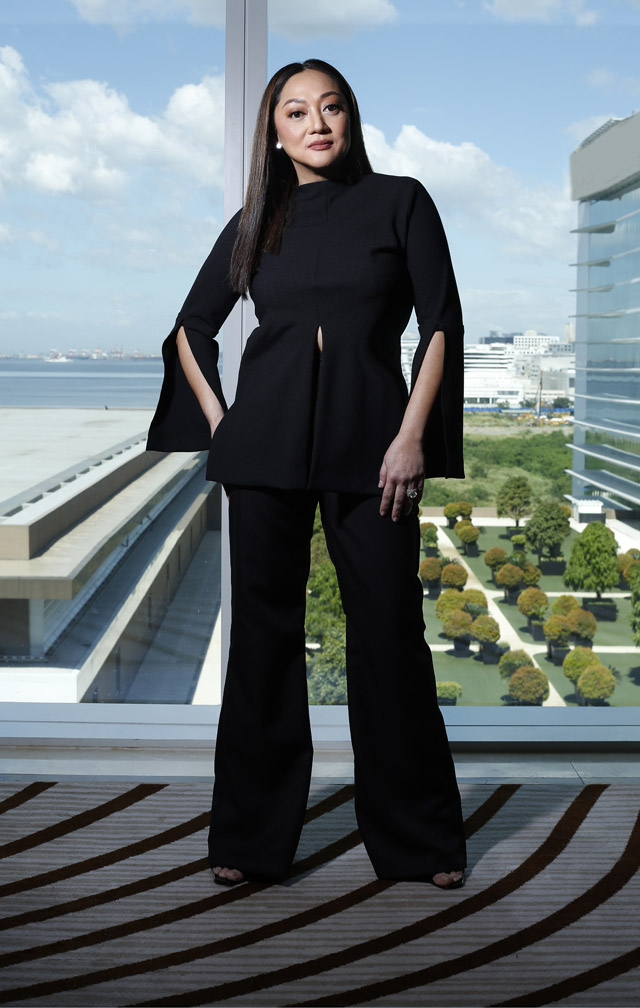 ADVERTISEMENT - CONTINUE READING BELOW
Pascua started MMI Live from Los Angeles, California where she is based with her family
Pascua was only given three weeks to work on promoting the show for Filipino audiences in the area. "We didn't even have a proper venue and ended up getting a high school auditorium in Culver City," she says. "But it turned out well."
The next year, another Filipino band—South Border—came to visit and Pascua ended up handling that show, too. After that, she started booking other artists like James Ingram, David Pomeranz and Mike Francis to play for the sizeable Filipino population in California.
Pascua eventually decided to drop out of law school to pursue the business full time.
"I think I made the right choice," she says.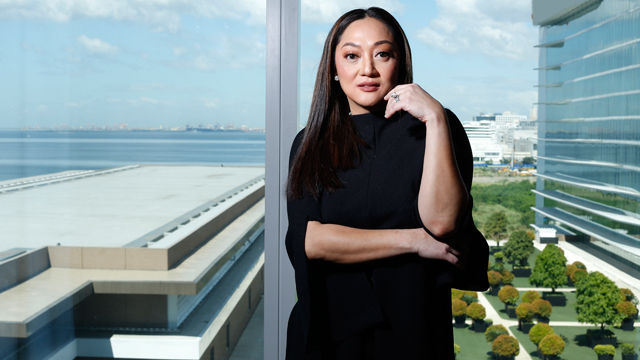 ADVERTISEMENT - CONTINUE READING BELOW
Pascua decides on the artists she brings in to the country based on "gut feel," sometimes in consultation with her three kids
In the late 1990s, Pascua started venturing into bringing Western acts to the Philippines. She began booking small-scale shows like Valentine's Day concerts featuring artists popular in the 70s and 80s like Pomeranz, Stephen Bishop and Michael Johnson.
MMI Live's first big show was Irish pop group The Corrs in 2000, which was successful enough to allow the company to continue bringing acts in to the country. But first, Pascua says she had to work doubly hard against Westerners' impression that the Philippines was unsafe. This was around the time that terrorism activities in Mindanao were making headline news.
"What I did was I would go to the offices of all the agents and bring a map to show them that Manila is here and Mindanao is there," she says.
ADVERTISEMENT - CONTINUE READING BELOW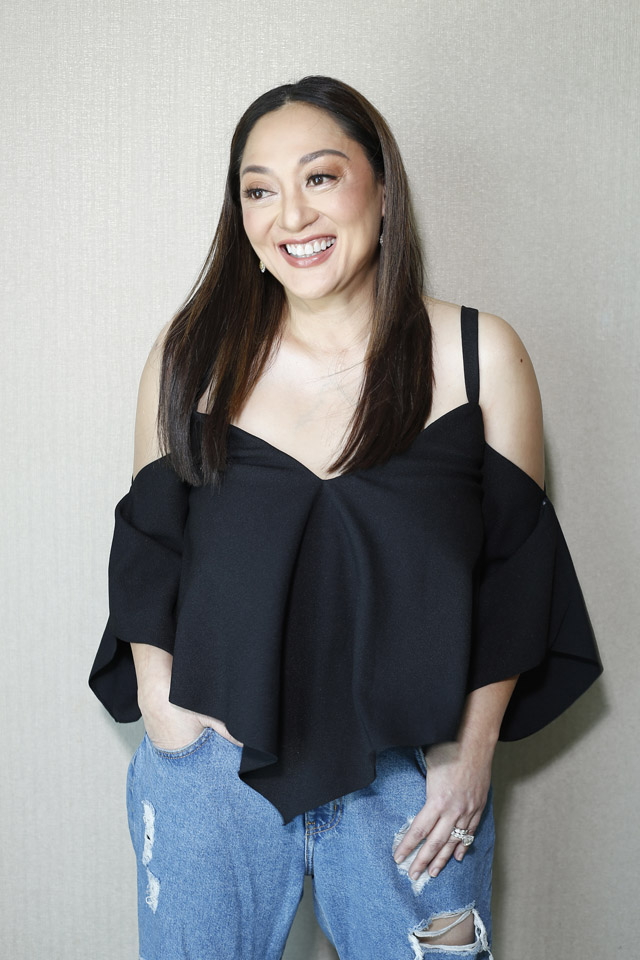 Pascua says MMI Live will  soon bring in a new dining concept called Dinner in the Sky
By the mid-2000s, MMI was producing up to 20 shows annually. Pascua says she decides who to bring in to the country based on "gut feel."
"(That) and my three kids," she says. "They're my consultants."
ADVERTISEMENT - CONTINUE READING BELOW
How ticket prices are set
In 2014, MMI Live entered into a partnership with Live Nation Entertainment, the world's biggest live entertainment company involved in operating venues, sponsorships and ticketing solutions, in addition to concert promotions. As Live Nation's local partner, MMI Live effectively has first dibs on all of its pool of talent, which includes some of the biggest superstars in the planet like Madonna, U2, Shakira and Jay-Z.
Given the big names and sheer scale of the concerts that MMI Live mounts, it's natural to wonder exactly how much money the company shells out to produce the shows. Non-disclosure agreements it signs with the artists prevent MMI Live from revealing specific costs, particularly artists' fees which comprise a bulk of the expenses.
But considering that and things like the stage setup, lights and equipment rental, security, food and accommodation for the artists and staff, permits and taxes and many others, Pascua says one show can easily reach into tens, perhaps even hundreds of millions of pesos.
ADVERTISEMENT - CONTINUE READING BELOW
The venue is also an issue as there is a very limited number of huge arenas that can accommodate tens of thousands of concertgoers. Pascua says she is looking forward to having more big event venues in the country to help attract the top tier artists.
Besides cornering the market for the world's biggest names in pop music here in the country, at least two things set MMI Live apart from other local concert promoters according to Pascua. First is that they don't use traditional media to publicize the shows, heavily relying instead on the internet and social media.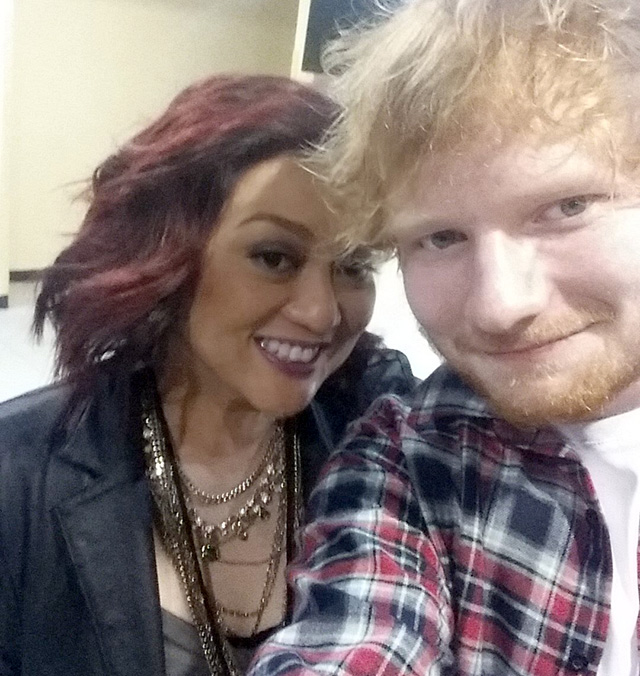 ADVERTISEMENT - CONTINUE READING BELOW
Pascua with Ed Sheeran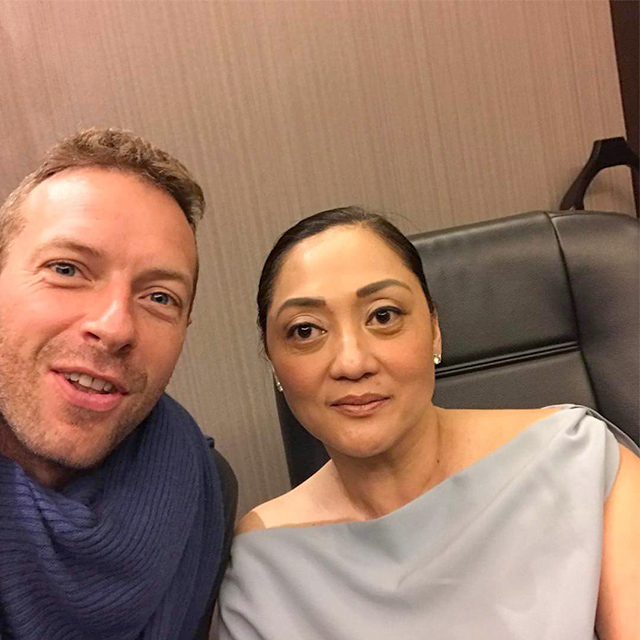 With Coldplay's Chris Martin
Second, and more importantly, is that the company is self-sustaining. What this means is that, unlike other local concert promoters, MMI Live doesn't solicit investments or accept capital infusion from outside—often silent—investors. The company pays for all expenses using its own funds.
ADVERTISEMENT - CONTINUE READING BELOW
"What we do, and this is just us, is that we try to drop our ticket prices as much as we can, hoping the show sells out and sponsors would come in, and that becomes our income. But our main goal is to make our ticket prices reasonable."
Pascua acknowledges that they still get complaints about the exorbitant ticket prices. This has been a point of contention for many concert fans, particularly for the more high-profile shows. For the Madonna show, for example, Patron VIP tickets went for Php57,750, which set a record as the most expensive concert ticket in local concert history. For Coldplay, it was Php22,000, and for One Direction, it was Php17,950.
Related story: The Most Expensive Concerts in the Philippines 2017 Edition
"Ticket prices are set based on expenses," Pascua says. "People think that it's the promoters who are making up the ticket prices, with no basis. They don't know that we have to pay for fees, we have to pay taxes. As a partner of Live Nation, we pay the correct taxes. It's a publicly owned company, so you can't cheat when it comes to paying taxes."
ADVERTISEMENT - CONTINUE READING BELOW
She adds that, sometimes, it's the artists or their management themselves who set ticket prices.
"Before we release all the ticket prices, we inform (artist's) management," she says. "Naka-audit kami. They have to approve the ticket prices. And we have to report (to them) every hour. That's how strict our system is. Kaya hindi kami pwede mag-bloat ng tickets. (We can't inflate ticket prices).
Pascua adds that she gets deeply offended when people tell her that they would rather fly to another country to watch a show because it's cheaper. She reasons that, in a country like Singapore, for example, the government supports the concerts business through incentives.
"I just really hope the government here can be more supportive of us," she says.
Room for growth
In terms of growth, MMI Live is expanding its offering three ways. First, it is branching out of strictly musical acts into other forms of live entertainment. One example is Filipino-American stand-up comedian Jo Koy, whose shows during the first week of December 2017 at the Solaire theater were all sold out.
ADVERTISEMENT - CONTINUE READING BELOW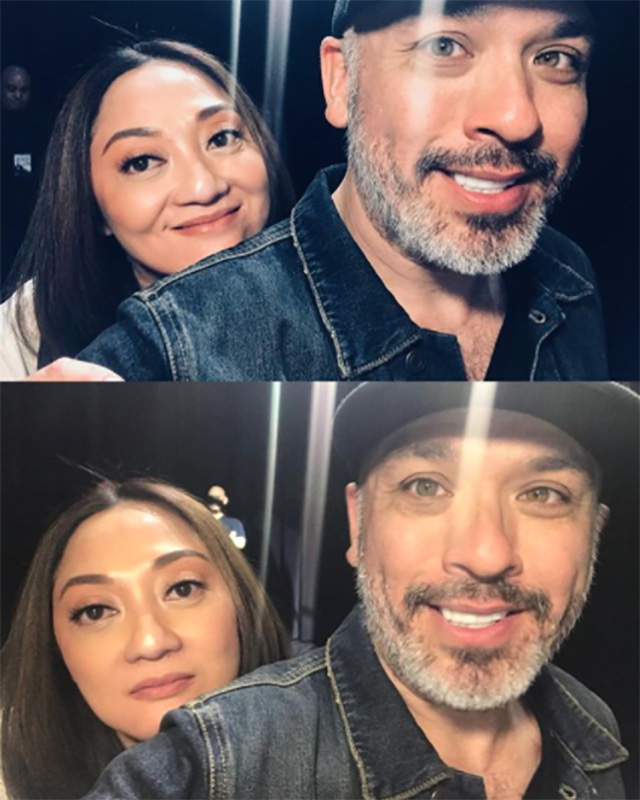 With comedian Jo Koy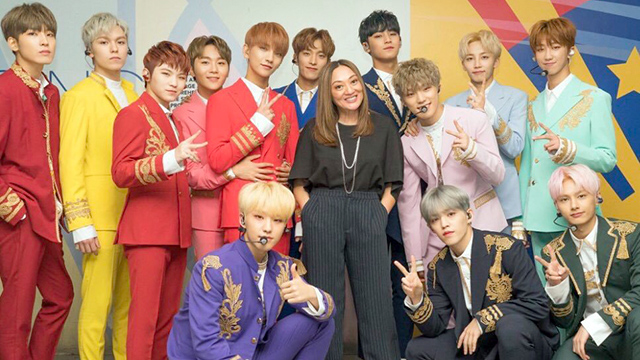 ADVERTISEMENT - CONTINUE READING BELOW
With K-pop group Seventeen
Second, MMI is exploring opportunities out of the country. Pascua says they were supposed to handle pop star Ariana Grande's show in Vietnam before she cancelled at the last minute. She says they are planning to bring in Katy Perry there in 2018.
Finally, MMI Live is bringing a new live entertainment concept to Manila called Dinner in the Sky. Originally founded in Belgium, the new venture is a restaurant service that uses a crane to lift a group of diners up and enjoy their meal in the air. Targeted to open in the first week of February, Pascua says they are bringing in top European chef Yves Mattagne for the inaugural dinner.
What's next
For anyone dreaming of getting into the concert promotions business, Pascua says they need to be prepared. "When you lose, you lose big," she says matter-of-factly. "And you have to be very passionate. But I notice that a lot of people who get into the music business are music lovers. So you have to be updated when it comes to the latest and hottest artists."
ADVERTISEMENT - CONTINUE READING BELOW
Pascua reveals that, for now, MMI Live already has a full slate of exciting concerts lined up over the next two years. But who is her dream artist to produce a show for here in the Philippines?
She says that there are three artists in her bucket list—Madonna, Coldplay and U2. Of the three, the first two have already come true.  
"U2 na lang," she says with a smile.
***** 
Make-up by Kusie Ho
Hair by Anton Papa
Styling by John Lozano
Jewelry by Phillips Fine Jewelry
Paul John Caña is the managing editor of Entrepreneur PH