With the Philippine economy posting faster that expected growth in the year\\\'s  first half, it should come as no surprise that business is booming.
This September,  Entrepreneur helps you make money in every market - luxury, mass and students.
Under the luxury market, the September issue features the much-coveted cars of  Mercedes-Benz, the world\\\'s top wines, the sinful designer chocolates and the niche skin care business. These ventures give a detailed picture of the luxury industry of the Philippines.
"By the second half of 2009, when the global economy started its upswing from the downturn, luxury spending also recovered, especially in the emerging economies and developed Asia," Leah del Castillo, editor in chief, said.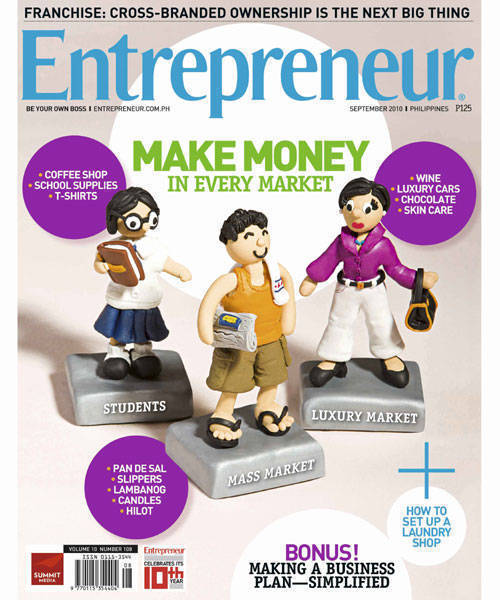 ADVERTISEMENT - CONTINUE READING BELOW
Besides the luxury market, the September issue also takes a closer look at the broader segments of the mass market and even the niche student segment.

In one section,  Entrepreneur discusses how to create value for the customer, helping your products sell better. Five entrepreneurs shared their experiences, the lessons they learned, and how they created value for their customers. Learn a thing or two from insights and pieces of advice given by these negosyantes.

Looking for a franchising opportunity? Head on straight to the  feature on Italian ice cream, Gelatissimo in the Franchise section, which is also complemented by the table of other franchise opportunities that are available to you.

Capping this month's issue are the 10 money saving tips for bootstrappers or people who have to pull themselves out of muck. To put it in business parlance, it is starting a business all by yourself without any outside help.
ADVERTISEMENT - CONTINUE READING BELOW
Entrepreneur September issue is now available in your favorite bookstores and newsstands. Grab a copy now!
Related Articles:
Retail business on the upswing
Entrepreneur presents the ultimate Divisoria guide!