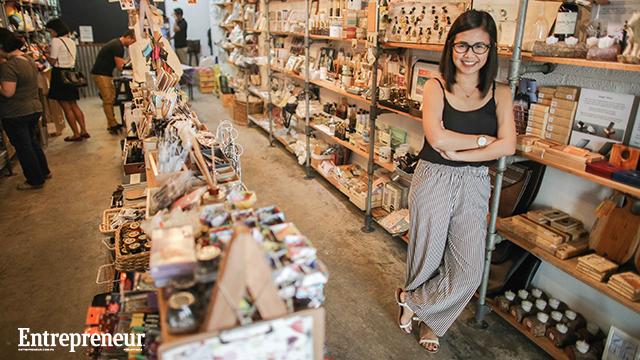 In the age where robots are slowly replacing human labor as manufacturers, the regard and reverence for handmade crafts proportionately boomed, as if things made with human hands are novelty.
Some scoff at crafts as mere passion projects, for others, as simple hobbies. But a small store near Katipunan in Quezon City dares to challenge those dismissals by housing all 80 brands of craft makers who started at the comfort of their homes.
ADVERTISEMENT - CONTINUE READING BELOW
"There are numerous craft stores abroad, but in the Philippines there aren't any, and it's interesting since the arts and crafts community here has been booming in the past three years, so why not?" Roma Agsalud, co-founder of Common Room told Entrepreneur Philippines.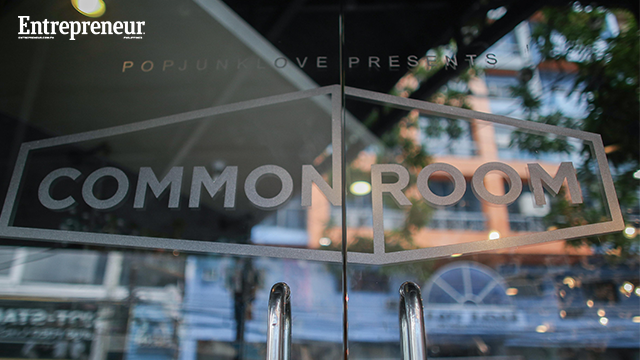 ADVERTISEMENT - CONTINUE READING BELOW
That reckless surrender and jump to craftsmanship resulted in two branches, with one more Common Room in Powerplant Mall in Makati. Each store is a hodge-podge of all things homemade: indoor plants, postcards, tote bags, some pieces of temporary furniture and even leather goods.
For the first time, crafters are no longer exclusively available online or in weekend fairs – for the first time, they have permanent homes.
"We treat our partners [brands inside the shop] as partners talaga. While I'm the owner on paper, they are as involved in every decision, big or small," Agsalud said. "I think that's what the community brings, a sense of encouragement and lifting each other up. It's natural for us."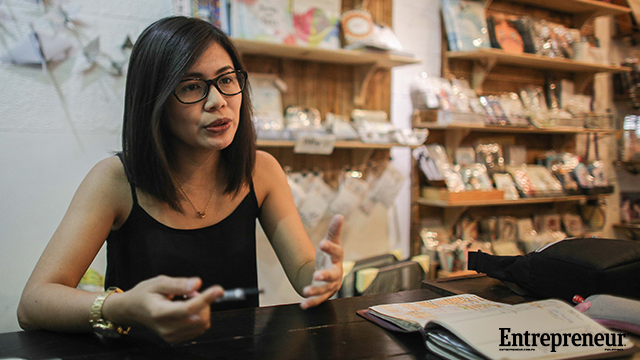 ADVERTISEMENT - CONTINUE READING BELOW
Veteran crafter
But if one can hear the story leading up to the opening of Common Room, such camaraderie is inevitable with all the hardships Agsalud overcame just to be where she is now.
Formerly serving as a chief reporter for RPN-9, Agsalud left journalism to pursue crafting full-time in 2011. At that time, she has been managing her craft shop, PopJunkLove for five years alongside her sister, Maan.
"I came from nothing—I didn't have the money, the resources to put up a crafting business. I wasn't a crafter, I was a reporter. Even convincing my parents that I'm leaving my career for this was difficult," Agsalud said. "But you just have to persevere. You need to have goals that will guide you along the way."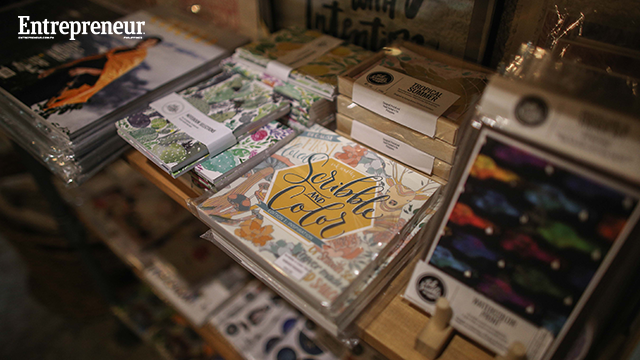 ADVERTISEMENT - CONTINUE READING BELOW
By 2014, their goals led them to the opening of their first PopJunkLove kiosk in Alabang Town Center in Muntinlupa. True, e-commerce may be the future of retail shopping but the presence of brick-and-mortar store remains as an undeniable asset for today's local entrepreneurs. The sisters were always scouting for available spaces around the metro, asking for prices and monthly lease, until an opportunity opened in May.
"We've always wanted to have a walk-in store, not just a kiosk. So while looking for spaces, something opened up here in Katipunan," Agsalud said. "From then, we knew we had to take it and we knew it wasn't PopJunkLove. It's something more."
In two months, the Agsaluds managed to convince their friends in the crafting community to rent a space in their humble store and set-up Common Room. The decision may be quick and spontaneous, but the result and hard work put into building the shop is a decade-long dream. In August 2015, Common Room opened its doors.
ADVERTISEMENT - CONTINUE READING BELOW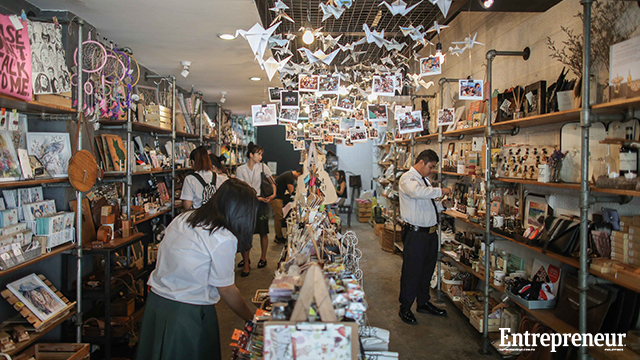 Mother hen
The shop came at the most opportune time: calligraphers were in abundance, and for a moment, there were adult coloring books selling like hotcakes, and workshops on everything crafty were also available every weekend. From its initial 30 partners, it steadily grew to 50 then to 80—a mix of enthusiasts, veterans and young entrepreneurs.
ADVERTISEMENT - CONTINUE READING BELOW
"I have partners who just recently graduated, others are full-time parents, still there are some which juggle work and business," Agsalud said.
Her 10-year tenure as PopJunkLove's chief maker ultimately prepared her as Common Room's "mother hen," after all, who can better prepare and mentor these young aspiring brands than someone who has endured it all?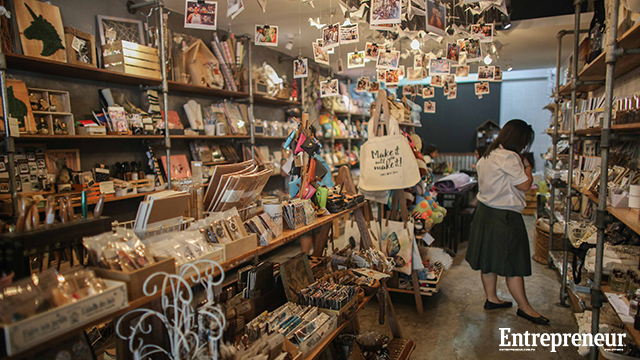 ADVERTISEMENT - CONTINUE READING BELOW
"I don't see myself as a pioneer, but ultimately my 10-year experience can somehow give my advice some back-up that it can work, since I've been there. The mentoring comes naturally for me nowadays," Agsalud added.
And like a true mentor, Agsalud can be both the strict teacher and the loving parent. The boom gave birth to numerous enthusiasts and creatives and ultimately, countless questions and uncertainties.
"It's the first time for some to have a permanent space so there are worries na, why is it not working? And they easily get restless," Agsalud said. "But if you don't make a mistake, you won't learn from it. It's part of the journey—the feeling of losing it—that will give you the drive to do it better next time."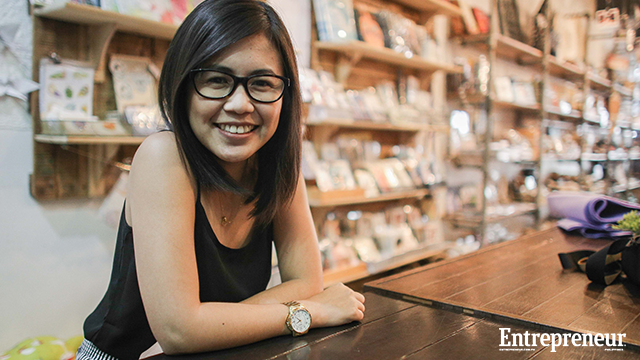 ADVERTISEMENT - CONTINUE READING BELOW
With the Christmas rush in full swing, all hands are on deck for the holiday rush. Crafters await for this season year-long, as it is the expected time where they're finally on the green. Having spent 10 Christmases in the crafting businesses, Agsalud has seen time and time again how some cram and get burned out by this time of the year. So as early as August, brands are reminded to prepare and stock up on goods as the 'ber' months will ultimately spell sold out for many.
"If I don't push them enough then the store will also not work so it comes with the job, but also because I know that there's a potential for all brands as long they adapt and adjust and learn from their mistakes," Agsalud said. "Just to be a part of that part of their story in my own little way, making this shop work, and helping them in their businesses, di mo na rin naiisip yung pagod."
ADVERTISEMENT - CONTINUE READING BELOW
*****
Elyssa Christine Lopez is Entrepreneur.com.ph's staff writer. Follow her on Twitter @elyssalopz.