John Christian Bisnar is the CEO and co-founder of fintech startup Investagrams, an online platform and community that helps stock market investors in the Philippines learn and practice trading strategies with real-time prices without using real money
It's just as well that John Christian Bisnar, the CEO and co-founder of fintech startup Investagrams, is only 27 years old. He needs the early start to achieve the ambitious goals he and his co-founders, who are even younger than him, have set out for themselves.
Investagrams is an online platform and community that helps stock market investors in the Philippines learn and practice trading strategies with real-time prices but without using real money. Founded in 2015, Investagrams has quickly built up a base of more than 200,000 members as of mid-August.
The startup is turning itself from a virtual stock trading platform to a stock brokerage as part of its audacious—some would say foolhardy—vision of boosting the number of stock market investors in the country from less than a million to 10 million in 10 years.
ADVERTISEMENT - CONTINUE READING BELOW
If the goal looks overly optimistic, it partly stems from Bisnar's deep disappointment at the low number of equity investors among Filipinos even though the stock market has been around for more than half a century in the Philippines. In fact, Manila was one of the first cities in Asia to put up a stock exchange back in the 1930s.
Yet, there are only about 800,000 stock brokerage accounts in the country, roughly equivalent to only 0.7 percent of the Philippine population. That compares to 2.7 percent in Thailand and 5.9 percent in Malaysia.
"The stock market in the Philippines will be turning a hundred in just a few years but think about it: those benefiting from it make up less than one percent (of the population)," Bisnar pointed out. "Is it just us professional traders who are in the market? How about the general public, the ordinary working people? Why haven't we gone beyond (one percent)?"
ADVERTISEMENT - CONTINUE READING BELOW
From gaming to trading
Who is Bisnar and why is he setting near-impossible goals for his fintech startup that richer, older and perhaps wiser stock brokers have failed to accomplish in the past 50 years or so of the Philippine stock market history?
Perhaps that has to do with Bisnar's unusual entrepreneurial journey, which began when he was just a sixth grader at the Don Bosco Technical Institute in Makati City, the country's leading technological elementary and secondary school.
That was when he realized and eventually decided he wanted to become a trader. Unusually, the realization came after he had been playing the online role-playing game Ragnarok, which is loosely based on Norse mythology. This could be a sign that contrary to many parents' belief, something good can sometimes come out of computer games.
Bisnar immensely enjoyed the game but what he liked best was that he could make money while playing it. He acquired or bought items that he could sell for a higher price later in the game to other players who didn't have the time or skills to hunt or fight for the possession of the valuable items.
ADVERTISEMENT - CONTINUE READING BELOW
"That's where I first learned the concept of trading and entrepreneurship. I was able to do buy and sell gaming items there—spades, armors, bows. I learned how to earn profits through trading, and just kept on repeating the process," Bisnar told Entrepreneur Philippines.
While the items existed only virtually, the money was real. Through skillful buying or acquisition of valuable items and selling them for much more, he was able to grow his in-game wallet to an amount that he was able to eventually encash for Php20,000 back in the early 2000s.
"That was when I realized that whatever I will pursue in my life [will have] something to do with buying and selling," he recalled.
Not surprisingly, when he entered college at the De La Salle University (DLSU)'s main campus in Manila, he chose to study Entrepreneurship, one of the major programs being offered by the College of Business Administration. In his mind, putting up a business represented the quickest route to a reasonably wealthy and comfortable life. He was keen to achieve, at a relatively young age, financial freedom or the state of not having to worry about his and his family's current and future needs.
ADVERTISEMENT - CONTINUE READING BELOW
In college, Bisnar's other abiding passion apart from video games was varsity sports, reflecting his intensely competitive nature. Relatively tall for his age, he tried out for, and was accepted by, the school's volleyball team. In high school, he was a member of the basketball team.
However, when he suffered a knee injury that prevented him from playing serious sports, he channeled all his youthful and competitive spirit into video games. "So I started looking for other activities where I can transfer my intensity, my competitive drive," Bisnar recounted.
At that time, a new multiplayer online role-playing game (MMORPG) called Allods Online was gaining popularity in Bisnar's gaming circles. "Since I've been a gamer ever since, I said, 'I'm not just gonna have fun here. I'm gonna be one of the best players.' My goal was to be the champion," he added.
So he played the game for eight to 12 hours a day and did it with such intensity that he continued to play even though he was doing other stuff like eating or watching television. "I applied the same dedication I had in sports to that game," he said.
ADVERTISEMENT - CONTINUE READING BELOW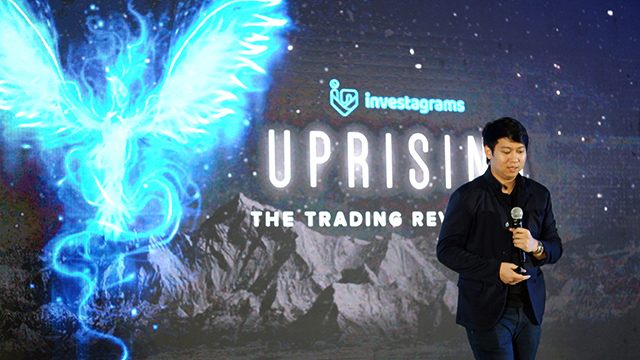 Investagram's vision is to boost the number of stock market investors in the country from less than a million to 10 million in 10 years
In 2010, his efforts paid off. He was part of the team that won a national Allods Online tournament in the Philippines sponsored by the game's distributor in the country. His share of the prize amounted to Php60,000 in cash and kind.
ADVERTISEMENT - CONTINUE READING BELOW
In his second year in DLSU, Bisnar shifted from Entrepreneurship to another program which was also offered by the business college. He said he didn't relish the prospect of putting up a school-based business and selling stuff during school fairs which was the usual way Entrepreneurhip majors did their practicum in their final year.
"The practicum at the end of the Entrepreneurshp program was to start up a business. But what I saw most of them do was to simply start typical businesses: putting up food stalls like siomai or selling of t-shirts. So I thought, I don't need a formal course to do that," Bisnar said. "If I wanted to go to the big leagues, I needed to learn how the top 100 companies think."
Thinking his entrepreneurial career could benefit more from working with big corporations for a few years before he set up his own business, he changed course and was accepted in the Applied Corporate Management program. He said it was one of the toughest business programs whose graduates usually found employment in large multinational and local companies in the country.
ADVERTISEMENT - CONTINUE READING BELOW
After he was accepted into the ACM program, Bisnar spent a few months interning with the Macquarie Group, a global group providing financial services, including stock brokerage or buying and selling of shares of listed companies in behalf of clients. It was while he was with Macquarie that he was introduced to stock markets, which reminded him, oddly enough, of video games.
"I was able to observe stocks like Megaworld, which went from Php1.50 to Php1.80 in just two weeks. That's when I realized, hey, this is just like a game. I can do this over and over again. It's just like Ragnarok, because I can see there's also a pattern. I can see the charts—up, down, up, down. It is just like a game," he recounted.
That encouraged him to create an account with COL Financial, the country's first online stock brokerage. Using Php25,000 from the cash component of his Allods Online tournament prize, he started buying and selling stocks. In three weeks, he was able to earn Php5,000 because the stocks he chose surged by 10 to 20 percent.
ADVERTISEMENT - CONTINUE READING BELOW
His initial wins made him impatient to grow his portfolio. "I realized that if I only have a capital of Php25,000, it will take me a very long time before I can become a millionaire, or achieve financial freedom," he said.
"My goal was to earn at least Php50,000 per trade," he recalled, estimating that was likely going to be his monthly salary if he worked for a company. "So basically, I visualized that I need to have a capital that's around Php500,000 to Php1 million so that if I hit 10 percent for every trade, I can earn Php50,000 to Php100,000," he illustrated.
Other people's money
So, in just his second month of trading, Bisnar started going at it aggressively. He looked for investors who could grow his trading capital to Php200,000.
He recalled his sales pitch to would-be investors to convince them to let him handle their money: "The bank is giving you less than one percent. I've been studying this market, I've worked for Macquarie, I see how institutions are doing it. This is just like a game that can be mastered. I've been studying this, [I have my] technical analysis, I also have a strategy for risk management. I'll give you 12 percent [interest] annually."
ADVERTISEMENT - CONTINUE READING BELOW
By his fourth month, he managed to secure more investors who helped him increase his portfolio to Php600,000. By the end of his first year in trading, when he was only 21 years old, Bisnar's assets under management finally hit the Php1 million mark.