Long lines are a common sight in Maxi Mango's outlets
It was the couple's strategy to sell in bazaars, as they believed doing so would help them maintain low expenses while managing to introduce the brand to more people.
"We had to (sell in bazaars). I couldn't afford to open a stall. We were in a really bad place," Arceo-Velasquez explained, saying that despite the disadvantage of constantly moving all the equipment, bazaars helped them introduce the brand to a new market each time.
Realizing the potential of Maxi Mango, the couple decided to keep the ball rolling and signed up in more bazaars in the city. They kept doing this until the middle of 2018, during which they also started to expand to Manila.
"I really make sure that there's no gap in between (in doing bazaars). It's stressful, tiring, difficult, but it's because I'm going to make sure that if I have competition, I'm not going to give them leeway to overtake me," Arceo-Velasquez confidently said.
ADVERTISEMENT - CONTINUE READING BELOW
And it seems nothing is stopping Maxi Mango's expansion. In August 2018, the couple started taking the brand to bazaars in Metro Manila and has so far introduced it to mall goers in Glorietta in Makati, SM Mall of Asia in Pasay, EDSA Shangri-La in Mandaluyong, and Robinsons Galleria and TriNoma in Quezon City.
Apart from introducing the brand to potential customers, Arceo-Velasquez also shared that another major reason they keep joining bazaars is to make mall leasing administrators notice them. And so far, the tactic has worked well.
Express expansion
As of November, Maxi Mango already has eight operating standalone branches nationwide: Gaisano Mall of Tagum (Davao), Gaisano Mall of Davao, SM Mall of Asia, Robinsons Galleria, SM Cagayan de Oro, SM Bacoor (Cavite), UP Town Center and Gateway Mall (Quezon City)—a franchised store owned by local celebrity and Arceo-Velasquez's co-PBB alumna Kim Chiu.
These eight branches were all opened consecutively within three months, from September to November 2018. A branch in SM North EDSA is also set to open before the end of the year.
ADVERTISEMENT - CONTINUE READING BELOW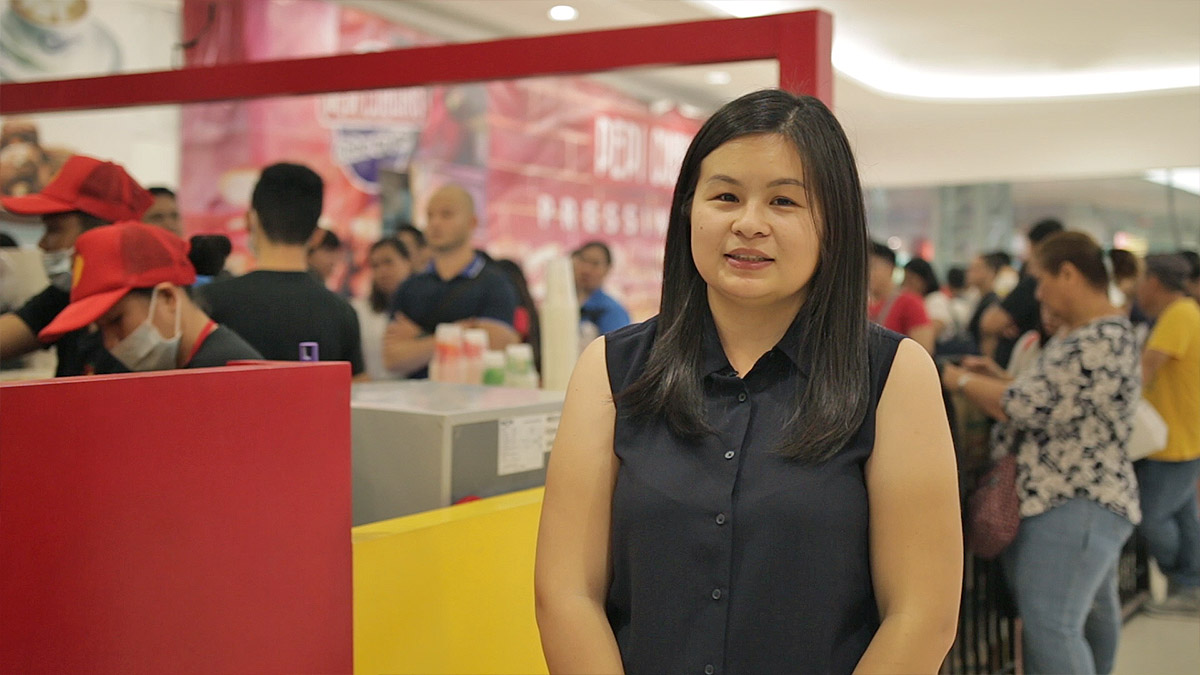 After opening Maxi Mango to franchising, Arceo-Velasquez says the company plans to introduce new products in their menu
The couple now plans to focus on opening more branches than doing bazaars, since Maxi Mango has already established a solid footing in malls, and quite a number of people have taken interest in franchising the brand.
ADVERTISEMENT - CONTINUE READING BELOW
Arceo-Velasquez called Maxi Mango's franchise program a "plug and play" system, where they would get everything ready—from uniforms to equipment—while the franchisees would just have to pay the corresponding fees. Though she refused to share Maxi Mango's franchise cost, she said that the main equipment the stores use, a Taylor C706 professional ice cream machine, costs Php780,000.
Despite its price tag, Arceo-Velasquez stands by the brand and even mentioned that popular food chains Jollibee, J.CO Donuts, McDonald's and Bonchon Chicken all use Taylor's ice cream machines. "The brand speaks for itself. Second best does not come anywhere close," she said.
The couple also signed up with a research and development (R&D) company, which helped them customize their ingredients and create what Maxi Mango is today. They spent more than Php100,000 for this process, which makes up the bulk of their capital.
"That's why I'm sort of confident that the copycats... they most likely can't chase me. It's going to be hard because R&D takes long and the capital needed for one ton of premix is quite a lot," she said.
ADVERTISEMENT - CONTINUE READING BELOW
By early next year, the couple also plans to launch different products outside of their usual mango soft serve and mango floats, a move that according to Arceo-Velasquez proves that the Maxi Mango craze is so much more than just a fad.
"I'm so excited about our expanded menu. It's been in place for a while, actually, we just haven't been able to release it since everything is still so hectic. But when this starts to quiet down, we're going to release it, maybe in early 2019," she said.
For someone who never really had a concrete plan on what career path to pursue in her life, Arceo-Velasquez seems to be doing quite well. Though only personal circumstances led her to discovering her entrepreneurial skills, she said she has no plans of going back to the routine, 9-to-5 jobs she handled before.
"It's all very scary, the thing that any moment something might happen," she said. "I always think, 'What am I going to do—what if this crashes?' But as my mentor says, 'You should be brave. You should really believe in your own.'"
ADVERTISEMENT - CONTINUE READING BELOW
*****
Pauline Macaraeg is Entrepreneur PH's data journalist. Follow her on Twitter @paulinemacaraeg