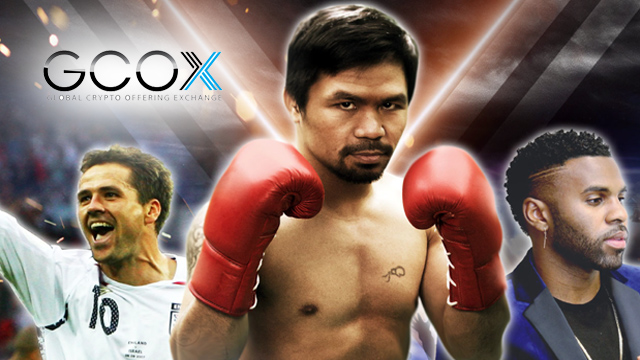 Aside from Manny Pacquiao, GCOX will also create a cryptocurrency for former English football player Michael Owen and American singer Jason Derulo
As a politician, Emmanuel "Manny" Pacquiao is known as the Bible-thumping Filipino senator who's in favor of conservative causes such as reimposing the death penalty or opposing state support for contraceptives.
ADVERTISEMENT - CONTINUE READING BELOW
But as an entrepreneur, the world-famous boxing legend seems comfortable to stand at the cutting edge of innovation, embracing new businesses that few really understand.
Not many people are aware of it but Pacquiao is one of the pioneering private investors—and the first celebrity ambassador—in Singapore-based blockchain startup Global Crypto Offering Exchange (GCOX), which builds cryptocurrencies for celebrities.
"People may not know me as a businessman, but I invest in good business opportunities," said Pacquiao in a video presented by GCOX at Blockchain Fair Asia 2018 (Philippine Edition) last October 11. "GCOX has an interesting business model, especially when we can use them to reach out to more people. I always want to do more for my fans so when I learned about GCOX, I felt it was a platform of the future for my fans."
Related story: Manny Pacquiao Investing in Cryptocurrency Startup, Will Release His Own Virtual Token Soon 
ADVERTISEMENT - CONTINUE READING BELOW
GCOX's "interesting business model" involves offering a suite of services aimed at better connecting fans with celebrities. Fans will be able to purchase exclusive merchandise, stream videos live and donate to selected charities through GCOX's platform, and users will be able to do so through a celebrity's own cryptocurrency.
"I'm very excited to partner with GCOX to list my own crypto token called PAC Token," said Pacquiao in the video.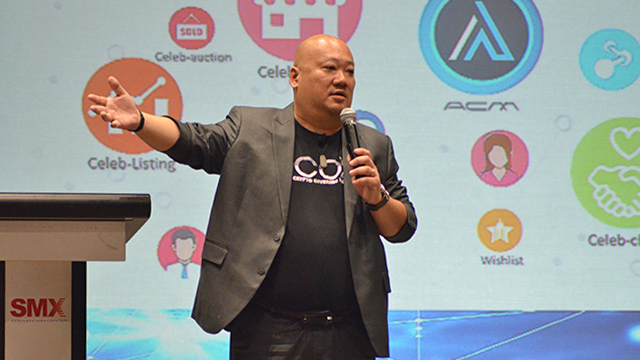 ADVERTISEMENT - CONTINUE READING BELOW
Evan Ngow, chief commercial officer of GCOX, spoke about the startup's business model at Blockchain Fair Asia 2018 (Philippine Edition)
Indeed, GCOX enables Pacquiao and other celebrities to create their own virtual token that will be used for transactions on the platform. The creation, distribution and movement of these celebrity tokens will all happen on GCOX's very own blockchain platform called Acclaim.
"We developed a blockchain on our own, and that blockchain is called Acclaim," Evan Ngow, chief commercial officer of GCOX, explained to Entrepreneur Philippines in the sidelines of the event. "We will be building the apps on top of our blockchain, and we will be creating the tokens [there]."
In his speech at Blockchain Fair Asia 2018 (Philippine Edition), Ngow mentioned that after onboarding Pacquiao as its first celebrity ambassador, GCOX has also enlisted former English football player Michael Owen and American singer Jason Derulo as partners who will be creating their own cryptocurrencies in the platform. He also explained that there are three major services that will allow fans to better connect with these personalities.
ADVERTISEMENT - CONTINUE READING BELOW
"We're trying to build a token ecosystem around celebrities to enable the fans to connect at a different level," said Ngow in his talk. "We are calling this having 'unparalleled access'. What that means is through the tokens that the celebrities will create on our platform, then the users, the fans, will be able to connect [with them] on different platforms that we provide."
Foremost among these platforms is Celebreneur, which will serve as a blockchain-powered e-commerce platform that celebrities can use to sell their merchandise, which fans can pay for through the celebrity's own virtual token. Ngow also mentioned the possibility of adding merchandise auctions down the line, where fans can bid using cryptocurrency.
"This (Celebreneur) is an opportunity for the celebrities themselves to have direct control of their own popularity, of their own brand," explained Ngow. "Whatever they provide in terms of merchandise, you can be certain that it is from them directly."
ADVERTISEMENT - CONTINUE READING BELOW
Another platform is Celeb-Connect, which would enable users to view exclusive pay-per-view livestreams featuring their chosen celebrities, whether it be Pacquiao's fights, Derulo's concerts or other similar events. Ngow also highlighted that users can request a celebrity to give a personalized birthday message with the platform.
"Imagine getting a livestream from Manny Pacquiao that says 'Happy Birthday'… or if you want to give a birthday greeting to your loved ones from Manny Pacquiao, that will be another way of incentivizing as well," said Ngow.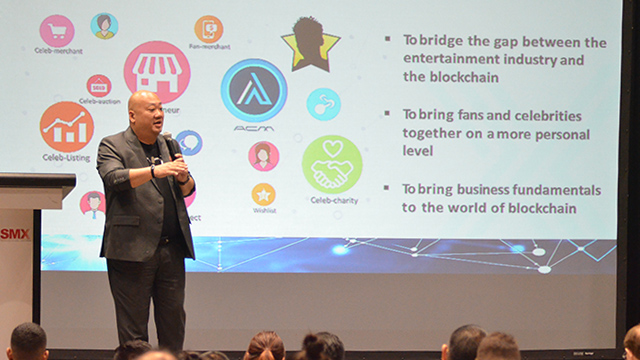 ADVERTISEMENT - CONTINUE READING BELOW
GCOX aims to bring blockchain technology and cryptocurrencies to the mainstream through its celebrity-focused services
The third and final platform is Celeb-Charity, which will allow users to donate to specific organizations chosen and/or endorsed by the celebrity. For Ngow, this feature is what fully utilizes blockchain's ability to move assets seamlessly. 
"One of the best parts about blockchain is our ability to crowdfund, and the ability to crowdfund can come in the form of an ICO (initial coin offering), can come in many different forms," said Ngow. "But from our perspective, this is where we can use it for good. Celebrities have the influence to reach out and say, look, we have this charity that we are endorsing and we want to raise funds… With those tokens, you are part of that effort to make this world a better place as well."
GCOX aims to release the PAC Token by the fourth quarter of 2018, which will make it the first celebrity token created under the Acclaim blockchain. Ngow also revealed that the team is in the process of onboarding other celebrities, hinting that one the company is in talks with is a "tennis superstar."
ADVERTISEMENT - CONTINUE READING BELOW
While GCOX's business model may seem like an outlier when compared to other cryptocurrency companies, Ngow sees these celebrity-focused services as a great way to bring blockchain technology and cryptocurrency to the mainstream. In his presentation, he mentioned that the biggest deterrent to mainstream adoption is the lack of awareness and education about the technology, which the company itself has to overcome with each celebrity it pitches to.
"It's not easy at all [to pitch this to celebrities]," Ngow told Entrepreneur Philippines. "People are unfamiliar with the concept, [and] there's still a very strong negative perception of cryptocurrencies or even blockchain."
So with GCOX, Ngow hopes that seeing celebrities like Pacquiao be open to using cryptocurrencies and blockchain-powered services would encourage the mainstream audience to look into it and see how it can be beneficial to daily life.
"We are now creating an environment, a platform where celebrities with their influence will be able to enhance and help us create a greater mainstream adoption of this completely new platform and technology," said Ngow.
ADVERTISEMENT - CONTINUE READING BELOW
Related story: Meet the Fintech Startups Ushering in Cryptocurrency and Blockchain Technology in PH 
*****
Lorenzo Kyle Subido is a staff writer of Entrepreneur PH