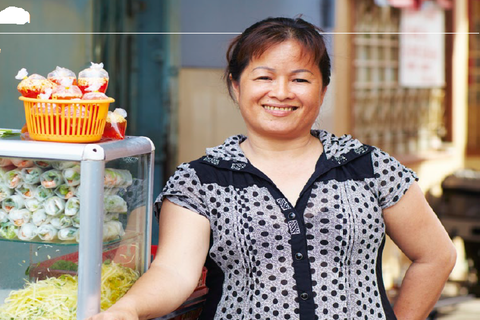 Not having enough capital is often the reason for not starting a business; after all, it takes money to make money. Why not start small and be a microentrepreneur? Some businesses might require a capital of P5,000 or less. It might just be that it takes a small business to start your big business.

With hard work and lots of referrals, your micro-enterprise may become the start of something big.

The most exciting part of microentrepreneurship—defined as "the selling or sharing of one's personal commodities or skills"—today is that more online platforms are available for anyone who is looking for job independence, is frustrated with the 9-to-5 grind, is looking to earn more money on the side, or is simply looking to gain more professional experience.

Websites like Fiverr (fiverr.com)—where anyone can offer a product or service for $5 (about P200) or more, and which bills itself as "the world's largest marketplace for small services"—as well as Airbnb (vacation rentals), Taskrabbit (home services), Uber (car service), and Etsy (handmade goods), have exploded in the so-called "freelance economy." Even new sites like Skillshare (education), LooseCubes (co-working), Getaround (cars), RelayRides (cars) and Vayable (tours and activities) are growing rapidly.

"What defines this new economy is that it's built on the empowerment of individuals and the technology that enables this," says Jamie Wong, Vayable's founder and CEO. "It's allowing individuals to create their own jobs. It's a celebration of life and time, and a shift in perspective of money. Technology now provides an opportunity for people anywhere in the world to monetize their passions."

Closer to home, Pinoy micro-'treps have taken advantage of Sulit.com.ph and even Facebook and Twitter to peddle their goods to the world. If you still need hints for your own micro-enterprise, look at these examples:

Make homemade snacks and finger foods: Items such as chocolate munchkins, chocolate crinkles, polvoron, empanada, and siomai don't need a lot of doing.

Provide tutorial services: Savvy university students already know that English language learners are a steady market of tutees. Busy parents of elementary and high school students are also on the lookout for good tutors, especially in math and English, for their children.

Be a coach: Sports coach, voice coach, acting coach, speech coach, personal trainer, choreographer, and self-defense instructor; these build on your actual ability and reputation. Gold medalists and champions rarely need resumes, and being on the top of your game would mean less competition.

Become a seminar facilitator or motivational speaker: The business sector is always on the lookout for team building experts with fresh material that can revive the corporate spirit. Experts who can give skill upgrades on cutting edge practices, new developments, and familiarization with emerging technology and protocol are much valued.

Make household chemicals: Manufacture laundry detergent, fabric softener, dish washing liquid, and more with just basins and pots, but still offer a competitive alternative to commercially manufactured products. Chemical kits, formulas, and training are all available from chemical suppliers.

Be a home-service massage therapist: It may require enrolling in short courses to get certified, but the tools of the trade can fit in a good-sized bag. Services are in demand in hotels and beaches, especially among tourists. Many of our visually impaired brothers and sisters support their families with this skill.

Work as a make-up artist: Make a killing during weddings and high-school proms. Work with photographers to boost your chances of work, and take serious courses to keep up with fashion and styling trends.

ADVERTISEMENT - CONTINUE READING BELOW

Photo: Getty Images

This article was originally published in the September 2012 issue of Entrepreneur magazine.