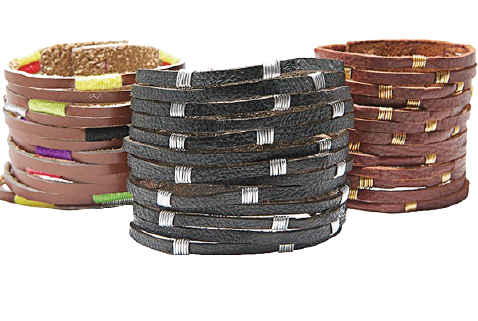 <>Lilija. Reycon. Cyra. If some pieces in Lumago Designs' line of repurposed jewelry have novel names, it's because the designers, all 16 of them, have the honor of christening their own piece—and the Lumago Ladies, as they've come to be called, usually name them after their children. The women, who also serve as craftsmen, belong to the Lumago Ladies Co-operative, which holds shares in the company.
"I see ingenuity not just in the women, but the community as a whole," says founder Whitney Fleming. "All of the women have lived a life where recycling was not done out of trendiness, but out of necessity. Their minds are trained to rethink ways to use things and reinvent them."
The ladies are encouraged to sketch their ideas first to get feedback on a potential design, and to use materials from their livelihood center so these can be sourced easily. "Sourcing is a huge thing for us to consider since everything is upcycled," says Fleming. "In terms of the recycled materials that are used, we constantly have to ask ourselves: 'Can we get this again and again?'" Introducing a new material means it must be readily available and in ample supply should it be made part of a final design.
Both the business and co-op are based in Dumaguete City, so sourcing some supplies all the way from Manila can be a gamble. "I have to choose so many pieces that might or might not be used, and see what the women come up with," admits Fleming. Three months prior to releasing a new collection every April and September, weekly 'design days' are held—a process that fills their design board with prototypes of potential pieces over the following weeks. This results in about 10 new necklace varieties, though there might be another five to 10 stored away in the design archive, in hopes that these can be tweaked to be part of a later line.
This article was originally published in the June 2014 issue of Entrepreneur magazine. Subscribe to the print or digital version here.

Photo: Lumago Designs

ADVERTISEMENT - CONTINUE READING BELOW