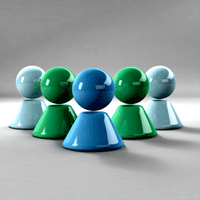 The social-selling website goes all in to e-commerce with a new platform and new features.
[related|post]First, it was Multiply Marketplace, a directory of online stores on "social-selling" website Multiply.com. Then e-commerce giant Naspers Limited acquired Multiply Inc., the company behind the website. Later, Multiply announced it was opening an office in Manila, and ramping up its operations to cater to more than 70,000 "Multiply-neurs" across the Philippines.
ADVERTISEMENT - CONTINUE READING BELOW
Now Multiply has unveiled what its founder and CEO, Peter Pezaris, calls "the most exciting and most important thing we've ever done." In June 2011, the website launched its Version 5.0 platform, giving Multiply and its users full e-commerce functionality "that's going to be on par, best in class with any other site out there," says Pezaris.
"To say that it's the biggest release would be an understatement," Pezaris told Entrepreneur Philippines in a recent exclusive interview. "We thought about calling this Multiply 2.0 because everything that we've done prior to this is nothing compared to what we're about to do."
And what they are doing is this: first, they are offering a payment system "that's going to address all the different ways that Filipinos want to transact online," says Pezaris. Second, they are using what Pezaris calls an "invoice model"—"an innovative, first-of-its-kind-anywhere-in-the-world way to transact," he describes it—that lets buyers and sellers really come to terms on what exactly the sale is before making the purchase. 
ADVERTISEMENT - CONTINUE READING BELOW
Buyers can now go to a Multiply storefront, pick the items they want at the price they agree to with the seller, and hand their payment over to Multiply, which then pays the seller after taking a small percentage of the transaction price. With Multiply acting as the transaction guarantor, Pezaris hopes more customers transact online and create "faster sales, easier sales, (and) better tracking of sales (for businesses)—it really will help people take their e-commerce experience to the next level."