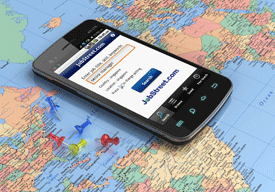 Finding the right job may not be the easiest task. With JobStreet.com's commitment to make job hunting the easiest and most convenient through its innovations, jobseekers can find their dream jobs right at their fingertips with its latest offering- the JobStreet Mobile App.  
In a recent survey by the Institute for Labor Studies, young people find job hunting as an unstable experience. It's a period of transition and a time for venturing and exploring unknown grounds. It is a time for learning and a challenging time filled with doubt and anxiety.  Add to the challenge, the increase in the pool of jobseekers this year. More than 480,000 will graduate from college and will join the race for jobs. What then should jobseekers look forward to?


ADVERTISEMENT - CONTINUE READING BELOW
What are job opportunities for 2012? Based on the industry study conducted by JobStreet.com, job seekers can expect more than 2 million jobs this year.  Last year, there were 2.7 million job vacancies posted in online and print media, more than 40 percent of which were posted in JobStreet.com, and with this year's economic outlook on the upswing we are expecting at least the same or even more. JobStreet's Marketing Director, Yoda Buyco shares, "We are very happy that the country's top employers have entrusted us with majority of their job vacancies. This helps us fulfill our mission of providing Filipinos with the most options, and ultimately better lives from better careers." She adds "jobs available this year can be approximated by last year's trends"


Of the 2.7 million job vacancies 64 percent are local, while 36 percent are jobs overseas. The following are the most in demand local and overseas industries and specializations.
ADVERTISEMENT - CONTINUE READING BELOW
How do jobseekers find jobs today? In today's digital age, where the rate of innovation is at its fastest, the job application process has evolved to require less physical effort. Jobseekers can either immediately apply through online job portals or send emails directly to company websites. A recent JobStreet.com survey showed that most jobseekers nowadays resort to online sources to seek employment. Two of the top four practices for job searching and application are done online. They include: using online job portals/ job sites and scanning through company websites, the others are referrals through friends or personal network, and walking-in to offices.

Jobs that match one's qualifications can now be received through email automatically and job advertisements have gone beyond basic announcements, one can now apply to jobs that are posted online.