Carmona, Cavite is just one of five sites in the country that offer paragliding activities
Paragliding is an extreme sport that combines elements of hang-gliding and parachute jumping. Enthusiasts jump off a stationary base, usually a cliff or  mountain, strapped onto a fabric "wing" with no motor or machine and use wind power to "fly" through the air.
ADVERTISEMENT - CONTINUE READING BELOW
Although paragliding has been around since the late 1970s, the sport only reached the Philippines in the last decade or so. Rumi Sayeed, co-founder and director of Paragliding Philippines Inc., which runs a paragliding operation in Carmona, Cavite, says there were only "two or three pilots" when he and his group started flying there nine years ago.
"It was unregulated back then," he says. "It's an extreme sport, so whenever you do extreme sports, there has to be some kind of rules and regulations. At the time, there was none in the Philippines."
In 2014, Sayeed and his friends decided to legitimize and professionalize the sport. They coordinated with the Civil Aviation Authority of the Philippines (CAAP) and the local government of Cavite to apply for the necessary permits. They also developed a proper system of education and training courses. Although they were mostly foreigners when they started out, they hoped to be able to attract more Filipinos to get into the sport.
ADVERTISEMENT - CONTINUE READING BELOW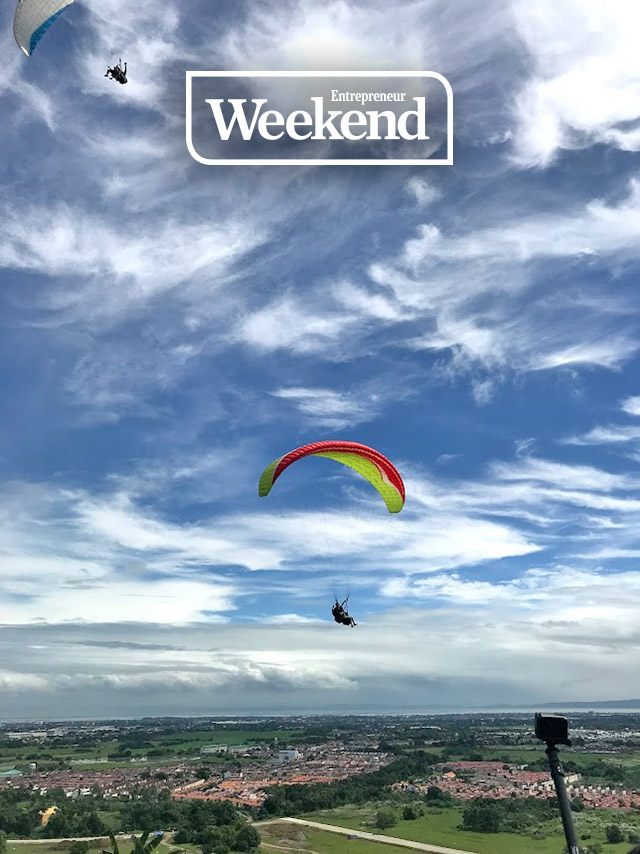 Paragliding Philippines also offers a full course for those who would like to become certified paragliding pilots
It was when the group had grown to about 26 pilots that Sayeed and his co-directors asked themselves if it was possible to commercialize the operation to ensure its sustainability. They then started offering tandem paragliding, or selling rides to a passenger strapped in with a pilot.
ADVERTISEMENT - CONTINUE READING BELOW
A 15 to 20-minute flight costs from Php3,500 to Php4,000, which includes photos and a GoPro video of the experience, transportation from the pick-up point to the jump-off point, and even a designer t-shirt. Sayeed says the price is in line with international rates, which go for around $50 to $60.
It started out slow, but soon, daredevils started coming to try it for themselves. "Last year for the whole season, which is around seven or eight months, we did 1,500 tandem flights here in Carmona," he says.
Paragliding has become such a tourist draw for the province of Cavite that officials have relayed their gratitude to the group for helping attract more visitors to the province.
Paragliding Philippines also offers a full course for those serious about becoming a paragliding pilot. It lasts a maximum of 10 days and costs about Php35,000.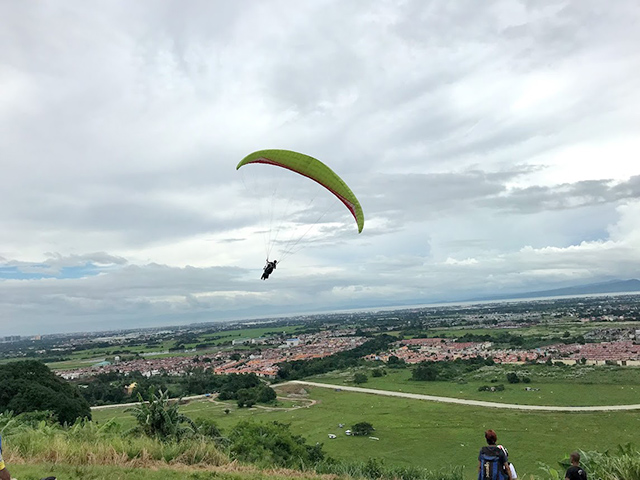 ADVERTISEMENT - CONTINUE READING BELOW
A 15 to 20-minute flight costs around Php3,500 to Php4,000 in Carmona
"People take the course so they can be certified pilots," Sayeed says. "Once you're certified, then it's all fun. You become part of the group, you travel around, you go to different places. Whenever there's an event, we call each other, and they come in and join us. It's an activity just like biking or any other sport."
Today, Sayeed says Paragliding Philippines has over 60 pilots, which is a mix of both men and women. There are now also four other paragliding sites and communities in other areas of the Philippines— Maasim in Saranggani, Polomolok in South Cotabato, Cagayan De Oro City in Northern Mindanao and Binangonan in Rizal. Overall he says there are over 100 certified paragliding pilots in the country today.
Sayeed says Paragliding Philippines also has a scholarship and advocacy program of giving free lessons to five deserving underprivileged young people every year. It's a way for the group to give back and help promote the sport even more.
ADVERTISEMENT - CONTINUE READING BELOW
"The plan is to put the Philippines on the map of paragliding," Sayeed says. "It's growing rapidly around the region, like Indonesia and Thailand. In the last Asian Games, paragliding was already a medal sport. We were supposed to participate but we're not there yet. Indonesia and Thailand both got gold medals. Our plan is to build a 100-percent Filipino team that would hopefully participate in next year's Southeast Asian Games. We have that target."
Paragliding season in Carmona is from mid-October until June. For more information, visit Paragliding Philippines
*****
Paul John Caña is the managing editor of Entrepreneur PH