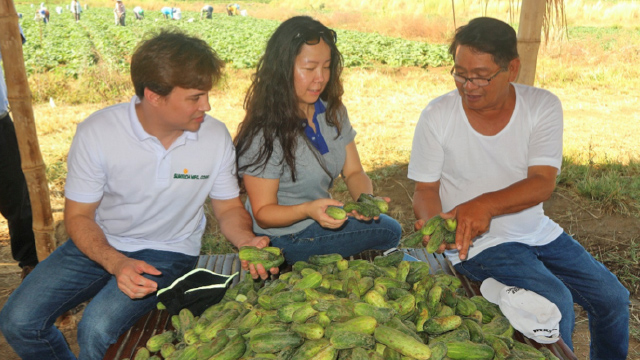 Ramon Palomo (right) was tapped by Sunrich Manufacturing Corp. to lead some of the farmers who are part of Unilever Philippines' resilience program in Nueva Ecija
Many farmers' working lives are defined by crop and livestock cycles that last almost a year. From land preparation to planting to harvesting, it may take rice around five months to mature if planted in an irrigated area, or more if it's in land without irrigation. Sugar takes even longer before it can be harvested.
ADVERTISEMENT - CONTINUE READING BELOW
Sixty-five-year-old Ramon Palomo, a former jeepney driver in Metro Manila who moved to Nueva Ecija to become a farmer in 1985 when he was only 32, is no exception. Now owning about 18 hectares of rice farms in Bongabon and Guimba towns, he waits around five months before harvesting palay, from which he grosses about Php210,000 a hectare.
The long waiting time for rice to grow is perhaps one reason Palomo likes to raise cucumbers when his rice farms lie fallow for a month during the dry season. Cucumbers take only about 35 days on average to grow to maturity, providing quick returns to capital invested in the crop.
Unlike his fellow rice farmers who grow a variety of vegetables between rice plantings, Palomo stuck to just one crop, cucumber, even though demand for it is quite volatile. Most times, he is able to get a good price—around Php20 a kilo—on only half of his harvest.
ADVERTISEMENT - CONTINUE READING BELOW
"Most families then grew different vegetables to feed themselves then just sold extra to the local market. But taking what I learned from my father, cucumbers can grow in volumes so fast, I can supply markets in Manila," he said.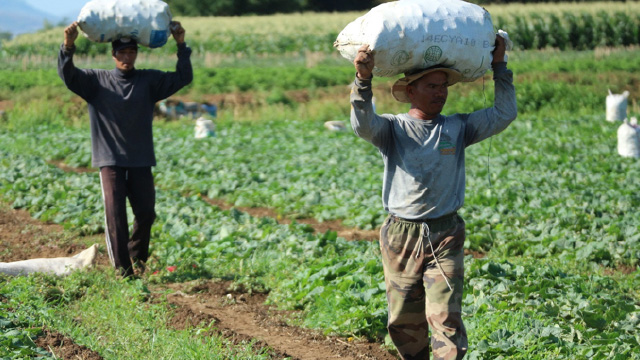 At least 300 small farmers are benefitting from Sunrich Manufacturing Corp.'s contract growing deal with Unilever Philippines to raise cucumbers for the latter's Lady's Choice sandwich spreads
ADVERTISEMENT - CONTINUE READING BELOW
So, when Unilever Philippines and its supply chain partner, Sunrich Manufacturing Corp., came to Nueva Ecija last year to offer farmers a contract-growing deal to raise cucumbers for the company's Lady's Choice food dressings, Palomo readily accepted. He devoted three hectares of his farmland to growing the cucumber variety for Sunrich's food processing plant, which is based in Tarlac province.
While he gets only Php8 to Php9 per kilo for his cucumbers sold to Sunrich, Palomo is assured almost all his harvest will be bought, grossing him Php120,000 per hectare. That looks a lot less than what he makes from his rice farm but it actually represents a much higher return when you consider he earns it after only a month. In contrast, the money from rice farming comes in only after about five months.
Adjusted for time, his gross revenue Php120,000 per hectare per month from growing cucumbers is almost triple his gross revenue of Php42,000 per hectare per month from rice.
ADVERTISEMENT - CONTINUE READING BELOW
"I hope the program continues and helps more farmers in the province because if we have a direct buyer of our goods, then our income is stable," said Palomo. 
The financial rewards accruing to farmers such as Palomo from growing cucumbers for Sunrich are an early sign that Unilever's contract-growing program could turn out to be a big success of the Dutch consumer giant's sustainable agriculture initiative.
The 300 small farmers and 80 hectares in Bongabon and Rizal towns in Nueva Ecija covered by the program are expected to supply 1,200 metric tons of cucumbers to Unilever this year. That will meet all of the company's sweetened relish needs for the production of its well-known Lady's Choice food spreads.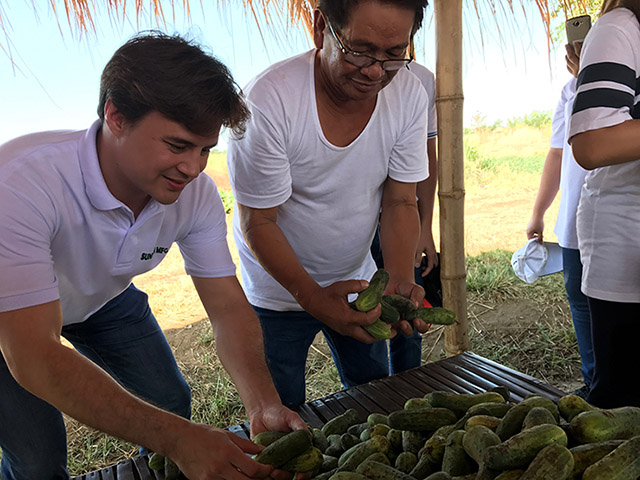 ADVERTISEMENT - CONTINUE READING BELOW
Palomo learned the strategy to grow cucumbers during the dry season from his father, who was also a rice farmer
The partnerships with Palomo and other small farmers is part of Unilever's resilience program to ensure a steady and sufficient supply of agricultural raw materials. The small farmers work closely with Sunrich, a Unilever Sustainable Agriculture Code (USAC)-certified partner, ensuring implementation of best agricultural practices. It also imports from the Netherlands the cucumber seeds, which produce a seedless variety that can provide a higher yield.
With the improvement in cucumber yields expected to double in the next few years, Unilever Philippines sees export potential to its counterparts across the globe, the company said.
The windfall financial rewards of growing cucumbers for Unilever reaffirms Palomo's decision 33 years ago to quit his job as a jeepney driver in Metro Manila and move to Guimba, Nueva Ecija, his wife's hometown, to pursue his passion for farming.
ADVERTISEMENT - CONTINUE READING BELOW
"I realized what I earn while driving the jeepney can feed my family, but it would be difficult to send my kids to school once they get older," Palomo said.
A son of a farmer, Palomo knew the ins and outs of the life in the field. His father grew cucumbers and rice in San Miguel, Bulacan, spending most of his life under the heat of the sun. Knowing the difficulties of farming life, Palomo's father wanted him to become a seaman, and sent him to Manila in 1969 to study for a bachelor's degree in marine transportation in FEATI University.
He finished the course in 1975 but didn't apply for a seaman's job abroad. Instead, he became a jeepney driver, planning to earn just enough to buy farmland in the province after a few years.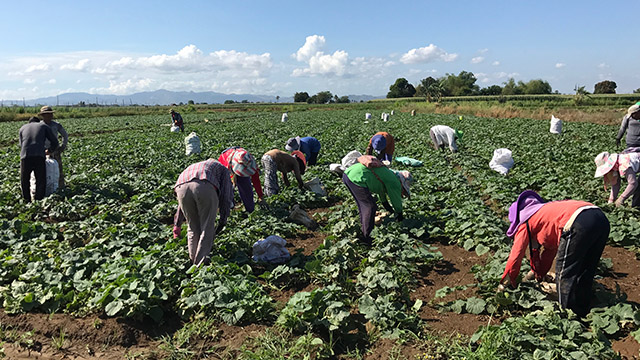 ADVERTISEMENT - CONTINUE READING BELOW
Cucumbers have been proven as a profitable supplemental crop for the rice farmers as they can harvest the fruit 15 times in a month
"My father wanted me to become a seaman and eventually leave the Philippines to work," he said. "But as a child, I've always wanted to become a farmer even when I knew how hard life could be."
By diligently setting aside a small portion of his earnings every day, Palomo was able to save enough to buy a good piece of agricultural land.
"By 1981, my wife and I were able to buy one hectare of land in Nueva Ecija for Php5,000," he said. "We worked so hard to save a part of my income of Php150 each day I drove the jeepney."
Thanks to his hard work and constant efforts to save and reinvest a good portion of his earnings, he was able to grow his holdings to a total of 18 hectares. 
ADVERTISEMENT - CONTINUE READING BELOW
"We didn't buy these lands rapidly and all at once. Sometimes we would buy a quarter of a hectare this season, then buy the next half by next year," he said. "My wife and I had to work hard to always save enough during harvest time and reinvest to the farm when we can."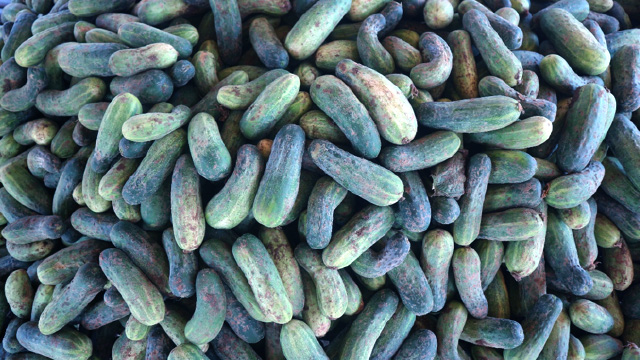 ADVERTISEMENT - CONTINUE READING BELOW
In the next few years, the cucumber farms in Nueva Ecija and beyond can supply Unilever Philippines' counterparts across the globe
Today, a hectare of land in Nueva Ecija would cost Php1.7 million and more. Still, Palomo never considers himself well off, but someone who just has enough to get by. 
"I'm happy that I have succeeded in sending all my kids to school. We have enough for my wife's dialysis. When we earn extra, we can indulge a bit," he said. "I really believe the life of a farmer today is far better than in the past decades. We lead better lives now."
*****
Elyssa Christine Lopez is a staff writer of Entrepreneur PH. Follow her on Twitter @elyssalopz