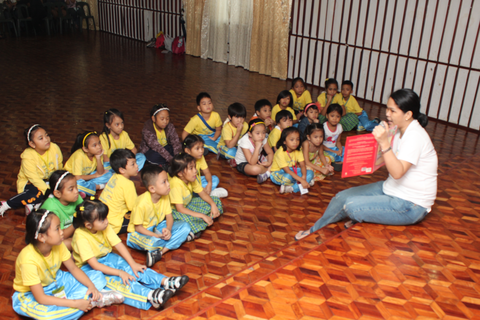 For Amway Philippines (APHL), making a difference is a way of life. It has been a defining characteristic of the company, its employees, and its nationwide Independent Business Owners (IBOs) since 1997. APHL believes that engaging with the community helps uplift the nation's quality of life.

The global direct selling company that has been providing the Amway business opportunity to Filipinos has always recognized its responsibility to the communities where it does business. For one, the company puts premium in giving the gift of knowledge and nurturing the seeds of culture by supporting programs aligned with these advocacies.

"Through the Department of Education's (DepEd) 'Adopt-A-School Program,' the Amway One by One Campaign for children inspires hands-on volunteering and focused charitable giving to improve the lives of the disadvantaged and the youth," said APHL Country Manager Leni Olmedo. The company locally implemented the One by One Campaign, a global initiative that aims to enrich the lives of young people all around the globe. APHL supports partner schools with reading and literacy enrichment programs in areas where they operate a distributor center.

Adding to that, "One by One Campaign is focused on promoting children's rights related to education, health, and culture and is promoting the love and appreciation for reading, as well as the values learned from each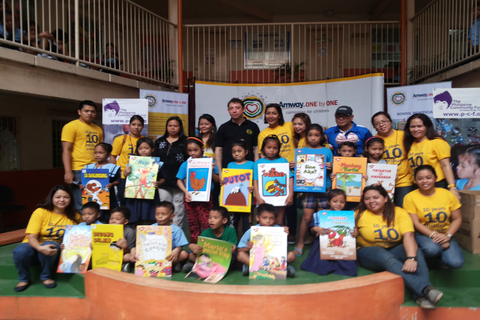 story. It doesn't stop there. We conduct regular visitation in our beneficiary schools to sustain, oversee, and monitor the storytelling sessions."

ADVERTISEMENT - CONTINUE READING BELOW
Beneficiary schools 

Aside from the six adopted schools for Grade 1 pupils – F. Benitez Elementary School, Makati City; South City Central Elementary School, Cagayan de Oro City; Carreta Elementary School, Cebu City; Urdaneta I Central Elementary School, Pangasinan; Highway Hills Integrated School, Mandaluyong City; and Lacson Elementary School, Davao City – there are several non adopted schools that benefitted from the One by One Campaign last year.

Among them are the Kandingan Elementary School, Cebu  (150 Storytelling Books); Lambajon Central Elementary School, Davao Oriental (300 bags with school supplies and 150 Storytelling books); Nueve de Pebrero Elementary School, Mandaluyong City (150 Storytelling Books); and   School for the Deaf and Blind (product donation for Brigada Eskwela).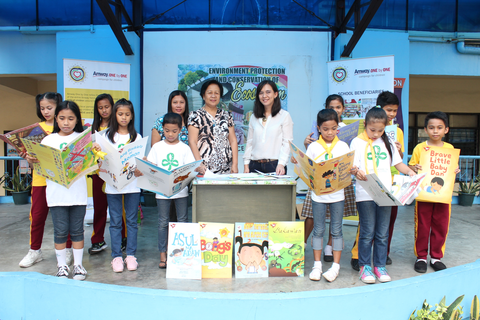 In fact, DepEd Secretary Bro. Armin A. Luistro recognized Amway's support through its One by One Campaign by providing reading program towards improving the quality of public education in the country through the Adopt-A-School Program.

The One by One Campaign has given more donations and support to a non-DepEd school in Tondo, where kids are from communities near Smokey Mountain and are mostly exposed to child labor in the dumpsites. That initiative was supported by the Philippine Community Fund (PCF). Amway donated 150 books, provided snacks for 600 kids, and turned over textbooks gathered from the 'Share a Gift' box placed at the Amway head office.

ADVERTISEMENT - CONTINUE READING BELOW
10th anniversary activities

On top of that, the One by One Campaign celebrated its 10th anniversary worldwide in all affiliate locations of Amway last November 20, 2013, in conjunction with World Children's Day. Focus of which was on children's causes. It was geared to help communities where these children live/are located.


A poster-making contest was also conducted among Amway Philippines' adopted schools, in partnership with the country's DepEd. This project aimed to recognize children's creativity and to help build hope for their future.

"Our sense of feeling for others, particularly in less fortunate situations, is at the root of our commitment to business excellence accompanied by social corporate responsibility. It is also the journey toward viability, profitability, and competitiveness – sustainability in one word – in the long term," concluded Olmedo.


ADVERTISEMENT - CONTINUE READING BELOW
About Amway Philippines

Amway Philippines is the local affiliate of Amway Corporation, one of the world's largest direct selling businesses founded in 1959 and headquartered in Ada, Michigan, offering consumer products and business opportunities in more than 100 countries and territories worldwide. In the Philippines, Amway now has six (6) distributor centers nationwide which makes available over 100 product options to more than 50,000 Amway Independent Business Owners. Amway product offerings include its flagship brands, NUTRILITE----the only global vitamin and mineral brand to grow, harvest, and process plants on its own certified organic farms---and ARTISTRY---one of the world's top five largest-selling, prestige brands of facial skincare and color cosmetics. Amway products also include a wide range of personal care, homecare, and agricultural products.