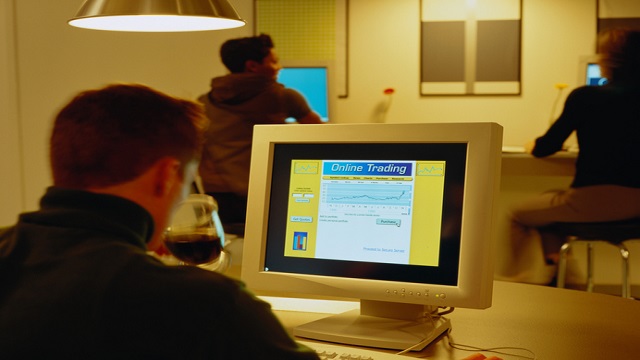 There are a lot of ways to make money online and one of the most popular ways is online trading. There are many websites that act as a broker and serve as a platform where the trades happen. Just open an account, submit the necessary requirements, and that's it! You're ready to make money.
ADVERTISEMENT - CONTINUE READING BELOW
How does online trading work?
Simply explained, online trading is buying and selling orders for stocks, bonds, options, futures and currencies with the use of a brokerage's internet-based trading platforms. You basically earn when these stocks increase in value or price, which you can sell later on.
Online trading is not new and a lot of people have been using it since the mid-90's. Despite the country's internet speed, it got comparably better from two decades ago and the user experience of these websites have also improved.
If you're interested to personally manage and grow your money via online trading, you first need to educate yourself how it works and have a background on how the stock market operates. Are you familiar with stocks and initial public offerings? Aside from talking to your business graduate friends, you can also teach yourself by reading resources online and brushing up with business and economic news.
ADVERTISEMENT - CONTINUE READING BELOW
Next, you have to decide on an online broker or basically the website that will facilitate your trading. There are a lot of options to choose from, with some offering as little as Php 5,000 minimum deposit to open an account. You can also look at websites such as MarketWatch and KeyNote which reviews online brokerage's success rates, response time and other tools.
The user experience per online broker may differ so you have to check out your preferred website's how-to page to fully familiarize yourself with its use.
Getting started
How old do you need to be to get started in online trading? Most young people would think that online trading is something only seasoned business executives do, but for John Russell Virata, 23, he was introduced to it when he was still in college.
"I learned about it from my college friends, who started trading stocks when we were still in college," he said.
ADVERTISEMENT - CONTINUE READING BELOW
Russell, currently a business analyst at Seawood Resources, Inc., graduated with a masters degree in applied mathematics, major in mathematical finance in 2015. It was also around this time when he started using COL Financial. It was the online broker being used by his friend who explained the application and trading process to him.
"It was convenient to use and I was able to execute my first few trades without any problems," he said.
For Russell, using COL Financial has been helpful because during trading hours, you can easily place your orders without having to call any broker. He said that you can also check your portfolio value during any time of the day.
The only challenge for him is that he can only place orders during trading hours, which coincide with office hours.
"It is difficult to actively trade stocks and manage my portfolio. The website is also affected when the internet connection is bad," he said.
ADVERTISEMENT - CONTINUE READING BELOW
Despite these difficulties, he has been able to profit from online trading.
"Earnings vary depending on the movement in the stock market. For example, in a good week, earnings can go up by 5 percent of portfolio value, but it can also go down by 5 percent in a bad week," Russel said.
"My most memorable earning would be gaining 40 percent from a particular stock in just two months!"
His fellow Business Analyst at Seawood, Neil Chua Goy, 22, was encouraged by this and got started with online trading as well. Neil is using First Metro because it was more convenient for him since he has a Metrobank account.
"First time I used it, I felt a little lost with all the tabs and options available, but I eventually learned how to navigate," he said.
A month into his usage of the online broker's platform, he was starting to feel the advantages of its use, versus having a human broker.
ADVERTISEMENT - CONTINUE READING BELOW
"It's faster and the fees are lower," Neil said.
Learning as you go
Nat Julian Belza, 29, is a professional graphics designer and a web developer. Back in 2011, he got into online trading because of his interest to Apple devices. He saw an advertisement saying that anyone can buy an Apple stock for a minimum of US$ 50.
"The ad brought me to eToro. A social trading site. I chose to stick with eToro for the non-utilitarian approach of user interface. It removed everything except the stuff that gets you to open and setup a trade," he said.
"I had no clue, no idea at all about how it works and how to get started. eToro's approach was different and because of the intuitive user interface, I got my head around it in no time. I was able to execute my first few trades and actually made profit," Nat added.
ADVERTISEMENT - CONTINUE READING BELOW
Using the same online broker, Nat also got into Forex trading.
"It was crazy! I was earning at least 150 percent return per trade — with at least eight trades per day. Little did I know it was all beginner's luck," he said.
The following day was a complete opposite. His account was wiped out, and instead of stopping, he put more money on every losing trade. The total deposits accumulated to US$ 900.
"It was quite memorable. I had the beginner's problems of greed and the lack of discipline," he said.
He was overwhelmed and stopped trading for a while. After some years, he began drafting a trading strategy. Earlier this year, he opened a new account. He began to apply the strategy and mastered it.
"In the process, I've learned to overcome emotions, greed and lack of discipline. Fast forward today, I spend 10 to 30 minutes reading news, economic calendar and plot trade plans and doing technical analysis of the charts," he said.
ADVERTISEMENT - CONTINUE READING BELOW
With this strategy, he didn't incur even a single loss for 12 month. He was able to recover the lost US$ 900 and earn more than that.
"I was able to grow my equity to nearly 700 percent, and my plan is to grow it to another 700 percent next year, and [the] same growth rate, year after year," he said.
Trading smart
Russell, Neil and Nat were able to pick up learnings and trade smart during the course of their use of their respective online platforms.
Nat suggests to identify what kind of trader you are and what types of trade you should do.
"I usually spend on average, 20 minutes to setup a trade plan for the month, execute a couple of trades and leave it running for at least a couple of weeks up to a month. On a daily basis, I'd only spend as little as five minutes for status and will do something else," he said.
ADVERTISEMENT - CONTINUE READING BELOW
"And in the right moment, when the market is unfolding according to plan, I take profit and follow up with a couple or so trades. My trading style is Swing Trading. Unlike Day Traders, I don't collect breadcrumbs. I wait for the loaf and bag it."
Nat describes Day Traders to trade online, full-time and would probably be spending hours and hours in front of the screen, stressing and burning money. Being a day trader, the leverage would play around mid to high. High leverage trades allows for very high profits, but at the same time extremely risky. The chance of losing is at 50 percent per trade. The higher the leverage, the greater risk. For an investment size of around US$ 10,000, day traders would be earning around US$ 250 per week if they are lucky, Nat said.
On the other hand, Swing Traders earn at least US$ 1,400 per week for an investment of US$ 10,000. That is expected to grow by at least five folds, year after year, according to Nat. As a Swing Trader on his first year, Nat is not earning so much yet since his investment is nowhere that big.
ADVERTISEMENT - CONTINUE READING BELOW
"I was a day trader before. Now I'm a swing trader. I am on my first 700 percent, and again, the plan is to grow it to another 700 percent next year," he said.
For Nat, the most helpful advice he can give to those interested in online trading is never invest money they cannot afford to lose.
Neil and Russell both believe that investing while you're still young also yields results. For Russell, he recommends looking for a site with a good customer support system.
Neil suggests to find a good online broker that you can easily use and would not hassle you with its setup and withdrawals.
"I also think that people in their early twenties should have a relatively higher tolerance for risk because of few expenses, no families, not thinking of retirement soon, etc. I believe that money invested here would, in the long run, grow."
ADVERTISEMENT - CONTINUE READING BELOW
*****
Nicai de Guzman is the marketing head of Rising Tide, a technology solutions company. She is also the Manila bureau manager of Probe Media Foundation's Mulat Pinoy-Kabataan News Network and a regular contributor for SPOT.ph. Follow her on Twitter, @nicaideguzman, and LinkedIn, https://www.linkedin.com/in/nicaideguzman.