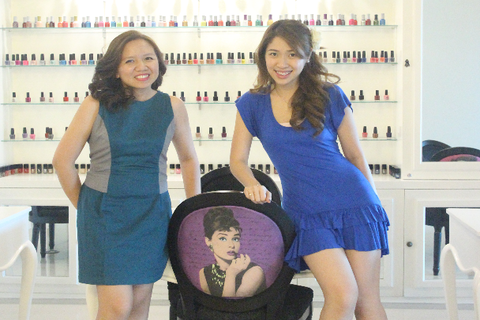 The first time you step into this nail and dry bar in Greenhills (just a few minutes away from Greenhills Shopping Centre) you'll feel the invigorating and luxurious ambiance that will take all the stress away. Located at the fifth level of the BTTC Centre in Ortigas Ave., San Juan City, you'll have a wonderful and relaxing view of the city while having your usual nail spa or massage, complete with relaxing jazz music, a complimentary cup of brewed ginger tea, and Wi-Fi access. You can also watch a movie of your choice.

Lulu Nails and Dry Bar is the brainchild of entrepreneurs Cherry Torres, Irene Lim, and Christine Gocheco. Their love for nail care, pampering, and interior design led them to put up the business. In 2012, the partners thought of an ideal concept to make customers keep coming back. In 2013, they finally established the salon.

Why 'Lulu'? Before opening their business, the partners had a difficult time finding the right name to convey what the bar has to offer. 'Lulu' in Hawaiian means 'precious' and in French means 'woman warrior,' which, for Torres, aptly describes the characteristics of Filipinas of the new generation.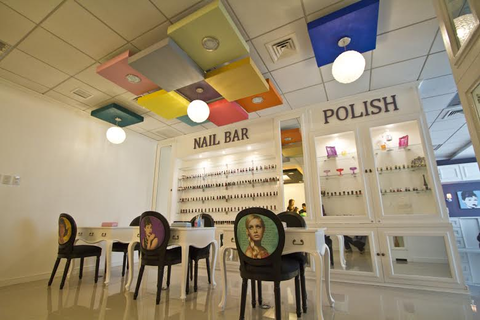 Good experience

The interior of Lulu Nails and Dry Bar stands out among other nail salons. It has Audrey Hepburn seats, La-Z Boy couches, and pop art-themed furniture that give out a retro and a posh vibe. To give its customers the full luxurious and superstar treatment, it has a flat screen television that plays movies and television shows upon the customer's request. You can browse through different magazines and books.
ADVERTISEMENT - CONTINUE READING BELOW
The endless array of nail polish and products are also hand-picked by the owners. They do not use nail polish that cause drying and discoloration of nails. Natural and authentic products with main ingredients like argan oil, coffee, red wine, and papaya were carefully selected after thorough research to ensure maximum effectiveness.

The owners personally trained their TESDA-accredited nail technicians and massage therapists to give their customers the perfect experience.  They personally tried every product and every treatment they offer. Before they started the business, the owners researched and studied everything about nail and hair services. Torres reiterated, "How can you lead your army, if you, as a leader, haven't been nor experienced being in a war? In order to lead them right, I have to know."

Edge over rivals

About Lulu Nails and Dry Bar's edge over competitors, Torres asserted, "We have clients who've been to different nail spas and nail services and they told me that Lulu gave them the best experience when it comes to fixing their nails." Customers, once they experienced Lulu, keep on coming back for more. The owners and the nail technicians give tips to their customers on nail care.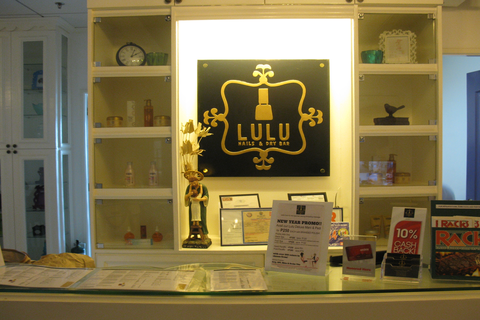 "You grow with them, they give you ideas to maximize your operations," Torres believes. Customers of the nail and dry bar give ideas on how the business owners can improve and expand their offerings.

The owners and the nail technicians maintain good relationship with their customers. Torres said that she's very proud of her nail technicians-employees and she takes good care of them. For her, Lulu Nails and Dry Bar wouldn't be successful without its employees. "If it wasn't for them, this business will not be where it is right now. They're my greatest asset."

The owners of Lulu utilize the Internet to create more noise for their business. They also join expos and different events to market their business well.

Through ups and downs

"I fell in love with this business," Torres declared. In an enterprise, one should love what he or she is doing and he/she should be strong to cope with the challenges. "How can you be a successful businessman if you give up in the middle of your struggle?"

For her, entrepreneurs should learn through failures and mistakes. "Always strive to learn and never give up." Torres believes that failures will come and go but new entrepreneurs should treat trials and failures as opportunities to learn and to improve.

Five years from now, Torres envisions Lulu Nails and Dry Bar to be more successful than it already is. She revealed that they aim to open more branches and expand their offerings through introducing new and related services.


Catering to more customers  

For busy entrepreneurs with kids, Lulu Nails and Dry Bar, with its extensive menu, is kid-friendly, as well. They have Candy Treats offerings which fit young girls perfectly. To cater to every customer, they have organic nail polish for pregnant women and spa treatments for men.

Aside from their signature manicure and pedicure, they also offer hair treatments such as coloring, blow-dry, and waxing to give their customers their money's worth. Threading and massage are also offered.

Torres also reiterated the salon's added features. The place is installed with surround sound system. The building where it is located is highly secured. Basement parking for customers is until the third level. Thus, customers will not experience any hassle parking their cars. Operating hours is convenient from 10 a.m. to 8 p.m., Tuesdays to Sundays.

Lulu Nails and Dry Bar is also an ideal venue for bridal showers and birthday spa parties.

ADVERTISEMENT - CONTINUE READING BELOW
Main photo shows business partners Cherry Torres and Irene Lim.