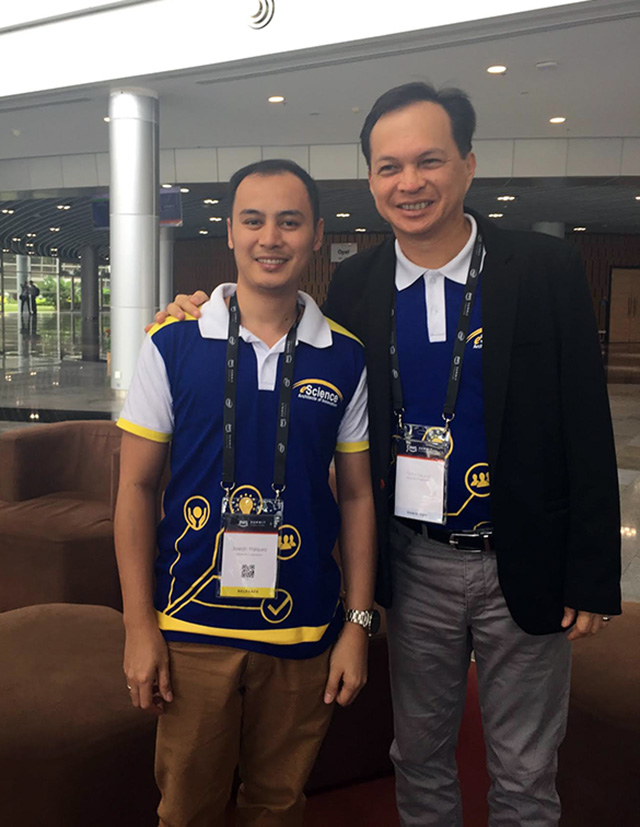 At the recent summit on cloud computing in Singapore sponsored by Amazon Web Services Inc. (AWS), the American company widely recognized as the global industry leader, only one corporate exhibitor came from the Philippines—Electronic Science Corp.
E-Science, as it is more popularly known, is a technology company that makes mobile apps for enterprises. Founded in 2000 by Filipino engineer and De La Salle University graduate Ricky Dagelet, the company has since expanded its footprint to Hong Kong, Malaysia, Indonesia, India and even Russia.
ADVERTISEMENT - CONTINUE READING BELOW
"[We do services for] companies who have big sales organization, companies who have a lot of field reps that collect data from the field—whether sales data, for inspection, market data, etc.," Dagelet explained. "We provide that tool that runs on the mobile, captures data, and then we put that data on the cloud on AWS."
E-Science develops apps and software for companies with a large field force and helps them gather and collate data from the field in a more efficient manner through mobile apps and platforms.
It has two leading products—PocketWise and SOLE—which both run on mobile devices. PocketWise, the company's flagship brand, is a mobile application useful for product presentation, order collection, proof of visit, trade marketing execution and even GPS tracking function. SOLE, on the other hand, is a productivity platform that allows a company's field representatives to access necessary information they need for work, which are useful in providing insights for managing leads, contacts, deals and interactions.
ADVERTISEMENT - CONTINUE READING BELOW
"In the technology business [in the Philippines] we're actually one of the oldest," said Dagelet, who claims to have founded Asia's first virtual mall back in 1999 when he launched E-Store Exchange. "We pioneered that. That was the first one that allowed payment via credit card on the web, or on mobile."
Instead of the internet, which was not as widely used as today, E-Store Exchange utilized interactive voice response system, an automated telephony system which answers calls and gathers information from callers.
E-Store Exchange sold prepaid credits usually used for mobile phone loads. Dagelet said they didn't have any other products on their platform then because they have always been focusing on mobile services.
However, a year after its launch, Dagelet sold E-Store Exchange to another company. "It was way ahead. People were not yet ready for e-commerce at that time," he admitted.
After selling E-Store Exchange, Dagelet shifted his energies to the enterprise market and it's proven to be a wise decision. Today, E-Science employs around 80 employees and has offices in Manila and Jakarta. In the Philippines alone, the company has over 60 large companies as clients, including one of the country's largest pharmaceutical companies and a leading consumer goods company. "We grew last year by about 25 to 30 percent. It's always growing," he shared.
ADVERTISEMENT - CONTINUE READING BELOW
But Dagelet also acknowledged that this success came because of the rising technology awareness and adoption. "Before it was hard because the devices then in the '90s or early 2000s were very expensive. So if you're to do mobile, you have to pay for a Windows tablet that's like Php50,000 or Php60,000. But now you can get an android phone for one-tenth of that price. So when the prices went down, then the adoption increased," he explained.
Being a partner of AWS also immensely helped their operations. E-Science has been doing business with AWS since 2010. "Of course with AWS, we can even lower our costs. Before when we sign up a company, we have to, of course, buy the server and get clearance from the data center to install the servers. But with the cloud, with AWS, we can provision the next day. [It has become] much faster for us. When a client signs up, the next day we can start already. That fast," he shared.
ADVERTISEMENT - CONTINUE READING BELOW
Moving forward, the company is innovating ways to make their services more accessible to customers. "Our plan actually is to make it faster, easier, to go global with our products," he said. "[We're working on a way] so you can easily download our apps from the app store or from the Google Play and then start using it within a day. You provision it yourself using the cloud, unlike right now you have to call us, then we'll provision it for you. The next phase is self-provision, meaning you don't even have to call us, you can run the service yourself from start to end."
*****
Pauline Macaraeg is Entrepreneur PH's data journalist. Follow her on Twitter @paulinemacaraeg