<>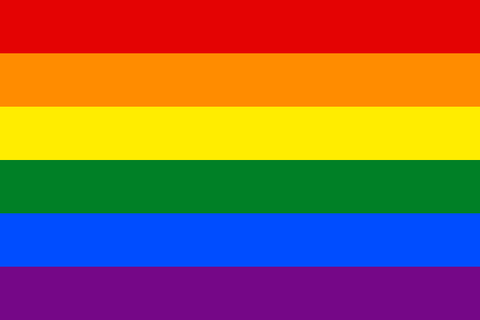 Some believe reaching the Philippine lesbian, gay, bisexual, and transgender (LGBT) market represents something of a holy grail, an untapped market of vast potential. That begs the question: shouldn't marketers have pinpointed and aired a mix of commercials that match a given profile of increasingly visible tomboys and "pogays"?
Locally, estimating the size of the Filipino pink market—defined as the collective buying power of the LGBT community—and ultimately, the power of the so-called "pink peso," is a challenge.
"Currently, surveys done by the Philippine Statistical System [conducted by the National Statistics Office, Bureau of Agricultural Statistics, the Bureau of Labor and Employment Statistics] do not consider asking questions about sexual [or gender] preferences," says Jose Ramon Albert, secretary general of the Philippine Statistics Authority-National Statistics Coordination Board (PSA-NSCB). "And as far as I know, even private sector market research would not ask that either for their general surveys, in part because people may not be necessarily open to answering truthfully to someone they don't know," he adds.
Trail of the pink peso
There is also disagreement about whether the LGBT's collective economic status is worse off or better off because of the current job outlook for the sector, as well as the fact that many remain legally single under Philippine law and are not likely to have children to support.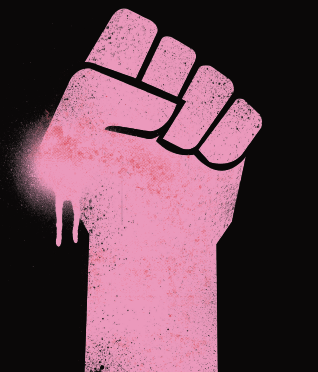 On the employment front, there are a number of global companies based in the Philippines, such as IBM or Accenture, with ethics codes against discrimination of any sort, including gender or sexual preference, that have opened their doors to LGBTs. Historically, the country's fast-growing business process outsourcing (BPO) industry has also been more open to hiring LGBTs compared to other industries, which means there are more gays and lesbians who are more economically stable than ever before, says Ging Cristobal, a long-time lesbian advocate.
On the other hand, single LGBTs pay more taxes than married couples, and could be spending some of their hard-earned money on parental care, just like others, as well as having or adopting children of their own, Cristobal argues.
In fact, the notion of the pink peso may in some ways be misconceived, says Anne Marie Lim, president of the Gay and Lesbian Activist Network for Gender Equality (GALANG), whose organizational focus is to help the LGBT urban poor sector become advocates for their own rights and improve their standard of living by helping them gain access to programs at the Public Employment Service Office (PESO) or the Technical Education and Skills Development Authority (TESDA). "To say that one can look at the LGBT community as a source of profit might be premature," says Lim. In her view, members of the LGBT community might be disenfranchised from the economic prosperity marketers might think they have access to.
There is also the fact that market logic for certain products and services doesn't need to consider LGBT gender preferences. "I wouldn't target groups that way; it makes more sense to look at income levels, or age, or life stages, which are more relevant to the category [of business] that I'm in," says the marketing director of a multinational fast-moving consumer goods firm, who's been involved in selling both food and personal care products, who declined to be named for this article. "But if I were in a category of business like, say, clothing—yes, I think it would be relevant."
What LGBTs want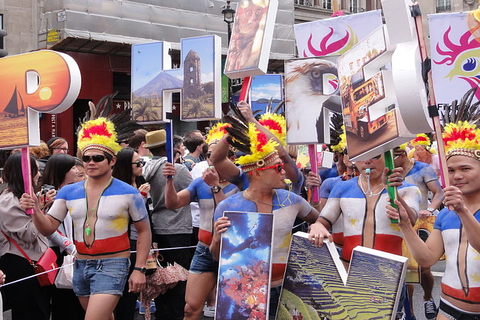 All that said, if one were to understand how LGBTs want to spend their hard-earned money, one needs to spend time learning about each segment. "I think any market has different layers and categories within, and there is no one singular approach for [lesbians, gay men, bisexuals, or transsexuals]. There are social strata in the gay community as well; the complexity of society is reflected in the LGBT world, too," says Queenmelo "Melo" Esguerra, currently editor at large for a magazine and a freelance film producer. Many will remember Esguerra as the executive producer of
Out!
, the first LGBT-oriented TV show ever aired in the country, which had a brief run on GMA-7, about 10 years ago. The show had two gay male hosts and a bisexual female host.
The concept was there, but advertisers weren't ready. "
Out!
was way, way ahead of its time, even for Southeast Asia. It was a real challenge trying to convince mainstream advertisers to support the show, and it was brave of GMA-7 to test the market," Esguerra says of the late night show, which folded after one season, despite high ratings.
Outside of the Philippines, businesses like fashion, cruise line vacations, as well as beauty and medical services recognize that they have an LGBT following, and marketing to them would be relevant to enhancing the brand as well as the business.
Fashion brands have a better chance of reaching the non-heterosexual market and have done so with politically branded messages, Esguerra says. "Karl Lagerfeld of Chanel closed one of his runway shows with two brides, holding hands, walking down the runway," an event which, Esguerra says, bolstered the same-sex marriage political campaign in France. In contrast, " [a denim brand] sold locally has specific TV commercials angled for the gay community overseas, but remains conservative in the Philippines," Esguerra adds.
But some local brands are making the effort. Stephen Tagud, vice president and chief commercial passage officer for shipping and freight line service 2GO, has been actively wooing large groups to cruise on their ships—whether they're leisure groups, team-building trips, or groups seeking to combine business meetings with pleasure.
Last year, 2GO bagged a four-day "pink party" cruise for about 600 gay Taiwanese, Malaysian, and Philippine participants, Tagud reports. The ship sailed from Manila to Boracay, organized parties onboard the ship and at bars in Boracay, and participants had the option to sail back or fly out of Boracay on personal arrangement.
Unfortunately, Tagud says, the original organizer of that event did not book again. "But we have been getting requests locally to produce a similar event for [this year's] Holy Week," he says.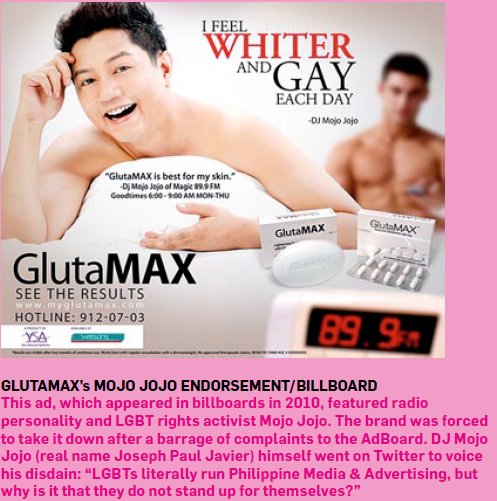 Beauty brands have also tried. Glutamax came under fire in 2010 for a billboard ad featuring radio DJ (and LGBT activist) Mojo Jojo that ran with the tagline, "I feel whiter and gay each day." Complaints rained in on the AdBoard, which pulled the billboard from circulation in less than a month.
Same as the mainstream?
"In general, you don't target the gay market, you target the men," says Dr. Vicki Belo of the Belo Medical Group. "Gay men are still men, and they too want to look good. And they want that to last as long as possible," she remarks. "We don't judge whether you're gay or straight—everyone's welcome."
That said, Belo recognizes and values that market, having tried to reach gays and lesbians with a targeted campaign several years ago. Since then, Belo has taken on as product endorser Vice Ganda—"someone who's gay, straight, tomboy, and
bakla
," Belo jokes, in reference to the actor-comedian's most recent movie,
Girl Boy Bakla Tomboy
.
It's a safe bet that doesn't necessarily appeal to just the LGBT market, especially since the movie has, as of press time, set a record for being the highest-grossing Filipino film of all time. "Having a gay endorser doesn't make a product gay; public figures like Vice Ganda, or Boy Abunda, for that matter, become accepted endorsers, not simply because of their popularity, but because of the trust they acquire with their followers and fans. People feel connected with them and their shows," says Esguerra.
Last December, the brand also made an open attempt to reach the gay market with their Belo Pink Party: Celebrating Diversity event at Bed Bar in Mandaluyong. The event kicked off a brand new Belo campaign endorsed by Tom Rodriguez, with the slogan, "Man Enough to Get Belofied."
Although Rodriguez is straight, his portrayal of a gay man in GMA-7's telenovela
My Husband's Lover
represented a big breakthrough, says Belo. "We think gay men will say,
parang
we know him; he's one of us."
Belo also says that among her clientele, gay men are very loyal customers. "Women are more experimental. They like to try out what's out there before coming back," she says. "But gay men—once they feel comfortable with us, they stay with us."
Mai Lagman, LGBT advocate, community broadcaster, and advertising creative, says that branding and marketing to the LGBT market is still in its infancy. One lesson from more gay-supportive countries is that once the Philippines moves more toward acceptance and starts granting more economic and legal rights to gay and lesbians, mainstream business will start reaching out to them. She says, "Once gays and lesbians have [this] recognition, more will have the courage to come out and will have the power to demand for certain goods and services, because they've acknowledged they have a right [to them]."
This article was originally published in the March 2014 issue of Entrepreneur magazine.

Subscribe to the print or digital version of the magazine here.
ADVERTISEMENT - CONTINUE READING BELOW