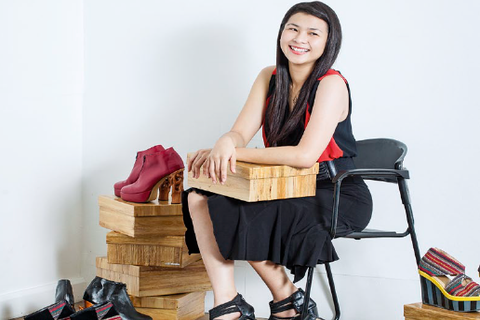 Kristal "Tal" Leen de Guzman, 24, is all about taking risks. The designer behind Risqué Designs thinks very little of carving a monkey on a heel, or making a sole gape like the alligator it resembles. Using local talent, craftsmanship and materials, her items look as if only the bravest fashionista would wear them—and yet these shoes are selling online about as fast as she can make them.

"No one has done something like this before. Not the same way I do. I don't follow trends," says de Guzman, who is currently securing a patent for her few-of-a-kind designs. She adds that "it's the smart way of doing business" in a creative industry rife with copycats and the threat of cheaper products from countries like China.

A cultural platform

De Guzman makes flats, heels, and wedges that are distinctly Filipino: she incorporates images of endemic animals (like Bohol's tarsier for her latest Animalia Filipina collection) and flora (such as the sampaguita) as well as pop culture and traditional design (graffiti, tribal weaves, ornamentation from abaniko).

What characterizes Risqué Designs is the incorporation of traditional woodcarving, hand-painting, embroidery, and weaving. While there's heft and height (a pair of platforms reach six inches), it is designed not just for balance, but to ensure that the shoe follows the foot's natural arch and distributes weight evenly.

A pair of shoes could be finished within two to three weeks—carved in Paete, Laguna, and assembled in Marikina—with de Guzman paying the artisans on a per project basis. She considers the entire creative process as being collaborative. She also occasionally works with other designers, completing looks for Gerry Katigbak and Happy Andrada for Philippine Fashion Week 2012 and 2013, respectively.

…and wearable investment

De Guzman established Risqué Designs in May 2012, while earning her diploma at the School of Fashion and the Arts and her entrepreneurship degree at The One School. The Fine Arts graduate (major in Art Management) from the Ateneo de Manila University had earlier entertained the notion of being a bag designer, but found her niche in shoes, even representing the country as a finalist at the Global Student Entrepreneur Awards in New York last November.

Risqué Designs commands higher pricing (flats from P1,500 to P2,500; heels/wedges at P3,000 to P5,500; and premium or carved heels/wedges from P7,000 to P20,000) by releasing limited collections composed of about four designs once or  twice a year, and with only one or two pairs per size—de Guzman intends to keep it that way even when she distributes to other countries, having just netted several orders from abroad following an exhibit at Manila FAME 2013.

De Guzman also accepts customized orders from clients online; her market includes students and young professionals (ages 16 to 18); career women (ages 29 to 40); and mature "women of society" (ages 60 and up).

The shoemaker won't be opening a mall outlet; having previously worked at a gallery, she prefers to display and sell her shoes at an art café. Her next  project? Metal shoes.


ADVERTISEMENT - CONTINUE READING BELOW
Photo: Dairy Darilag

This article was originally published in the February 2014 issue of Entrepreneur magazine.

Subscribe to the print or digital version of the magazine here.