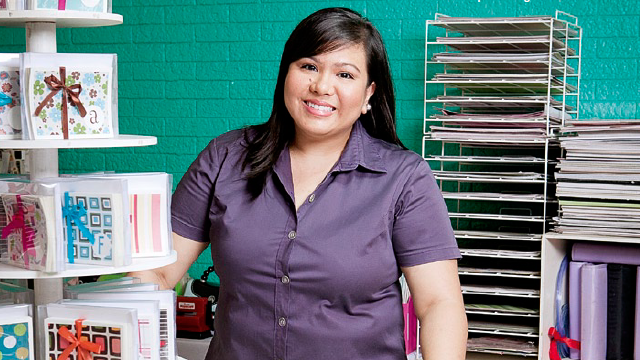 After some time with paper, scissors, and glue, most people leave their scrapbooking tendencies in the arts and crafts box. For Sunshine Asuncion, thoughnam, what started out as a hobby turned into an artistic business venture, Treasured Memories. Now she uses her crafting skills to make monogram cards—personalized cards bearing the stylized initials of the sender—she sells at bazaars.
ADVERTISEMENT - CONTINUE READING BELOW

How it started 
Before starting her business, Asuncion lived in the United States, where she had a scrapbooking group that initially consisted of seven women. They would decide on a date and place for their get-together and have a fun day of scrapbooking.

But when Asuncion returned home, she found it harder to have the same kind of activity. "Women want to spend time with their kids during the weekends," she says. So when her mother shipped 11 boxes of her scrapbooking materials, Asuncion needed to find a way to use them. "My friends suggested I think of something I can sell for the holidays, something cheap that people can give to their friends," she adds.
Asuncion thus began making monogram cards by the box. Every box she makes contains 12 cards, all pieced together by hand. Her first year in the business, Sunshine sold 200 boxes of her cards, and every year afterwards, she received more orders.
ADVERTISEMENT - CONTINUE READING BELOW

What spells the difference 
By joining bazaars, Asuncion also has the opportunity to show her customers how she makes her cards. Besides having pre-made cards available for immediate purchase, Sunshine also allows her customers to pick their own patterns and colors for their own cards. "It's unique. [Customers] like the idea of us making the cards on the spot," she says. "In any culture naman, you want to find something handmade."

Although the Christmas season drives up card sales, Asuncion runs her business throughout the year by adapting a simple but effective strategy. "The card patterns are year-round," she explains. "Most people give them as gifts."
Keeping her designs fresh 
Being a home-run business, Asuncion faces a slew of obstacles as well as opportunities. She occasionally has her sister assist her during bazaars to make up for the number of orders she receives. Although her business runs from 8 a.m. to 9 or 10 p.m. some days, Asuncion spends only two or three hours working.
ADVERTISEMENT - CONTINUE READING BELOW
"I'm not as hands-on as I used to be," she admits—except during bazaars. "I focus more on the creative side and the design of the cards now. I teach my assistants, too, and they've developed their own visual style. They've learned how to combine colors and patterns."

Asuncion also finds it difficult to source materials for her business. Whenever she travels abroad, she takes the chance to find unique materials for her cards. "Whenever I'm abroad, I hoard," she shares. This also ensures that her cards are one-of-a-kind products.

When it comes to expanding her business, Sunshine hopes to move her studio out of her home and into its own space. She does have some reservations about opening her own store. "Every business person dreams of expanding into a store," she states, "but when you think of the overhead, rent, and other things, it becomes overwhelming." For now, Asuncion is content with the business that allows her creativity to flow.
ADVERTISEMENT - CONTINUE READING BELOW
This article was originally published in the January to February 2012 issue of Entrepreneur magazine. To subscribe, click here. 
Photo by Dairy Darilag