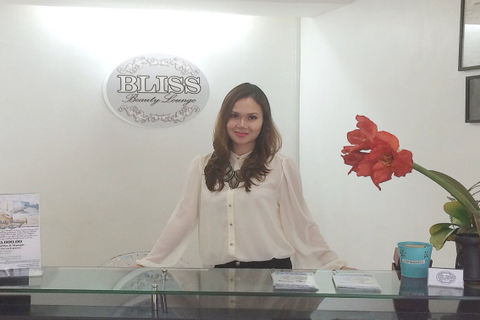 For Niki Vargas-Coscolluela, feeling good about one's self is an effective way to relieve his or her stress. The 30-year-old entrepreneur also thinks that there is no need to spend too much for that. Thus, her nail salon, Bliss Beauty Lounge, is all about 'reasonable pampering.'

She frequents nail salons herself. This is why she can tell if a service is being too pricey. Her business offers services at costs that are about 20% to 30% lower compared to the pricing of rival nail salons.

But that does not mean the quality of the service and the hominess of the shop is compromised. Aside from the business' nail treatments, Coscolluela can really be proud about the coziness of the place. One can easily notice the relaxing ambiance and atmosphere when he or she gets into the lobby.

"'Bliss' means happiness. I want the place to be light. We cater to people on the go. Thus, we offer 'sweet escape' from stress," she said. "Our goal is to make our customers feel good about their selves after their sessions."

 
ADVERTISEMENT - CONTINUE READING BELOW
Nail salon services
The business mainly offers nail spa services. But it also has other related treatments (like hair, wax, and massage services). "We cater to busy people like couples. That is why we also offer services for men, who usually wait while their girlfriends, moms, sisters, or wives get their nails done. We offer Sporty Stop footspa and massage, which brings muscle relief to runners and athletes."

Bliss Beauty Lounge is located along Wilson Street in San Juan City, just across McDonald's. It targets customers in the area, particularly residents of nearby villages and moms who wait to pick up their children several hours after dropping them off in nearby schools (Immaculate Conception Academy, Xavier School, or La Salle Greenhills).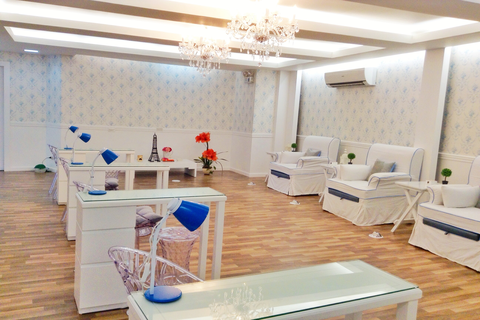 Aiming to be the best place for its customers to hang out, Bliss Beauty Lounge offers free coffee, hot chocolate, and ginger tea, served with cookies. There are enough free parking slots as the site is in a strategic location.

The place is also a recommended venue for a spa party. It is ideal for bridal showers, wherein ladies can enjoy some time for girl bonding, nail services, little food, and some games. Moreover, the salon can be a place to hold light meetings as the shop is very spacious that it can comfortably accommodate about 10 to 12 people at once.
ADVERTISEMENT - CONTINUE READING BELOW

Inspiration from parents
It runs in the blood. Coscolluela is currently a sales professional in one of the top companies in the country. She revealed that she inherited her sales and entrepreneurial spirit from her late mom.

"I always wanted to be an entrepreneur. My mom had businesses. She had daycare centers, fruit shake stands at some malls, and a bakeshop franchise," she revealed. "I always looked up to her. I wanted to do the things that she used to do." She also liked how her mom was her own boss. "Ever since, my dream is to have a spa or beauty salon. The opportunity knocked on my door last year and I grabbed it," she continued.
ADVERTISEMENT - CONTINUE READING BELOW

Different fulfillment
"I see fulfillment in being an entrepreneur. The business is like your baby. You start from scratch and it grows. The fulfillment is different," she declared.  

Coscolluela is bound to have two babies this year. Her first 'baby,' Bliss Beauty Lounge, was established in February. Before the end of the year, she is set to give birth to her first child. She is open to the idea of having the business as a possible fallback, if she finds it hard in the future to strike a balance between career and family life.

For her, managing Bliss Beauty Lounge is not work. She actually enjoys what she is doing. This is why she has this piece of advice to entrepreneurs: "Find a business that you are passionate about. Identify your passion. Develop it and make revenue out of it." Coscolluela is also very thankful that her husband is very supportive of her endeavors.
ADVERTISEMENT - CONTINUE READING BELOW

The future for Bliss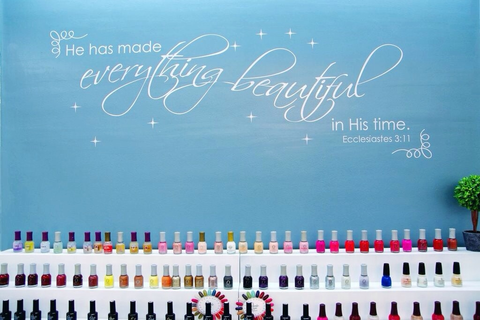 Is Bliss Beauty Lounge taking the road to franchising soon? Coscolluela revealed that it is the long-term goal of the business. But she admits that they are not yet ready for such an expansion.

"We want to be the best before we franchise. We want to have our own products, our own supplies."  She added, "We want to be our own supplier to our future franchisees." The startup nail and salon spa is now in the process of developing its own products.

Moreover, Coscolluela disclosed that Bliss would continue supporting organic products. For her, this would ensure the overall quality and safety of all the business' products and services.
ADVERTISEMENT - CONTINUE READING BELOW
Lastly, she set this assurance about her nail salon: "It's good to indulge oneself especially if its reasonable pampering. Women on the go need a break, too, and Bliss Beauty Lounge is and will always be there to cater to their needs."