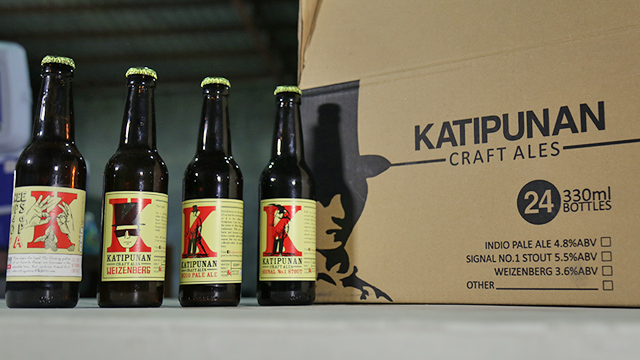 Katipunan Craft Ales is a pioneering craft beer brewery in the country
These days, it's not uncommon to see pubs, bars and restaurants carrying one or two craft beer brands in their menu alongside their signature cocktails. But around five to six years ago, drinking locally made craft beer wasn't exactly a thing, as many beer drinkers preferred to enjoy imported brands instead.
ADVERTISEMENT - CONTINUE READING BELOW
"When we started, all the barriers to entry were there," says Kiyoharu Miura, president of Katipunan Craft Ales Inc. "There was no market to sell to and on the backend there were no suppliers for us to get equipment and raw materials. It was a totally unfamiliar concept to people, craft beer."
There are a lot of differences between craft beer and commercial beer readily available in supermarkets, but Miura says the most important is that commercial ones tend to use adjuncts in the form of rice, corn, rye or oats, which are also known as extenders or fillers. Craft beer, on the other hand, usually only uses barley hops and yeast, giving the drink a fuller flavor.
Modern revolution 
The brainchild of four friends, Katipunan Craft Ales Inc. started, as expected, over a round of beers in 2012. Miura, together with his Ateneo de Manila High School friends Raffy Taruc, Bret Lim and Miguel Buling put up the brewery a few years after graduating college.
ADVERTISEMENT - CONTINUE READING BELOW
"We grew up around the street, Katipunan. We went there high school, we all lived there or close to the area," Miura tells Entrepreneur Philippines, saying it was a very personal choice.
Miura and Buling went to the neighboring University of the Philippines Diliman for college while the other two stayed in Ateneo. "We had some of our first taste of beer in the area. So it just represented us being friends getting together and learning, growing up, in that area."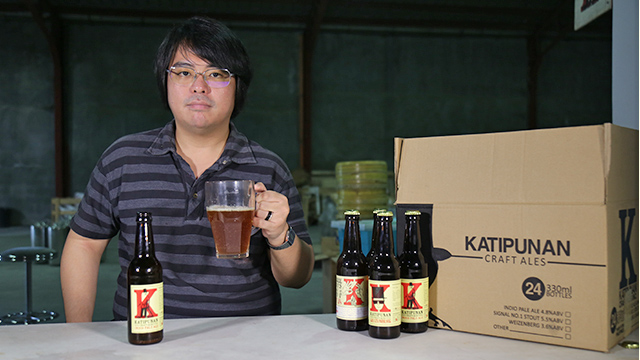 ADVERTISEMENT - CONTINUE READING BELOW
Kiyoharu Miura, president of Katipunan Craft Ales Inc., says the name of the beer refers to Katipunan Avenue, where the friends and partners lived and went to school, and the to the revolutionary group the Katipuneros
Of course, the name also holds a deeper meaning. "Immediately of course we recognized the easy connection to the Katipuneros, which we also like, because they represented the revolution," Miura adds. "And I think it's very fitting because it's a revolution against the bigger commercial beer companies."
In a way, Katipunan Craft also revolutionized the way craft beers are distributed in the Philippine market. In 2013, the group purchased a four-tank brewery equipment system, making them the first in the country to operate on such a scale and produce a bigger volume than other local brewers.
"Most of the others were using homebrew systems, which we also went through," Miura says.
During this time, craft beers were only sold on tap in the brewers' respective bars. "I think the oldest to start brewing was Pivo Praha, and then there was Bogsbrew and Fat Pauly's. [But there was] not enough volume for [the craft beer industry] to be noticed in the Philippines," Miura says.
ADVERTISEMENT - CONTINUE READING BELOW
A young industry
Recognizing this challenge, Katipunan Craft started selling their brews in bottles that same year. They were the first to do so in the country, pioneering the large-scale distribution of craft beers. Today, their bottles are sold from Php150 to Php220 retail, depending on the retailer.
This led to the growth of their sales by elevenfold, from a mere Php238,066 in 2013 to Php2.6 million in 2014. It further went up by 23 percent the following year, posting Php3.3 million, according to its filings with the Securities and Exchange Commission (SEC).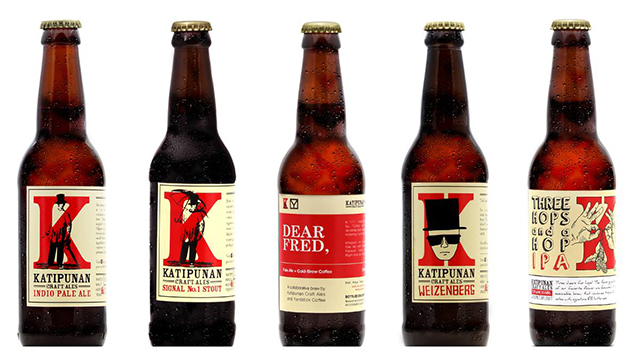 ADVERTISEMENT - CONTINUE READING BELOW
Katipunan has expanded its product line over the years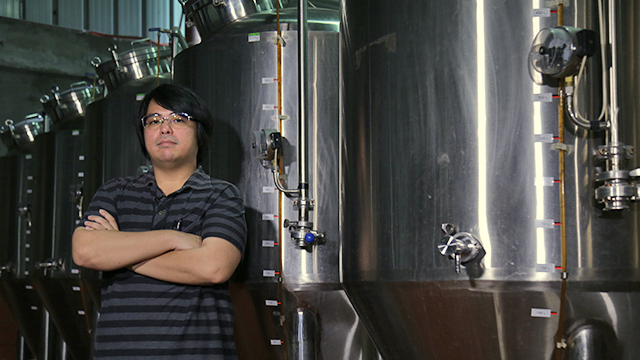 Miura says Katipunan Craft currently produces about 3,000 to 4,000 bottles of craft beer every month 
Though the company's revenues have been steadily growing in the previous years, its profits have been rather volatile. From losses of Php431,992 in 2013, the company recovered the next year with Php148,672. However, in 2015, it reported losses again of Php214,840.
ADVERTISEMENT - CONTINUE READING BELOW
But the four friends remain unfazed. "I think [it's] just [because of] the entrants in the market," Miura explains. "As much as I'd like to say I like seeing all the new breweries, over the past two to three years, the market for drinkers hasn't grown as quickly as the number of brewers. There are a few additions, but the growth of volume of the beer out in the market has far outpaced the growth of the drinkers," he adds.
There are about 40 active and regular brewers in the local craft beer scene today, according to Miura. From these, there are about 20 brands that are selling at similar volumes.
"We're still very young," Miura says of the local craft beer industry. "I think we're one of the youngest craft beer industries in Asia. We're lagging a lot but I think it's picking up."
Their own pub
Despite the market being more competitive, Miura says the growing community of craft beer brewers has greatly helped them, especially in the procurement of ingredients. "When we were starting, no one imported [using containers] because no one needed it," he says, explaining they needed to import everything from Singapore in small amounts, resulting in higher costs.
ADVERTISEMENT - CONTINUE READING BELOW
Today, since there are quite a number of other brewers who need the same ingredients, they can now get a whole container of malt and other ingredients which they would just divide among themselves. "Because we won't survive if we don't [do it]. Even now no one can take in one full container because it will just get spoiled," Miura says.
Katipunan Craft currently produces about 3,000 to 4,000 bottles of craft beer per month, usually depending on the demand. They currently have four flavors available. Miura shares their strongest months are during the last quarter of the year due to the holiday season, while their leanest period is on the first quarter of the year, as many people go through detox around this time.
Most of Katipunan Craft's clients are concentrated in Bonifacio Global City and Makati's central business district, targeting the middle to upper class comprised of office workers, millennials and a chunk of the 30 to 40-year-old demographic. The company deals with a couple of distributors so they're not sure of the exact count of their accounts, but Miura shares they have around 25 partner outlets they manage themselves. These clients have been with them since the start. Aside from this, Katipunan Craft Ales are also available in selected branches of Landers Superstore.
ADVERTISEMENT - CONTINUE READING BELOW
Among the four owners, Taruc is the head brewer who does all the brewing, bottling and some of the maintenance on-site. Miura used to help in brewing when they had their smaller setup, but now that they're already operating their full-scale brewery in Pasig, he has taken charge of the administrative work. Buling and Lim are in charge of finance and marketing, respectively, but they take lesser active roles since they have been based mostly overseas.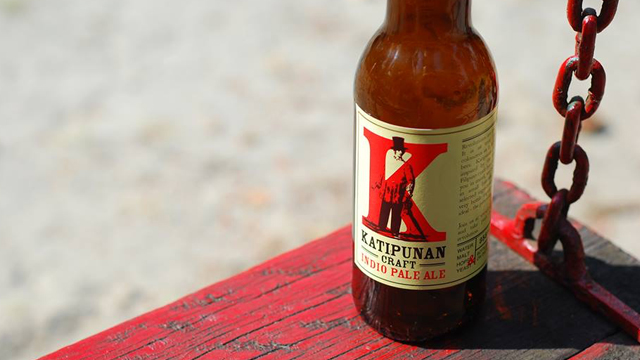 ADVERTISEMENT - CONTINUE READING BELOW
A bottle of Katipunan sells from Php150 to Php220, depending on the retailer
Looking forward, the group is planning to put up a brew pub where they can sell their products. "From a financial standpoint it makes sense. All your sales there can cover a lot of your overhead. For production size, you don't need to worry about that. Also, all profits from the beer directly go back to you. It's an easy way to move money for your brand," Miura explains.
"We love our brand, we're very confident with our brand. It has the retention, people remember it, and sometimes some people mistake other brands as being under us because they remember that we were the first," he adds.
Related story: Cheers to Craft Beer 
*****
Pauline Macareaeg is Entrepreneur PH's data journalist. Follow her on Twitter @paulinemacaraeg