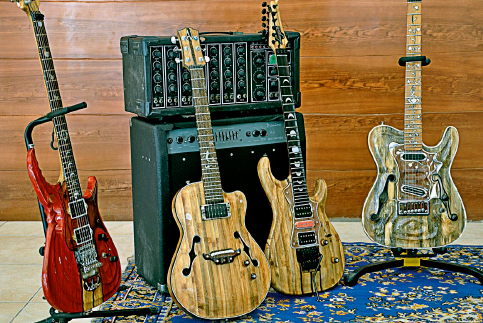 <>Agustin Lagon was looking for a new sound. And when he couldn't find it, he built it.
In the 70s, the Ilonggo musician began taking guitars apart piece by piece to teach his self how to make them. All that tinkering eventually led to Lagon's signature guitars: These reinvented instruments are built out of a combination of bamboo and other hardwood—except for his all-bamboo flagship design, '
Paglaom
'—and have triangular fretwires. Norwell Bautista, Lagon Guitars CEO, describes their distinct sound as "a generally bright tone—the treble notes sound clearer," which you'll often hear in rock and blues tunes.
It took Lagon over a decade to perfect building the guitars, and while he sold a few to his peers in the music industry, a full-fledged business never really panned out. Its novelty got in its own way, and sales floundered. "Bamboo was not a popular material for guitars, so the question of quality was hanging over every sale," recalls Bautista, and the uninitiated often mistook it for "another ridiculously overpriced souvenir guitar.
The latest attempt at bringing Lagon's guitars to the market is led by the Iloilo-based Padayon Musika Inc. But this time, the newly minted Lagon Guitars appeals to a more select clientele. Now a boutique brand that specializes in the creation and customization of bamboo guitars, its small-scale operation also helps the business manage production costs: Its workshop caters mainly to pre-orders and consignments, and builds a monthly average of five custom guitars.
The master luthier has passed on the technique he's perfected over the years to his grandson, Jubal, and his brother, Lloyd. The business, and how far it has come, is a testament to innovative thinking and persistence—which makes Lagon's story and brand worth preserving. "In the long run, we are envisioning a gold-standard status for bamboo guitars worldwide," says Bautista.
Photo courtesy of Lagoon Guitars

This story was originally published in the July 2014 issue of Entrepreneur magazine. Subscribe to the print or digital version here.


ADVERTISEMENT - CONTINUE READING BELOW