Filipino-owned SPi Global Solutions, the country's largest locally led outsourcing vendor, was named BPO Company of the Year, besting seven bigwigs in the BPO industry. In accepting the award, SPi Global Solutions President Maulik Parekh, revealed with pride that many SPi leaders all over the world are reporting to Filipino executives here, while the reverse is true for most in the industry.

Teleperformance, a finalist in three categories, brought home the trophy for BPO Employer of the Year while IBM, a finalist in 2 categories, won the Fastest Growing BPO of the Year award. Hewlett-Packard won the Non-Voice Excellence of the Year award and Danilo Sebastian Reyes, Genpact Country Manager, was honored as the ICT Individual Contributor of the Year.

Three first-time finalists prevailed over the rest in the new locator, innovation and shared service excellence awards. Cognizant was named Best New BPO Locator, Thomson Reuters won the Shared Services Excellence award, and First Carbon Solutions was awarded Most Innovative Company of the Year.

International ICT Awards Chair Richard Mills said, "Over the last 5 years, we have seen a tremendous focus on and passion for excellence in the Philippine BPO industry. Today, the top awards are no longer reserved for the biggest companies with global resources. Very quickly, we are seeing new and smaller companies demonstrating efficiencies and effectiveness that put them at par with the world's best."

Outgoing BPAP CEO Oscar Sanez who, on his last official function, was given a surprise tribute took the opportunity to thank ICT partners for supporting the goals of the industry. "You have made the task easier because of your own desire to promote our country as the world's BPO destination of choice and I will always remember you in my heart of hearts," he said.

The International ICT Awards-Philippines 2011 was presented by the Canadian Chamber of Commerce and the Business Process Association of the Philippines.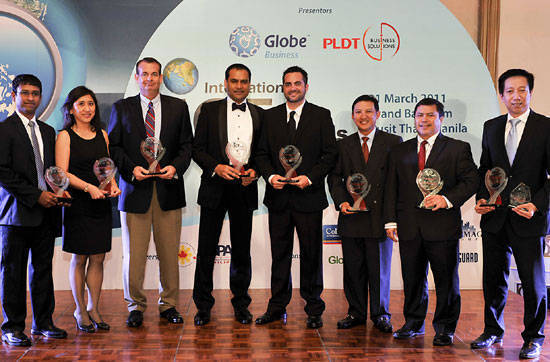 International ICT Awards 2011 Winners (L-R): Sreejit Chandran, Country Manager Cognizant
Philippines; Cassandra Soto, Philippine Delivery Leader IBM Global Processing Services; James
Donovan, Group CEO FirstCarbon Solutions; Maulik Parekh, CEO, SPi Global; David Rizzo,President
Asia Paci!c, Teleperformance; Danilo Sebastion L. Reyes; Emmanuel \\\'Noel\\\' Mendoza, Director of
Philippine Center, Hewlett-Packard Asia Paci!c (Hong Kong) LTD., ROHQ; and Raoul Teh, Senior Site
Officer, Thomson Rueters Manila.


ADVERTISEMENT - CONTINUE READING BELOW