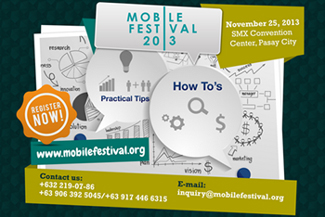 With Mobile driving the growth of Internet penetration in the country during the past year, this medium is something you cannot ignore.

Learn how to utilize mobile for all aspects of your business, and NOT just marketing! Here's your chance to avail of a special offer for Entrepreneur.com.ph readers for the Mobile Festival 2013 .

Join us in this learning event with regional speakers from Twitter, Google, McDonald's, Freemantle Media the creators of American Idol, and more!  Speakers will discuss how mobile technologies transform customer care, retailing/commerce, marketing, publishing/media, etc.

ADVERTISEMENT - CONTINUE READING BELOW
As an Entrepreneur.com.ph reader, you get a 72% discount off the regular rate - pay only P2,500 (instead of P8,900) by registering with the discount code: ENTREP.  Want to bring a friend? Get two slots for the price of P3,900 only! 
Email inquiry@mobilefestival.org with the following info:
Full Name:
Mobile Number:
Email:
Company:
Designation
Discount Code: ENTREP
Here's more of what you'll get out of this conference:
KEY TOPICS:
PLENARY 1: How Mobile Transforms Business Models
How WeChat has reinvented and monetized messaging
How GrabTaxi is fueling change in the taxi industry
What Google's mobile-first perspective means for brands and businesses
PLENARY 2: How Mobile Transforms Retail & Commerce

McDonald's success story in mobile marketing in Asia-Pacific
How the SSI Group is modernizing retail marketing
How bCode enables mobile commerce for all and how should the mobile experience be different (personalization, push notifications, time-bound alerts, geo-location)
PLENARY 3: How Mobile Transforms Marketing
"Planning for the Moment" by Twitter
Why "Experience is Everything" for mobile, by Mobext
How mobile supercharges location-based marketing, by Yoose
How mobile enables creative brand experiences, by InMobi
Learn new technologies in mobile media buying by StrikeAd 
PLENARY 4: How Mobile Transforms Media
Successful TV-mobile integration from Fremantle Media, creator of Idols and Got Talent
How mobile has changed content consumption and content creation, by Rappler
The future of mobile and media convergence, by SMART 
PLENARY 5: How Mobile Transforms Customer Care
Panel Discussion -

Loyalty programs for businesses, New technologies for customer care, Reinventing rewards in the mobile world
For questions and clarifications, call +632 219 07 86, +63 906 3925045, +63 917 4466315 or email inquiry@mobilefestival.org
Visit the event website at www.mobilefestival.org