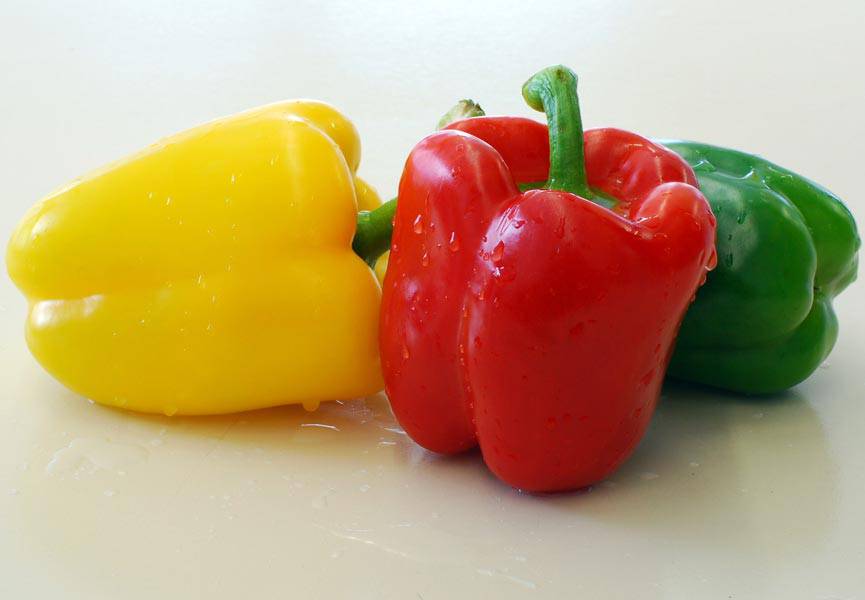 Sweet Pepper (Capsicum annuum L.) also known as capsicum, kampana, or lara is the most widely used condiment all over the world. It is consumed fresh, dried or processed. Sweet pepper is a warm and dry season crop. It germinates well at temperature of 20oC to 30oC and grows best at around 25oC.

The plant requires cool weather for best fruit quality, in low elevations, however, planting is the best from October to December. In mid and high elevations, it can be grown throughout the year.

Sweet pepper should not be grown on the same soil year after year because of disease problems. It is best to rotate the crop with rice, legume, sugarcane and corn.

One hectare requires 100-200 grams of seeds, it is best to produce seedlings in nurseries and transplant 3-4 weeks later. Prepare seedbeds by incorporating 2-4 kg. of manure and 1-2 kg. rice hull charcoal/m2. Prepare 1 meter wide beds at any convenient length.
ADVERTISEMENT - CONTINUE READING BELOW
First, water the beds, then make lines across each bed at 7-10 cm apart. Sow the seeds thinly if no pricking will be dome.

Irrigate weekly. Weed 2-3 times during the growing season. Weeds must be removed as early as possible by hand or using a sickle. If using a hoe, do not hoe the soil too deep as this will damage the roots. Hoeing should also not be done during the latter part of the growing season. It is best to intercrop with other vegetables, such as kutsai, and garlic as well as marigold to help minimize the incidence of insect pests.

Cultivation and weeding should be carried out before file first and second side-dressing. Apply soil to cover the side-dressed fertilizer on the shoulders of the bed to facilitate the growth of roots and absorption of nutrients.

Start harvesting at 80-100 days from transplanting or 3 - 6 weeks after flowering. Harvest mature green fruits or before it is reaches full maturity.

Sort fruits according to market standard and separate damaged fruits. Fresh fruits can be stored up to five weeks at 4oC and 95 percent humidity.

Data compiled from the Department of Agriculture.
ADVERTISEMENT - CONTINUE READING BELOW