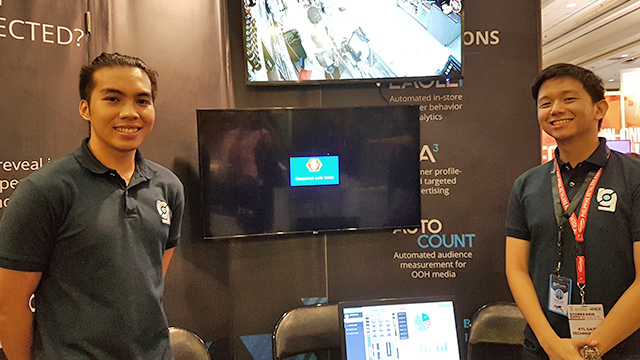 While doing his internship with an alcoholic beverage maker, Raphael Layosa, then a third-year student at the UP College of Business Administration, noticed something truly odd. 
Tasked with monitoring the sales of hard drinks marketed to male customers, he observed that it was mostly women who were buying the product in groceries and supermarkets.
"We realized we were missing out on something. We're not really seeing what was happening on the ground," recalled Layosa, now the 23-year-old CEO of RTL Gate Technologies, or Retailgate, a tech startup.
Retailgate uses artificial intelligence (AI), automation and analytics to build products and services to help retailers develop data-driven strategies. He credits the idea behind the startup to that "eureka" moment in his internship.
Because of what he discovered from liquor marketing, he felt strongly that businesses were missing the forest for the trees, and that correctly processing massive amounts of data could help address the problem.
ADVERTISEMENT - CONTINUE READING BELOW
A year later, when Layosa enrolled in an elective course on technopreneurship, which aimed to teach students how to build technology-based enterprises, he was looking for a topic for a feasibility study. Recalling his internship, he thought of studying the feasibility of a business that harnessed artificial intelligence to generate insights from tracking camera footages of shoppers' behavior inside stores.
ADVERTISEMENT - CONTINUE READING BELOW
"When I took that subject, that's when the idea was born to track what was really happening in the store," he said.
Layosa knew he had a viable business idea, but there was a problem. "As business student I only had the business concept, but I don't know how to do the AI," he said.
Luckily, his professor, who also happened to head the Department of Science and Technology (DOST)-UP Diliman Enterprise Center for Technopreneurship,  invited him to pursue the business idea and offered the support of the center, which also serves as a startup incubator.
At the technopreneurship center, he met Miguel Remolona, a 31-year-old PhD graduate of machine learning and knowledge management from Columbia University. The two started working on the project, and were later joined by Layosa's batchmate from UP, DJ Salon, an electrical and computer engineer.
By then, the business idea had gained some traction that it won a Php4.7-million grant from one of the DOST's research funding bodies, the Philippine Council for Industry, Energy and Emerging Technology Research and Development (PCIEERD).
ADVERTISEMENT - CONTINUE READING BELOW
It took four months for the group to produce a minimum viable product. The grant, which was spent mostly on research, helped speed up product development. In just a month, the accuracy of the AI algorithm's predictions quickly rose to 90 percent from just 50 percent.
Data Driven Solutions
Today, Retailgate has developed three solutions -- Eagle Insights, Auto Count and A3 -- to help retailers and marketers address some of the most perplexing problems in selling and advertising.
Eagle Insights is an automated in-store consumer behavior analytics, which uses existing security cameras of the stores to determine the effectivity of the promotions, staffing requirements, and consumer behavior. "Our system allows for automating the data on traffic of consumers as actual headcount. We are giving beyond what the POS (point of sales) is able to capture," Layosa said.
ADVERTISEMENT - CONTINUE READING BELOW
Eagle Insights provides three data, namely, consumer volume, dwell and conversion. Consumer volume pertains to the number of customers at a given time while dwell measures how long customers stay inside and in a particular area of the store. Conversion, on the other hand, is a comparison of the volume of shoppers and the POS data to determine how many of the customers at a given time made a purchase.
"We measure how long it takes for a consumer to shop in a store in each section or category of the store. We are able to look at how it affects the propensity of consumers to make a purchase," he explained.
Retailgate charges a processing fee of Php10 to Php 30 to turn a hour of security camera footage into usable information as part of Eagle Insights package. The rates are much cheaper than other AI systems abroad for stores that use infrared or heat sensors, Layosa added.
ADVERTISEMENT - CONTINUE READING BELOW
Another product is the AutoSight for traffic volume data, an offshoot of the Eagle Insight. "From people counting, we also found the opportunity to track vehicles as an indicator for outdoor media companies."
AutoSight captures data on the average speed of vehicles passing by a particular spot and an estimate of the audience volume based on the classification of the passing vehicles. "We are able to help them (outdoor advertising companies) stay relevant in this day and age where digital and social media are getting more of the spotlight," Layosa explained.
ADVERTISEMENT - CONTINUE READING BELOW
Retailgate charges Php40,000 to Php45,000 per day of deployment of camera and processing of the data. So far, the company has signed up one OOH company to try the AutoSight services.
Their third product is A3, which is short for analytics, advertising, and automation, and is designed for targeted marketing. This software can identify the age and gender of the person looking at a tablet's screen. "So, when you face the camera, it can detect the features, and what your age and gender is and from that it will choose what advertisement it can play," Layosa said.
There are similar products abroad, Layosa added. However, the imported software was done by western companies and fail to capture the profile of Asians correctly. "They're based on a large database (consisting) largely of Caucasians, and Asians tend to look younger than Caucasians. When I tested it myself, I was 14." A3 was designed for Filipinos, he added.
ADVERTISEMENT - CONTINUE READING BELOW
Aside from the three solutions, Retailgate is developing other products to help retailers stay relevant. "We have a pipeline of the technology we want to develop, and we want to bring technology closer to retailers, so they can really harness technology," Layosa stressed.
*****
Cherrie Regalado is a contributor to Entrepreneur PH. Follow her on Twitter: @cherrieregalado