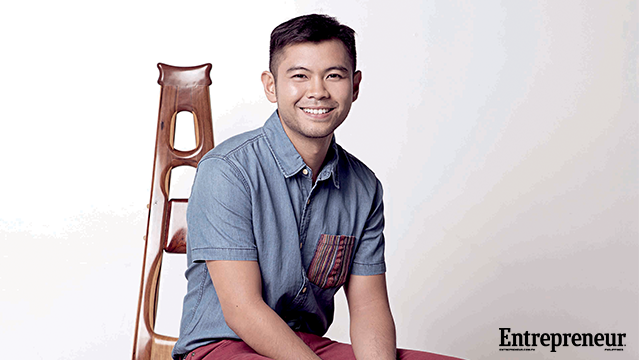 Niccolo Jose is not your typical 27-year-old.
A graduate of environmental studies and studio art sculpture at Lewis and Clark College in Portland, Oregon, he weaves twig sculptures, and when given leave to stay in his family's warehouse and make his own furniture, he created a giant chair, dubbed "Think Big" for his birthday.
ADVERTISEMENT - CONTINUE READING BELOW
"It was an accident, getting into the furniture [business]. I was tasked to make furniture for myself, I might as well do it my way... So, actually, my earlier stuff did not look like furniture or did not even have the right measurements," says Jose.
He devoured interior and industrial design textbooks and DIY manuals. He studied the properties of wood, going as far as the University of the Philippines in Los Baños, Laguna, which has a wood library. He studied the available technology for shaping wood at the Department of Science and Technology (DOST). And he would have kept it at that—he wasn't ready for exhibition—if not for two things: his family was building Green Canyon Resort in Clark, Pampanga, and a friend of his mom noticed his early experimental pieces and suggested Jose fill up the space with his wood art.
Thus, the retail furniture business Studio 10.10 was built. Jose uses reclaimed wood, occasionally compromising with newer wood only if the client is unable to meet the price (300-year-old wood doesn't come cheap). His pieces go for Php 5,000 to more than Php 200,000, depending on the amount of labor and varieties of wood utilized. He processes the wood himself, in a kiln designed by the DOST—this saves 70 percent on the expense of buying kiln-dried wood, and gives him more creative freedom with the material.
ADVERTISEMENT - CONTINUE READING BELOW
His family rallied to support him. Not that he gave them much of a choice, as he proposed knocking on doors to sell his art. His mom's response: "Be an artist, but do it as professionally as you can." Thus far, Jose swears he hasn't succumbed to his mom's nightmare vision of an artist—bearded, tattooed and drug-addled.
However, he does tend to be a bit eccentric. He got rid of everything in his bedroom, save for a night lamp, yoga mat and his books. "You stimulate your creativity by creating an environment wherein you're like a homeless man… because I don't have a bed, every day I think about the best bed," explains Jose.
He lives simply, getting a monthly salary of Php 25,000, and plows back the rest of the earnings into the business to pay for an astronomical power bill, and to reward his crew and his family. "We work as a family to actually make it work. I cannot take full credit… any business needs a support system," says Jose.
ADVERTISEMENT - CONTINUE READING BELOW
Buyers of his furniture get a free hotel stay, and Green Canyon guests have the option of having furniture custom-made. As the resort develops further, Jose intends to keep producing—anything from tree houses in the mountains to a sculpture park on the grounds.
The difference now, for Jose, is that he takes inspiration from his clients, taking measure of the "personal culture" of their private spaces. "I am designing for the person whom the piece belongs to," he says. He treats his studio furniture as a luxury good. "You can bring it back, and I can make it brand new again, or I can change it for you. That idea makes clients come back and refer me to other people." The art of doing business, he points out, is being able to adjust to people and surrendering your ego.
Whatever happens to the business, Jose is confident he can start over. "[Successful artists] allow themselves to grow," says Jose. "You still need to make something in order to make the next thing. You need to sell that piece, in order to actually make something that's your own later on."
ADVERTISEMENT - CONTINUE READING BELOW
*****
This article originally appeared in the October 2014 issue of Entrepreneur Philippines magazine. Minor edits have been made by Entrepreneur.com.ph.